Overview
Suitability: ski mountaineering, steep skiing, spring ski touring
Usual price: around $750 USD at Hagan US
Weight: 1080g per ski in 164cm (117-82-102)
Tested length: 176cm (19m radius)
Pros: light for its ski performance, stability, edge hold
Cons: too much black colour?
Bottom Line
The Ultra 82 skis are fun to ski and an overall great performer. They are designed for true ski mountaineering with an intermediate to expert skier in mind. While some of its competitors might float better in 30cm+ of dry powder, these skis shine in challenging conditions – on hard packed or wind affected snow, in crust…
Review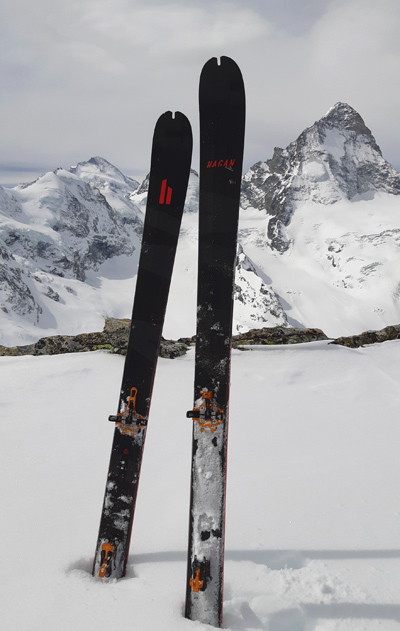 As the ski season in the Canadian Coast Mountains doesn't want to take off this winter, I was not able to ski the Hagan Ultras in dry deep snow yet.
On the other hand, I spent enough days on them last spring in a variety of snow conditions. The biggest test was a 4-day Haute Route Imperiale ski traverse in Switzerland with a reasonably heavy pack and travelling through some big terrain.
The Hagan Ultra 82 skis have a 250mm front rocker which definitely helps in deeper snow but that's not were they excel.
Being fairly stiff torsionally and with a more traditional camber than is perhaps usual for today's touring skis, the Ultra 82s deliver when conditions are challenging and variable.
They are stable as they absorb most of the vibrations easily. They have a progressive stiff flex and provide really good edge grip. All this makes them nicely predictable.
Because they are on the stiffer side, I think it's best to pair them with a stronger boot than Dynafit PDG or similar. Of course this also depends on your skill level.
I skied them with Dynafit TLT6 Perfomance boots (with boot tongues in) and it felt just right, but I can imagine skiing these with 3-4 buckle boots to really get the most out of the experience.
They are very responsive and fun to ski if you provide enough power. They handle higher speed, long radius turns very well if you can keep up with them.
The skis also feature a small tail rocker that seems to help with turns on hard packed an spring snow.

The core material is ultra light Paulownia wood with an overall construction consisting of carbon top and bottom layers. Diamond Edge Cap and Micro ABS Sidewalls provide the support for excellent edge hold.
Unless you are always skiing at least boot deep powder then the Ultra 82 skis might be all you need. Also, such width is great for any touring in the early season and spring.
What We Think Could Be Improved
Perhaps keeping the same stiffness but decreasing the camber height could improve the float while not compromising the Ultra 82 skis strengths? It might be a worthwhile experiment.