There are two light ski mountaineering boots talked about these days – La Sportiva Sytron and Scarpa Alien RS – both weighing under 1,000 grams per boot yet promising previously unmatched downhill performance in this category.
In each case, focus during the design and development process was on creating a true light ski mountaineering boot that would descent as their much heavier cousins, and without the price tag of a Ferrari. This has been a goal of all boot manufacturers for many years but it seems that only now they are getting close to reaching such ever elusive target.


One thing to keep in mind is that such light boots perform best with up to mid-fat skis (up to about 90 mm), however, when dry powder is plentiful then two boots can certainly drive a much bigger ski.
Overall, both Sytron and Alien RS are great improvements in the right direction, and we can't wait to see the boot models that will succeed them in 2-3 years.
Backgrounds
Both of these boots draw heavily from features previously designed for and tested in other models, now creating a mix of the best ones into single pairs of boots.
La Sportiva Sytron combines features of the Syborg boot (image below) which borrowed some from La Sportiva's top skimo racing platform, the Stratos Hi-Cube and its predecessors.


As the name suggests, Scarpa Alien RS, also leverages race technology coming for the Scarpa Alien platform, and combines it with lessons learned on the F1 boot as well (image below).

La Sportiva Sytron ski mountaineering boot
While the overall look could imply that the Sytron is only slightly improved Syborg boot, actually it is those subtle changes that make the difference – in performance as well as durability.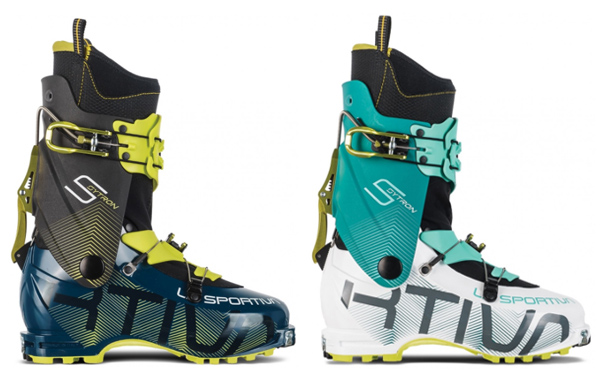 The cuff locking and closing mechanism is similar, using La Sportiva's unique CavoBike Pro Lever mechanism, but now the back lever flips all the way up, something we have been used to on Pierre Gignoux and Scarpa boots, which protects it in rocky boot-packs.
Feature that arguably improves the Sytron's dowhill perfomance the most, compared to Syborg's, is the completely new lower buckle that results in a tighter and much more customized fit around a foot. La Sportiva calls this "Spider Buckle Evo closure system" which combines the buckle with a newly added over-the-foot panel, instead of just a gaiter like on the Syborg.

Then there are a couple of smaller improvements like new gaiters and S4 toe inserts that help guide boots into bindings. These won't have significant effect on performance but will add to overall skier's comfort and better experience.
Specs:
Weight: 930g (size 27)
Forward lean in degrees: 14, 16, 18, 20
Last width (front-foot width): 100.4 mm
Shell: Grilamid
Cuff: Carbon reinforced Grilamid
Sole: La Sportiva Grip Guard
The La Sportiva Sytron comes at a very affordable price:
Scarpa Alien RS ski mountaineering boot
We have been hearing from some reliable source that the Scarpa Alien RS has greatly surpassed their expectations as its downhill performance is very comparable to much more heavier descent-oriented boots. The Alien RS has a couple of unique and innovative features that contribute to its qualities along with some already proven functionalities.


Carbon reinforced Grilamid – carbon fibers strands infused into Grilamid plastic – has been used for cuff manufacturing for a few years now, but the Alien RS utilizes this material in the lower shell as well, instead of pure Grilamid.

The bottom portion of the cuff is further reinforced with a steel arch which reduces cuff's expansion (widening) when lots of pressure is applied onto the cuff while skiing. Naturally, this solution improves force transmission to the boots which results in better control over skis. Think of it this way – the boot is a piece of gear where most force is lost and direction of this force is affect by the boot's deformation.
A simple yet effective solution comes in the form of using a cam lock for tightening and loosening cuff's closure. Simply loosen the cam and pull on a Dyneema cord to quickly adjust cuff's tightness.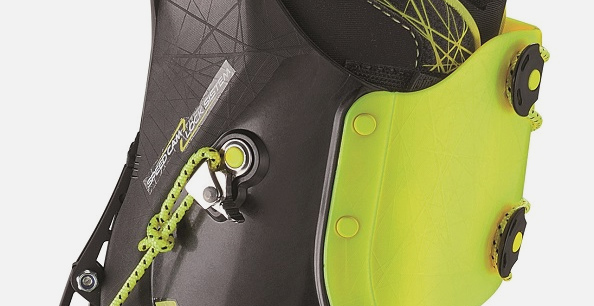 Alien RS uses a BOA closure system, instead of a buckle, for the foot part of the shell (like their racing models Alien 1.0 and Alien 3.0). The idea of enclosing the BOA cables behind waterproof gaiter, and leaving only the BOA wheel outside, finally sees the light of day and replaces those ugly florescent green fabric gaiters Scarpa has been supplying the Alien and Alien 1.0 with for years.
Molding/Punching the shell on Alien RS:
A comment from our reader (see comments section below this article) suggests that "The Scarpa Alien RS comes with a tag that specifically says not to heat mold/punch the shell."
While most people should fit into a boot with 99 mm last width it really depends on shape of your foot, and sadly many might not fit in at all.
Specs:
Weight: 910g (size 27)
Forward lean in degrees: 7, 9, 11, 13
Last width (front-foot width): 99 mm
Shell: Carbon Grilamid LFT
Cuff: Carbon Grilamid LFT
Sole: Scarpa UFO RS
The Alien RS is about $100 more expensive than the Sytron:
What's next?
We are hopping to ski both boots soon so we can provide you with a more skis-on experience.
Overall, all manufacturers are really pushing for lighter and better skiing boots and we have much more to look forward to in the coming years!