Who would think that twisting mountain roads, climbing over high passes, would land me in front of a factory of one of the most recognized brands in the outdoor industry?
But we were in Italy so finding La Sportiva headquarters and factory in a small mountain town was quite fitting. The little town is Ziano di Fiemme and is situated in the famous Val di Fiemme valley.
History, Factory Expansion and Impact on Local Economy
The La Sportiva's factory I visited is highly specialized for production of their climbing shoes and mountaineering boots while the rest of their products (running shoes, ski boots, clothing) is manufactured elsewhere in Italy and around the world.
Narciso Delladio started La Sportiva in 1928 while hand-crafting wooden leather boots for local lumber-jacks and farmers. After the war, the demand for his boots increased and he started to expand into climbing and mountain boots as well.
During the 1980s, La Sportiva set a firm foothold in the climbing market by releasing very innovative climbing shoes. These basically marked the start of modern rock climbing shoes. Since the product was so new they had to even invent and design some of the machinery so they could scale the production and deliver the desired quality.


With such rich history, local economy have depended on La Sportiva for close to a century and in 2018 the factory in Ziano have been expanded to double the production capacity. Today, the factory that also includes the headquarters employs around 250 people. This is a huge boost to the valley with only 15,000 residents.
» Here you can explore more about La Sportiva's 90-year old history.
The La Sportiva Factory Tour
Since this main factory was recently undergoing an expansion I was not sure how much I would be able to see. Fortunately, most of the machinery was already moved when I showed up so I got a full tour. My guide was La Sportiva's marketing manager Luca Mich who is native to the valley and is proudly with the company for over 10 years.


We started the tour by Luca explaining a couple of things around their manufacturing secrets and that he would let me know when it is fine to take photos and when not.
Then all of a sudden, after entering through a big door, we were inside.


Luca was saying something but I couldn't pay attention as my eyes were all over the place trying to process what was going on. There were many workers, lots of machinery and unrecognizable pieces of gear everywhere.
Despite all the technology on the floor, human hand is still touches the product and doing most of the work in every single step of production at this La Sportiva factory! This approach allows La Sportiva workers to constantly check quality along the way.


Another cool things that I observed were:
many young workers around 25 years old, of which most live in the valley;
glues used in production are water based so irritating smells are very limited;
and that the factory building captures CO2 through its filtering system to prevent it from escaping into the atmosphere.
Production Steps
Since the factory I visited makes only climbing and mountaineering shoes the below describes the process I observed for this specific gear category.
Climbing or a mountaineering shoe consists of around 30-35 pieces of various materials that are glued and sewn together.
Also, the factory switches production of different models about once in two weeks.
The process:
Raw materials – leather, rubber, fabrics, etc – are cut using machines into specific pieces for a model in production that week
Soft material pieces are then sewn or glued into a shoe or a "sock"
Rubber soles and other rubber and plastic pieces are glued into place on the "sock"
Excess rubber is shaved and finished/polished
Final quality check
Shoes are packaged into a box and off they go into stores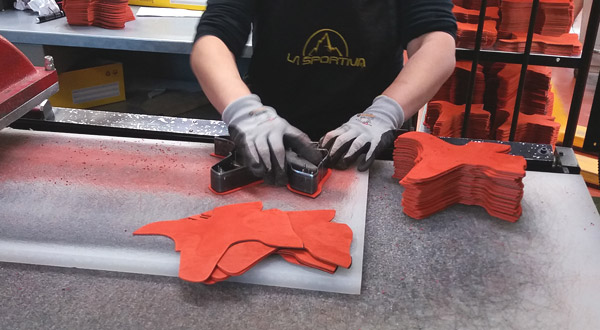 Relationship with SkiTrab
Couple of years ago, La Sportiva started to venture into the world of ski mountaineering and ski touring. After some testing years, the company decide to partner with SkiTrab – another famed Italian brand – to help them with skis production.
I believe this is a great partnership for both sides – they are companies with similar values and both still family owned – and they can help each other compete with giants such as Salomon or Dynafit/Salewa.

La Sportiva Expects Good Growth
The two segments La Sportiva expects to rapidly grow in the near future are trail and mountain running, and rock climbing, whether that be outside or within indoor gyms. The company plans to focus on these two segments so we can expect many new great products here from this Italian brand.
As for winter sports, La Sportiva sees expansion for ski touring while it is probably not going to bet much on speed oriented ski touring and ski mountaineering.