Climbing skins, rightfully, are one of the best inventions. While skis let us enjoy our flight down the mountains, skins enable us to explorer new areas and are an essential part of any winter adventure.
Climbing skins are our life line in the mountains. When they fail the ski day is easily ruined. They are made from soft materials yet we abuse them so much, similar to our feet. We expect them to just always work.
Today, there are many manufacturers of skis, ski boots, bindings and other ski touring gear but there are really only a few makers of climbing skins. While you have likely never heard of Contour skins they are right up there with the more known brands like Colltex, Black Diamond, Pomoca and G3.
Visiting Contour and Their History
Contour is a brand of Koch Alpin, an Austrian family-owned company with 40-years old tradition and experience in climbing skins manufacturing.
» Here are some important Contour links: Website, Facebook, Instagram
While the Contour brand has been established only a decade ago the company has been manufacturing skins for other brands before. Currently, Contour makes skins for more known names such as Atomic, SkiTrab, Black Crows or Hagan.
We visited Contour headquarters and manufacturing facilities a couple of weeks ago as part of our European ski touring gear manufacturers "tour". They are based in a small town near Innsbruck in the western part of Austria.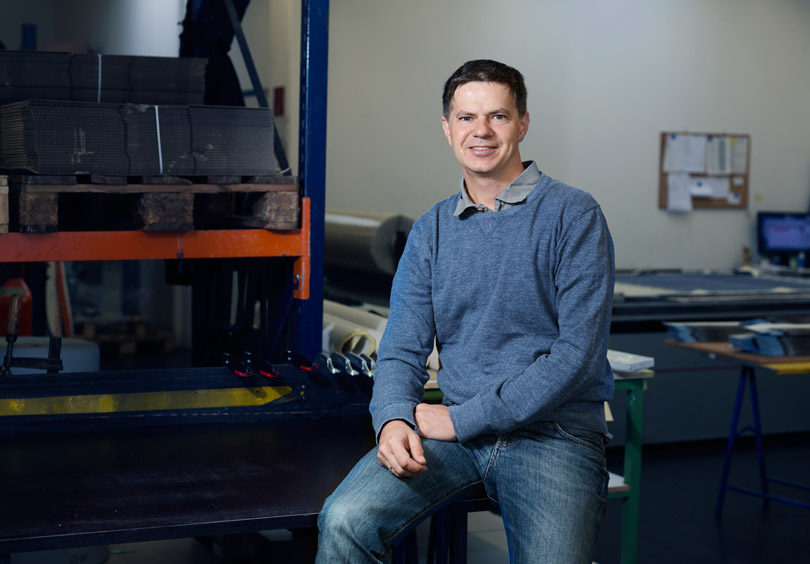 Innsbruck area is well-known for skiing and easy access to high mountains in general so testing prototypes and consistent feedback is easy for Contour. Also, Innsbruck is only one of three cities in the world that have hosted the Winter Olympics twice – in 1964 and in 1976.
On the environmental side of things, Contour has partnered with a new company Doghammer that started to make slippers out of the waste material of brand new skins plush carpets, thus, keeping the material in the cycle and out of the landfill.
Contour's Hybrid Glue Technology and Traditional Skin Glue
So what is special about Contour skins? Are they better or are they just different?
While these are simple questions to ask the answers are a little more complex as they require to explain a bigger context.
None of the skin manufacturers (or the brands) the public knows really manufacture the plush (the hair) that holds us while we climb up a mountain. They all buy these "carpets" made by bigger manufacturers according to their specs such as the hair/fiber length, fiber density, and the mix ratio of synthetic and mohair.
Therefore, mainly, the difference between products of various skin manufacturers/brands comes from the glue mixes they use or invent, and from the skins-to-ski attachment systems.
With that, let's focus on the glue and discussing why Contour's glue hybrid technology could possibly become the best solution on the market.
To understand why creating a well performing glue (or skin adhesive system) is not that easy you need to consider the following requirements that the glue or adhesive system should deliver:
The adhesive needs to attach the skin to the ski base surface temporarily.
The adhesive needs to attach the glue to the skin carpet permanently.
The adhesive should not leave a residue on the ski.
It should be easy to separate the skins from each other as well as to take them off the skis even in cold temperatures.
All of the above should be achieved reliably and consistently in various temperatures and snow conditions for long periods of time, ideally at least a couple of years.
All skins manufacturers have been trying to come up with the best adhesive or attachment system since the very first day. It has been an ever evolving process and a delicate balancing act.
Traditional "hot melt" glue
This type of glue is being used on the vast majority of climbing skins in the stores today.
The traditional glue as we know it is called "hot melt" in a more technical term. It means that during manufacturing the glue is being applied to the skin carpet (skin backing) at a warm temperature and it is partially absorbed into the skin backing.
Once in use, the temperatures are lower so the glue separates from the ski base but not from the skin carpet.
However, because the same glue needs to perform two different tasks – attach to the ski temporarily yet to the skin carpet permanently – the problem is that it's tricky to design one type of glue mixture that performs these two tasks very well at very cold and very warm temperatures.
This means that glue mixtures need to be designed to some degree for either for warmer or colder temperatures.
Contour's Hybrid twin layer adhesive technology
With their new technology, Contour believes they have invented the best solution so far.
One of the most remarkable things about hybrid skins is that after their stickiness have been compromised by dirt, dust or wax you can just clean them, instead of re-gluing, to restore their performance. You can clean with wipes Contour includes with each purchase or their hybrid cleaning spray:
Obviously, Contour is not the first one to claim such a thing, however, Contour Hybrid Mix skins were the top performer in the comprehensive climbing skins comparison test by OutdoorGearLab.com scoring 84 out of 100, and they summarized them as such:
Pros: Well balanced in all attributes, great glue.
Cons: Expensive, largest and heaviest messenger.
Bottom Line: Virtually every aspect of skin design and construction is balanced by another competing demand; the Contour Hybrid Mix walks that tightrope, creating a product that is fully balanced.
So what is Contour's secret solution?
Instead of trying to design just one glue mixture, Contour came up with a twin-layer adhesive solution. Think of this as having a thin plastic layer (a sheet) that has two different types of glues on each side:
The upper layer sticks the skin firmly to the ski even at low temperatures and detaches easily without leaving residue on the ski base.
The lower layer binds the upper layer of adhesive to the skin backing permanently.
This might seem complex or unnecessary, however, it should reliable provide the following:
Less effort required to separate adhesive sides from each other
Easy removal from the ski
No need to re-glue, simply wash the adhesive layer and let it dry to restore stickiness
Improved ski base adhesion on multiple ascents
Great adhesion even at very low temperatures
Here you can find even more details explaining the hybrid technology.
Various Contour Hybrid Skins
If you are intrigued by the hybrid glue then Contour has four different products.
For best glide, check out their 100% mohair skins they call Hybrid Pure.
If you want a little more grip and added durability then their Hybrid Mix of 65% mohair and 35% synthetic would be a better choice.

Their Hybrid Free skins are an interesting product as each skin consists of 2 narrower strips that can be adjusted to whatever width you need. These skins are recommended for skis wider than 95mm. So if you have more pairs of skis then you will need only one pair of skins. They feature the 65/35 mix as the Hybrid Mix skins above.
The Hybrid Splitboard skins are of obviously for those ridding splitboards. These skins also feature the 65/35 mix as the Hybrid Mix skins.