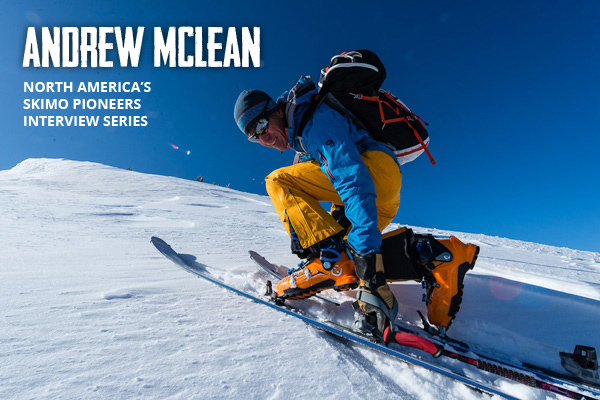 This interview kicks off a series of quick 5-question interviews with people that can be definitely considered North America's skimo pioneers.
Without revealing the actual names, we are going to talk to some really interesting "skimo old timers" over the next few weeks.
» Interview series archive – North America's Skimo Pioneers Series.
Series supporters:
This interview series is presented by Skimo.co and Cripple Creek Backcountry.


5 Questions for Andrew McLean
I am thrilled to start this series with Andrew for couple of reasons:
He is a person I tried to follow in my first ever skimo race on the North American continent (around 2002/03, I don't exactly remember).
He was the very first person I interviewed for SkinTrack back in 2009.
And obviously, he is a North American ski mountaineering icon!
Q1: What is your sporting/racing and outdoor activities background?
I started skiing when I was about four years old and then rock climbing in my 20's.  When I started working for Black Diamond Equipment in 1990, I became interested in backcountry skiing as it was a perfect hybrid of two sports that I already loved.
Q2: When and why did you decide to give skimo racing a serious shot? What did you think of the sport at that time?
I first knew about skimo racing from a trip to France where I saw a result sheet from a previous race and couldn't believe how fast people were covering such amounts of vertical!  I started to look into the sport and thought it would be fun to bring it to the US.  John Scott at Life-Link had held a race at Jackson Hole the previous year, and the next season Black Diamond got on board to host The Powder Keg.
[The above paragraph refers to a period around 2000-2003.]


Q3: Can you list a couple of your biggest accomplishments in skimo, in other sports and/or in the mountains?
I finished second place overall in the Dynafit/Life-Link series, which was fun, but I think some of my favorite skimo moments were putting on the first World Cup races in the US.  It was a two year process, and aside from becoming an International Judge, I had to complete quite a few other criteria, including holding a demonstration race.
The first World Cup was fantastic as some of the Swiss and Catalonian teams showed up and impressed everyone with what was possible in skimo racing.  The second year of the World Cup had even more people and we were able to do it on a fun, challenging course in great conditions.
[For more details on North American skimo history see our Manual for Ski Mountaineering e-book.]
Q4: What sports and activities do you enjoy the most these days?
Ski touring, especially to new and exciting places.  I also do some mountain biking, rock climbing and mountain unicycling.

Q5: With years of experience from multiple sports, what would be the two most important pieces of advice you would give to new comers into skimo?
Enjoy the overall event and the people.  Regardless of how well you do in the race, you will learn a lot about becoming more efficient in the mountains, which means more vertical, more powder and more smiles.
Beyond
» You can follow Andrew's adventures and activities at http://straightchuter.com/.
Keep checking back and follow SkinTrack on Facebook, Twitter, or subscribe on YouTube.