After a week of flurries and rain at lower elevations the temperatures higher up were much colder and we can see some real snow now. Weather forecast is calling for more precipitation over the next couple of days except some occasional sunny periods. Let's hope snow is here to stay.
Update on this report at 7pm on Oct 26:
People are reporting that some decent skiing is to be had around the Revelstoke – Rogers Pass area, higher elevations of course. Also, it looks like Sunshine Meadows (and Village) got some reasonable snow past few days and skiing was reported.
Below are images (taken at 11am on Oct 26, 2009) from five webcams that capture scenery at five different ski resorts:
Whistler Blackcomb, Coast Mountains (Whistler, BC)
Sun Peaks, Interior (Kamloops, BC)
Big White, Interior (Kelowna, BC)
Kicking Horse, between Columbia and Rocky Mountains (Golden, BC)
Lake Louise, Rocky Mountains (Lake Louise, AB)
Whistler Blackcomb
Webcam is located at 1860m on Blackcomb Mountain. This is 1100m higher than the base which had around 1cm of snow covering the grass at 11am this morning.

Sun Peaks
This webcam is located at 1270m by Umbrella Cafe which is basically the base of the resort.

Big White
Webcam is located at the bottom of Snow Ghost Express, at the base, at about 1700m.

Kicking Horse
Webcam is located at Eagle's Eye (top of the resort) at about 2430m.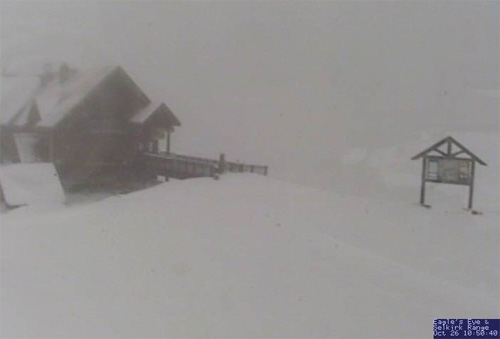 Lake Louise
Webcam is located at the top of Ptarmigan, at about 2150m, looking towards Larch.