This article was submitted by Greg Hill through which he responded to my questions and curiosity about what gear (and why) he uses the most these days. Thanks a lot Greg for sharing this info with us. Short paragraphs in italic are comments on my ski touring gear.
Gear constantly evolves and with it so does our ability to progress. I think back ten years to the gear I skied on and its limitations. Now as I skin up mountains and ski down them I can feel the difference.
I have been skiing for 34 years and one would think that I should plateau but I am not. Somehow this year I am skiing harder and better than ever. And a lot of that has to do with the gear I am using.
Touring boots – Dynafit Vulcan
The Dynafit Vulcan boot is the most futuristic boot I have ever skied  (not on the market yet). When in walk mode the boot is free and easy to walk in. My stride is natural and strong. One of the reasons is that the tongue comes out for the ascent.  My hips and knees thank me every time I take the tongue out, the freedom of movement is appreciated by a body that has walked too much.
Once on the top I put the tongue back in and the boot transforms – it changes from an easy walking show to a charging downhill boot. It's amazing how laterally stiff and aggressive these boots are. I charge harder, and I am more in control than I have been in years.
I am using the Dynafit TLT5 Performance for touring days. They are the best boot to walk in I ever tried (besides some very light, specific skimo race boots) thanks to the range of movement they allow and their weight. The TLT5 also features a removable tongue which adds great stiffness, however, on most soft (or powder) snow days I go even without it.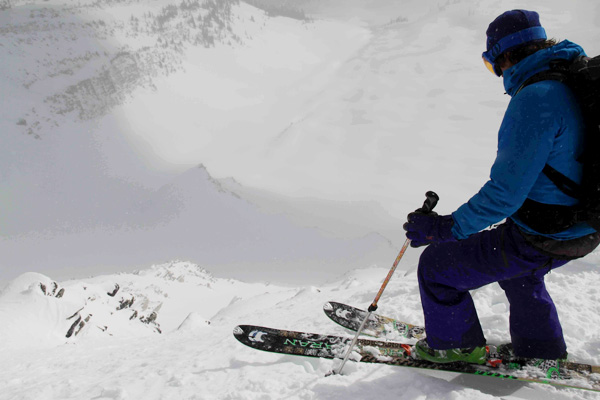 Dynafit Huascaran skis
I am also skiing on the Dynafit Huascaran skis a lot (not on the market yet), which is Dynafit's new big mountain ski. It is 114mm in the waist and has a great early rise tip. The ski is stiff through the middle and tail and skis amazingly well.  I find it super easy to turn and when I am going reckless it is easy to dump speed and regain control.
The combination of the boots and skis connected by the Radical binding is allowing me to evolve into a better skier.
Since I own only one pair of touring skis and skiing very variable conditions during the year I decided to give a try to Dynafit Manaslu skis in 187cm this year. So far I like them. In the past I used to ski much stiffer skis, so I am still getting used to used to them on hard choppy snow. With these I use the Dynafit Speedskins which glide and attach very well, however, might not last as long as my old heavier BD skins.
Greg's pack – Arcteryx Quintic
The backpack I am using is the Arcteryx Quintic pack (not on the market yet), it is 28 liters and great for backcountry day trips. This bag is super simple on the outside and very complex on the inside.
The outside has straps that are multi use, depending on your style of ski carrying or board carrying this bag transforms to accommodate you.  The inside is very compartmentalized, which means you have to have a system. Once you have a system then everything has its place and is separate from the others.
Now that I am dialed with it I always know where something is and where stuff should go. Although it is a little small for any big days it is a great little pack.
I am using my 9-year old trusted Dynastar touring backpack, so far not seeking an upgrade.
Ski helmet – Smith Vantage and Smith Maze
Lately, I have begun wearing a helmet. This is something I haven't done since I ski raced at 16 years old. But new helmets are light and comfortable.
I ski the resort with the
Smith Vantage helmet
and have been trying to tour with the
Smith Maze
that is lighter.
I think of all the crazy wild lines I have skied without protecting my head, a lot of false confidence that I have luckily gotten away with. But making my kids wear helmets has made me realize the importance of them.
I am not using a helmet for touring days but will consider it. For some steep spring skiing I use Salewa skimo racing helmet.
Greg's jacket and pants – Arcteryx Sabre combo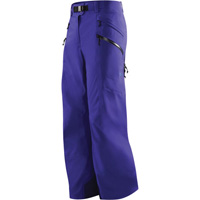 As for clothing I like skiing in soft-shell gore-tex products. These are burly but comfortable. They are quiet and supple, and have a cozy fleece inner.
The
Arcteryx Sabre pants
are long legged, with good side zips for ventilation and not too many pockets. Combined with the
Arcteryx Sabre jacket
in the same color and voila a ballistic beautiful set up.
I don't really have a preferred brand or piece of clothing at the moment.
Equipment progress means our own as well
All this equipment is my favorite because it works really well, helps me maximize what I am doing and also looks great. The fact that its evolution progresses our own is as exciting as straight-lining a chute at Mach 5 😉