Not long ago, all of North America was struggling to buy light ski mountaineering and ski touring gear. We were ordering online from Europe, dealing with language barriers, and hoping nothing breaks because the warranty process would be lengthy.
Another big issue was, getting our light weight bindings properly mounted once the gear arrived.
That has changed completely as today, there are three specialized light-weight ski mountaineering and touring shops in North America with both an online and brick-and-mortar presence:
Over the last couple of months, we visited all three and found that while they have lots of similarities they also have subtle differences that make them unique. All three stores are full of similar gear and have people that share a passion for moving fast in the mountains and having fun, the differences become apparent as soon as you walk inside.
We like all three and we encourage you to visit them in person when you get a chance.
Inside the Stores
Skimo.co
» Online store at http://skimo.co
Skimo.co founder, Jason Borro, comes from IT background which translates into his store's look and vibe as being very organized and orderly. His obsession with technical and engineering detail means that the binding mounting bench is basically the centre of the store.


Skis on the ski wall are alphabetically ordered by brand and then width, in general kept under 100mm wide. The variety and abundance of choice of very light gear comes from his passion for efficiency, whether that be writing code or skiing in the mountains.

People that work in the store are as equally passionate about the same things as Jason. This is perhaps no coincidence. The overall vibe is calm yet enthusiasm for light & fast is high. The store's technical expertise is phenomenal.
Cripple Creek Backcountry
» Online store at https://www.cripplecreekbc.com
When you visit Randy Young and Doug Stenclik's store in Carbondale, CO you quickly realize that while passion for light gear is definitely there these guys took a more "cowboy" approach – coffee machine and beer on tab reflects their social and high energy personalities.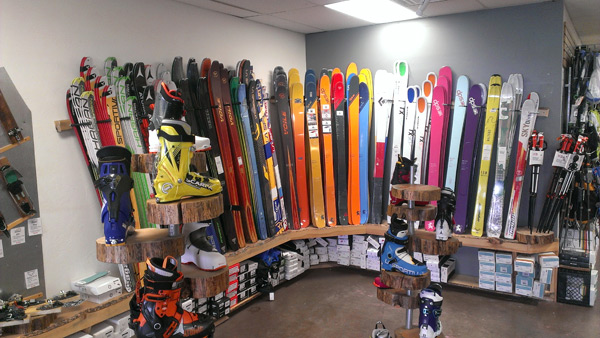 Each product in their store has a little more room than at Skimo.co and the whole floor is more loosely organized. The mounting bench is at the back of the store yet still very present and busy – it's integrated into the bar! If you are into fatter skis, specifically DPS, then this is your candy store.


Last winter, Randy and Doug opened another store in Vail but we haven't had a chance to visit yet so make sure you do.
SkiUphill.ca
» Online store at https://skiuphill.ca
This new kid on the block was founded only this year and is a child of Joel Desgreniers (avid racer) and Gavin Harmacy (ski mountaineering practitioner). As rumor has it, Skimo.co is an investor in this venture so expect close collaboration between the two as they will try to fulfill every customer's expectation.


Their brick-and-mortar store is located in Canmore, Alberta. This town is more known for alpinism and ice climbing but is a home to plenty of fit and fast people searching for lighter gear to accomplish bigger and faster days in the mountains.
The vibe and overall feel of the store actually feels like a blend of their two older siblings in US – very organized but also relaxed with an espresso machine handily available.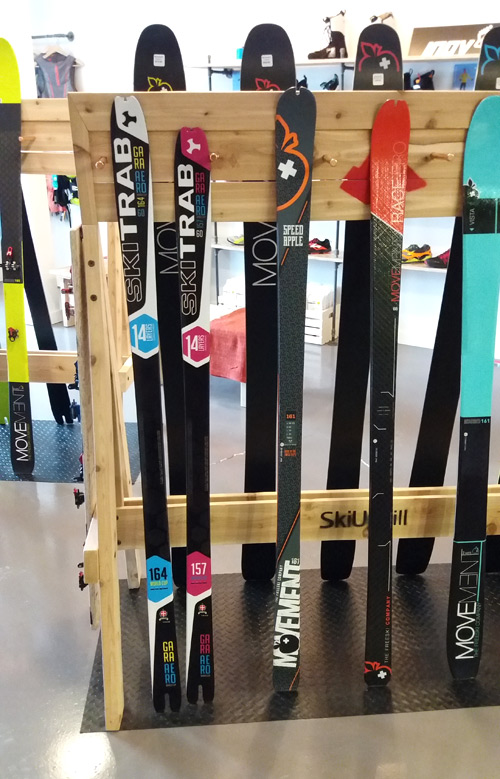 The selection of gear is performance and light weight focused, and just like Skimo.co they offer plenty of choice from boutique European brands like Movement and Ski Trab for skis. They also carry a sizable stock of trail running gear including shoes, running vests and clothing.
Service Quality and Community Involvement
As the article title suggests, we are talking about these three stores because they understand the gear they sell as well as striving to provide the best service possible. People in each store have a unique touch in different areas but in the end they share passion for the outdoors and skiing.
Furthermore, all three stores are heavily involved in their communities and committed to provide entertainment and learning opportunities for local enthusiasts and passing by travelers.
Visit them whenever you can and support the community, together it will grow faster.