Stano: First of all, congrats on opening Skimo Co – North America's first absolutely specialized light skimo gear online store!
Jason: Thanks!  I am excited for the season, pray for snow!
Q:  You had the grand opening yesterday, October 1st. When did the idea of such a specialized store came to you? Why ski mountaineering gear? Will it be all light gear?

Sometime in the past few years, while hunting for specs on Skintrack or in the comments of WildSnow, it became evident that shopping for ski mountaineering gear was way too hard. I only have the passion to be a gear head when it comes to ski mountaineering; I would do a poor job with bikes or whatever.
Lightness is relative of course, but we aren't carrying any skis or boots over 1500 grams this season.  That was more a practical budgeting decision than any magic number; I imagine it will creep up a bit over time.
But I don't ever see us with 10lb skis, as that would dilute the focused experience for people who have realized that weight is a handicap on freedom.
Q: Where are you based?
Salt Lake City, Utah, North America.
Q: Oh, so you are in the same town as the online outdoor gear giant Backcountry.com. Why should one shop at your store versus theirs?
I recently read a quote from a BC founder saying how they regretted losing focus on skiing.  We won't make that same mistake.  If you want to chat with an expert kayaker while looking at a dated stock photo, check them out.  If you want to be helped by a ski mountaineer, or you expect ski shop services like binding mounts and skin trimming, check out Skimo Co.
Q: Are you a ski mountaineer? Do you also race?
I'm one of those people that passes the summer doing any activity just to stay in shape for winter, when (barring injury) I ski 100+ days a season, mostly in the Wasatch backcountry. Peak bagging, powder lapping, technical chuting, I love all of it.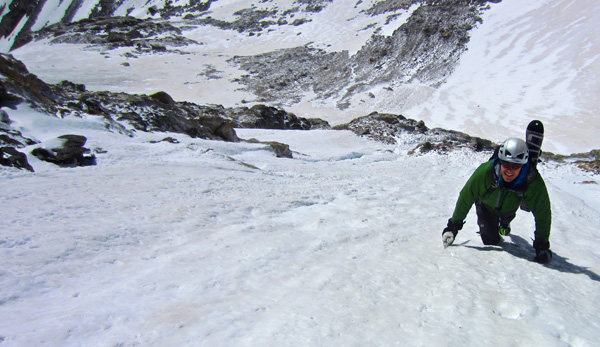 I race recreationally but unfortunately do not have the pedigree to seriously challenge a local Dorais for a podium spot.  I need lightweight skimo gear just to keep up with one on a casual tour!
[Here's an interview with Jason and Andy Dorais if you don't know who they are. Or even if you know.]

Q: How long did it take to open the store since you really started to work on it?
It started with the hopes of saving me time while looking for gear, but I think it backfired.  It's been more than a full-time job for somewhere around a year.  This is after spending my twenties honing software development skills in corporate America and Europe.  Hopefully other skiers can benefit from my sacrifice / stupidity.
Q: What kind of gear will you carry? And what brands?
I've been convinced of the benefits of lightweight gear for some time, and we are working with great partners who share the same vision.  Dynafit, La Sportiva, SCARPA/Trab, and CAMP are leaders in the space, and we also have great items from smaller names (at least in N.A.) like Hagan, Movement, Plum, Millet and more.
I hope we can become a one-stop shop for all things related to light and fast ski mountaineering.
Q: Will you be running any kind of loyalty program?
We were planning on launching with one, but it took a back seat to getting the product experience right. Our experiment with paid reviews (in store credit) is a step in that direction. We are currently more worried about getting gear in stock than getting it out the door. Dealing with fuzzy shipping dates and lost parcels are some of the many challenges we are learning how to overcome.
Q: I see that you have gear packages, that's great people will save some money. Would you be open to let people customize these in the future?
I think package deals are a good way to get started with a new style of skiing.  We put a few together to help guide people into combinations that make sense, but certainly they are not one-size-fits-all. A customizable approach makes a lot of sense if we can safely navigate manufacturer restrictions on pricing.
Q: Anything else you would like to add?
We pledged our first $1000 in sales to avalanche centers and we hope to do more in the future.  We can't thank avalanche professionals enough for making our sport safer.  Let's have a fun and safe season!
Check it out
If you haven't checked out the new Skimo.co store yet you better do it right now. But you better have some napkins handy, drooling is guaranteed 😉