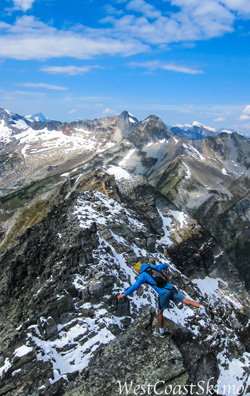 Since 2009 Canadian National Ski Mountaineering Team have been meeting every September for our summer training camp.
Previous camps were usually hosted in Canmore, AB by Steve Sellers but this year we thought it's time for a change and organized it in Revelstoke, BC.
The team was pretty much complete with one exception – everyone's favorite and North America's fastest, Reiner Thoni, couldn't make it as his old truck started to come apart a day before his departure.
Camp concept
The idea behind this camp wasn't about training hard. It was about getting together and have good times.
We are also trying to blend in some younger blood into the team before people find themselves sharing a room at World Championships in February, 2013.
Attending: Melanie Bernier, Martha Burley, Steve Sellers, Stano Faban, Brad Schalles, Peter Knight, Adnrew McNab, Ian Gale, Jeff Colvin, Julie Matteau.
Day 1: hiko-running-scrambling Mt Cheops (2605m)
Summary of day one and all photos are from Brad Schalles (WestCoast Skimo – http://westcoastskimo.blogspot.ca/), one of new additions to the Team. Watch out for Brad this year, he will be the NA dark horse this year.
On Saturday the group split up, with five of us heading up to Rogers Pass for a run and scramble up 1300m to summit Mt Cheops. After meeting up with Steve, who had spent a cold night at the pass, we headed up the trail in the crisp morning air.
The run up to Balu Pass was fast and we all felt light on our feet on the superbly maintained trail. We made it to Balu in an hour and thirty minutes – we all remarked on how much faster it was to run up the valley rather than ski.

After a quick snack on top of the biggest rock we could find, we scrambled along the ridge to the top of Mt Cheops. At the summit we pulled a few bouldering moves to ensure that we were on the tippy top of Mt Cheops. We had a snack and took a group photo in our team Rab jackets, and then we set off down the ridge towards our next stop: an ice cold dip in Connaught Creek (which just might be the coldest creek in Canada).
We made a light-speed trip back to Revelstoke (thanks to Slovakian over-drive), and we regrouped at a fine local establishment with Andrew and Peter. They had spent the day at the Martha Creek Melt Down where Peter placed 1st and Andrew 4th. After a great night caching up and talking all things skimo, we headed home to rest up for the next big day of the camp.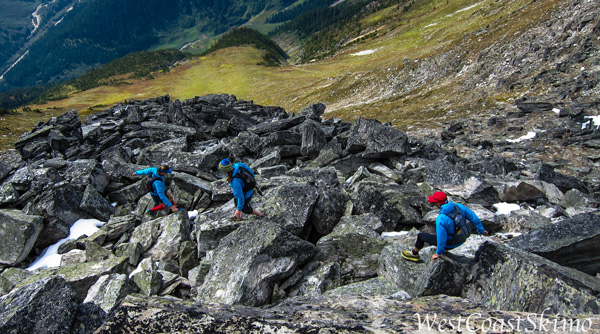 Day 2: Skimo pentathlon + bike ride
Watching the summer London Olympics left me with lots of inspiration and so on Sunday morning we all met at Revelstoke high school stadium. The leader for this session was Jeff Colvin – one of the fastest Canadian skimo racers few years back – who is a track & field coach at the school.
Under Jeff's leadership we all completed the following "skimo pentathlon":
100m sprint
shot put
star run (agility run)
long jump (from stand-still)
800m run
Everyone had loads of fun as none of us knew what to expect from each discipline. On top of that, by the time our heads somewhat grasped one skill it was time to move to something else – testing our adaptiveness in the process.
Women's pentathlon was won by Melanie Bernier and men's main prize went to Brad Schalles who blew everyone in the 800m run on top of winning the 100 dash.
» Revealing video coming soon 🙂
Afternoon
After a season planing meeting during the lunch we split into road and mountain biking groups.
In fact, it was only me and Brad riding the road. We had a good 3h ride in the sunset lit valley north of Revelstoke, riding the always twisting road on the shores of 130km long Lake Revelstoke.
The mountain bike group rode the shadowy side of the valley, however, great Revelstoke trails kept them warm too.
Next camp
Team's next camp is in the works. It will likely be already on skis somewhere high in the beautiful Canadian mountains.