The world of ski mountaineering racing is full of unique characters, and arguably the Canadian and the American skimo scenes are responsible for bringing the most flavour in recent years. This translates to the national teams as well which makes the North Americans' Euro racing trips very enjoyable.
But there is one character that I feel I neglected with my interviews for way too long. He is a die-heart competitor to whom age seems to only provide with more speed, in fact, he is on the Canadian National Ski Mountaineering Team.
Steve is a father of two and a pastor in Canmore, Alberta. At the age of 51 he just recently captured bronze at the Canadian skimo nationals!
Personally, I am very happy to had the experience to witness him to give a true 120% in our teams race at the 2011 Worlds. It was inspirational to be part of it – one can always improve.
» Check out Steve's blog – Ski Training Central
About training, longevity and racing passion with Steve Sellers:
Q: Steve, what do you find the most beautiful and the most challenging about skimo racing?
Skimo racing is the ultimate skiing challenge! You have to have the motor of an xc skier and the athletic ability of a downhill racer. With my xc background the obvious weak link for me are the downhills (as you Stano probably painfully became aware of in our teams race in Claut, Italy!). [Stano's note: I remember very vividly :)] To rectify this I go to Norquay ski area in Banff at least once per week with my lightweight race gear and hammer the double blacks off the North American chair. I time myself and try to improve every run.
It's the challenge of getting better that keeps me motivated in this great sport.

Q: When did you start skimo racing? And for how long have you been backcountry skiing?
In 2007. That year my focus was on fulfilling a dream of cross-country (xc) ski racing the famous 90km long Vasaloppett in Sweden.  Just prior to leaving I jumped in the ski mountaineering race at Sunshine. On the heavy gear I wasn't too fast, but I was easily hooked. I just felt it would be the sport for me.
Later that year, I found myself in Vancouver for a conference the same week as the North Face Whistler skimo race and decided to do it. Everything seemed to go wrong and it was a total disaster, but deep down I felt like I could do this sport. I decided then and there to go back the next year and prove to myself I could do skimo racing. I finished 4th or 5th and knocked a couple of hours off my time.
Q: What is your racing background – which sports, for how long?
I started xc ski racing in high school. Living in Minnesota at the time there wasn't very much downhill or backcountry skiing to be had so I totally poured myself into xc.
I really loved it. I even got to represent the US in a world cup in 1985.
My main focus each year though was the US Birkebeiner. I competed in the elite wave from 1980 to 2010.
Q: You also race Ironmans and shorter triathlons in the summer. When do you switch from winter to summer training and then back again?
After 20 years of roller skiing and running in the summer, among other dry land training, I figured it was time for a change.
For a long time I had on my Bucket List: "competing in an Ironman". It seemed like the clock was ticking, so I thought I'd better go for it. I did half-Ironman and Olympic triathlons for 4 years, then finally got into the big one, Ironman Canada.
Interestingly, my ski results got better. I think it was the extra endurance base hours I was putting in, plus the new knowledge I'd gleaned from training and competing at a whole new level.
I've since found that for my best winter results competing in this totally different sport really works. But it also works the other way around. Two years ago I placed 3rd in my age group in the Calgary Half Ironman and qualified for the world age group championships. I was kind of surprised since due to our usual long ski season and a trip to Europe I'd really only tri-trained a month or so.
However, on the ride home as I shared these thoughts with my wife she mentioned, "that skimo racing is pretty tough, that's probably why you did so well."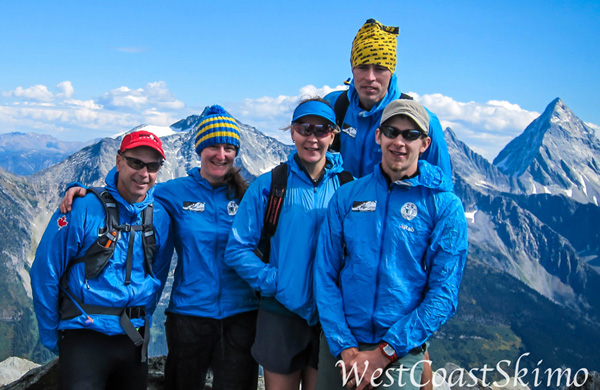 Q: Do you have any rest periods during a year?
After an Ironman you've gotta take about 3 weeks off. The first one you don't even want to train. The second one you can't even if you want to, then the third you can start easing into activity.
I take about 4 weeks of easy training after the skimo season too. I'm still skiing 6 days a week (the skiing's too good to sit around!), but absolutely no intensity.
During the year you have to build in rest days. If I train 3 weeks uninterrupted (hard to do with a job and family though), then my body makes me take that 4th week easy.
Q: What do you think is the secret to your longevity in competition sports? How can someone copy you?
The heart's gotta be in it. You've also gotta be in it for the right reasons.
Sport was never designed to be a place to get your self-esteem needs met. If you're just competing because you have to prove to yourself and others you're a worthy person, then you're just chasing after air.
When you're secure in yourself as a person, at peace with your Creator and have family and friends that love you and support you, then you can be at peace to pursue your passions.
Q: You are always keen to compete. What keeps you motivated?
I'd say the key for me is improvement. If there's the possibility to get better then I find that a fun challenge to take on.
After last year's Canadian Nationals at Kicking Horse ski area, I identified 6 areas I felt I could get faster in (transitions, downhills, uphill fitness, kick-turns, boot-packing and skin speed). I also estimated how much time I could realistically gain from each.
From there I started working on each individual area. I'm still doing it. I've got a cool summer ski sprint course I grass-ski on to work on transitions, boot-packs, kick-turns and uphill sprint speed.
Q: You have two daughters, Anna and Kjirsti. Are they competing in sports too? Does ski mountaineering potentially interests them?
Anna did her first skimo race last year as part of our team relay at the Vert 180. She also had 2 biathlon and 2 xc ski races that weekend. It was hard for her to choose which ones to do. She'd do all of them if we'd let her.
My other daughter cries when she has to go downhill skiing with the family but she's a pretty good skier anyway. Like her older sister she's involved in the Canmore Nordic ski club.
With kids you gotta let them find their own path. We give them the opportunities but I want them to show some initiative on their own to pursue what their heart leads them to.
Q: You represented Canada at the 2011 World Ski Mountaineering Championships. How did you find the experience?
Simply put…amazing! I don't think there is a greater privilege in sport than to represent your country, especially at the highest level.
During the warm up before our teams race I started feeling the nerves coming on and thinking "how in over my head I was". Then I began to contemplate how truly blessed I was just to be there, representing Canada, my country.
This realization just filled my heart with joy. Joy is such an energizer in so many ways. I think too that my walk with God brings joy and energy to these moments.
Q: Do you have plans to race at the 2013 World Championships? Or what is going to be your biggest goal for this winter?
I'll admit I was a little embarrassed being the "grandfather" of the 2011 championships; however, I seemed to make a bit of a jump in performance last year. As long as I'm improving I may as well throw 'er down with the big boys and see what I can do!
Q: With so much experience in competition sports, what would you advise to ambitious skimo racers in North America?
One thing I absolutely love about our Canadian skimo team is that we work together. Having a "win-win" philosophy benefits everyone.
The sport is so young in both the US and Canada and we have so much to learn. We might as well help one another as much as possible. That way we'll all get faster sooner!