On April 5th I congratulated Nina (via her blog) on a great racing season and asked whether she would consider an interview for Skintrack. A day later she replied: "I'd be happy to…".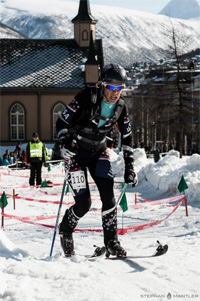 However, at that point I didn't realize there was one more World Cup weekend left on the calendar and that it featured a sprint race – Nina's specialty racing format.
Fast forward nine days and on April 14th Nina Silitch became the first North American to win a ski mountaineering World Cup race! I mean, a North American won a skimo World Cup race! Wow, in all my "calculations" I couldn't see this coming for at least another two-three years.
It is a great accomplishment and we obviously gonna talk about it. But we are also going to talk about more as Nina is a mom of two and lives now in Chamonix, France.
Q: You just won your first World Cup race. Was it a beautiful surprise or you felt throughout the season it was reachable? 
For me the sprint is something I really love. Yes it was a beautiful surprise, but I did believe that I was capable of a podium in the World Cup Sprint.
Q: Can you describe the skimo sprint racing format.
The Sprint format encompasses all aspects of ski mountaineering into a very short race. It was started to help bring more spectators to the sport as when it is in the mountains it is harder for people to watch.
There is a goal for skimo to be an Olympic sport one day, and the sprint is an event that can draw a crowd. It is the same format as the World Cup cross country sprints that have now become a newer discipline.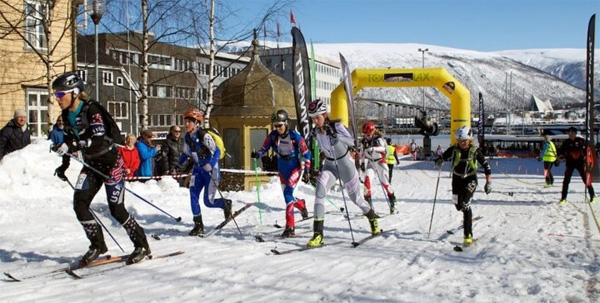 It progresses through a qualification round, followed by 6 person heats of quarter-finals, semis and finals. The course is anywhere from 3.5 min to 4.5 min long and can range from 50-90 m in elevation gain.
The start is on skis with skins going straight to a series of kick turns, followed by a transition to a boot-pack (skis on the pack) then another skinning section, followed by a descent that encompasses both alpine gates, on and off piste and also skating.
Athletes must not only be quick on their feet but also very efficient in their transitions. It allows them to specialize in something, as a sprinter will train differently than a distance athlete.
Q: Is it your favorite skimo racing discipline? Are you naturally a good sprinter or you started to focus on this event only recently?
It's funny because I love the sprint and all the concentration and focus it involves, but I also love longer races of 4-8 hrs.
I realized I had talent in the Sprint race when they first started and I definitely tried to hone my skills a bit. I always have started a little too fast in races but this is actually good for sprints.
Q: How many World Cup skimo racing seasons do you now have under your belt?
I did my first world cup in 2009 at the Valerette in Switzerland. I remember loosing a ski on a boot-pack and miraculously launching for it and catching it before it went 300 meters down a big slope.
I have consistently raced the World Cup circuit the last 3 seasons, with the last 2 seasons 2011, 2012 not missing one race. This year I placed 8th overall in the World Cup in a pool of very strong women, where the level grows and grows each year.
Q: Do you ski during summer (no snow months) as well or you rely on honing fitness through other activities?
I like the change of seasons and take a break from skiing in the summer. The earliest I would find snow would be end of October, though, one time I did ski in July just for fun when it snowed in Chamonix.
I enjoy trail running, road and mt biking, yoga and pilates. I do some roller skiing but not until the autumn.
Q: What are your three favorite skimo races? And why?
The Pierra Menta 4 day stage race – it is truly the heart of ski mountaineering. It is the hardest race I think as each day you have to get up and do it again. But the challenge, the camaraderie and the energy from the crowds keep me going.

The sprint race in Norway – because I felt really good there, in the zone.  Not many times in my life has that happened. I also love Norway. Tromso is a spectacular place.
French national Sprint race – it was held in my home town of Chamonix. It was an amazing feeling to be racing in my own town, with friends and locals cheering, my husband and boys on the side lines too under the lights at night. I took 2nd here behind world champion L. Roux.
Q: Your background is in downhill and cross-country skiing. Why ski mountaineering now?
I grew up in New England, learning to ski in Vermont and Maine. I was an alpine skier when I was younger and really did not like it when my parents dragged me out cross-country skiing. I found it boring.
I did a couple years of alpine racing at age 13-14 at Carrabasset Valley Ski Academy in Maine, however, after ACL knee injury when I was 14 I decided to try my hand at Nordic racing. I was inspired by a teacher and coach, also a former US cross country team member.
It turned out I loved it and continued skiing in college for a few years, though, not on the high level team.  I was not so into the high competitiveness in skiing and also got quite involved in rock and ice climbing as well as telemark skiing.

I did not even know what ski mountaineering skis were until 2001 when we moved to Chamonix and in 2002 I tried my first pair when I joined my husband (High-Alpine Mountain Guides) on haute route trip.
I did my first ski mountaineering uphill race in 2005 after my first son was born in 2004. I loved the challenge of getting up the mountain and the fun ambience after the race with a nice pasta meal.
Eventually I learned that there were more than just uphill races. It really was not until we moved back to Chamonix after living in Switzerland that I really discovered the sport.
The first race I did my youngest was about 10 months old, I was still breast feeding. But I managed to go do the race and get back for the evening feed.
I grew to love all that skimo encompasses: the challenge of the climbs, the thrill of the descents, the technical aspects of the climbing. It combined endurance, skill, power and the beauty of mountains.
Q: There is quite a difference between the number of men and women athletes taking part in ski mountaineering racing. Is this only at the faster level or is it similar at the local races throughout Europe?
I think like most endurance sports – trail running or mt. biking – there are less women in theses sports. There are less women in general but I am pleased to see the pool of women growing in the sport.
I encourage women to get out and try it, not by shy. Start with an uphill, like I did.
Q: Why do you think more women don't race? Because I don't think it is a "manly sport" as all the girls that are racing are great looking. 😉
In Europe it is not a new sport, but rooted in the Alps. Yet, still the pool of women is much smaller than men.
In North America it is a newer sport but it's great to see it growing like mt biking grew in the 90's.
I think that sometimes the technical aspects of the sport can be intimidating but also the price of the equipment is an issue.
Q: Do you have any advice for the skimo community (organizers, novices, ski partners…) that could help to raise this number?
I am all for empowering women in sport, especially this sport.
Holding Women specific ski-mo clinics, camps or workshops is a great way to start. Races can give ½ price entries to women or even have uphill climbs that have free entries for women.
Offer community slide shows or presentations by athletes who race at a higher level, and include women to speak at these events.
Q: You obviously spend lots of time training but you have two young sons. How do you balance it?

It is definitely a balancing act to train and race at a high level and be a mother.
In the winter I actually train less than I would in the fall when I am really doing more volume training.
During competition season this year the volume is lower as more time is spent racing and recovering. As an "older" athlete I have learned that I need more recovery time and the importance of listening to what I need.
With that said there are certain times in the competition season where the volume can be up as high as 20hrs, but mostly 12-15hrs not including racing.
This year, I raced 20 races – 7 world cups, 3 grande courses, 3 national championships as well as some smaller local races.
My boys do join me on hikes, bike rides and skis. I try to include them as much as possible in my training, and sometimes I have no choice so I make it work.  My older son is passionate about skiing. This year he tried skinning with Nordic skis and a narrow pair of skins.
Q: You live in Chamonix, a town with rich history of steepest skiing. Is that the reason?
We moved to Chamonix about 10 years ago when my husband completed his international mountain guides certification UIAGM. He was one of the first Americans to hold this certification. For a mountain guide, Chamonix is really the ideal place to work, as you can come home at night.
Q: Dreams for the future?
I have a dream of continuing to live a balanced lifestyle that integrates sports in the mountains, good health and wellness combined with family and friends.
I hope the sport of ski mountaineering continues to grow. I am proud to be a part of that growth and would like to see more women in the sport, more athletes in general as well as one day it become an Olympic sport.
I helped start the ski mountaineering club in Chamonix 3 years ago with only 5 members. This year I have taken over the role of the President and our membership has grown to almost 70 members. This is a great step in the right direction.
Q: Any advice for the racing folks back on the NA continent?
Keep helping the sport grow, especially with the younger athletes. It is with the youth that we can really start to develop the skimo programs. Offer camps and mentorship programs in schools and ski clubs/partnerships with ski shops.
Keep bringing on more racers that can excel against the Europeans who have been doing it for so long.
Thank you
Thank you Nina for sharing your experiences, dreams and inspiration with us.
» Nina Silitch blog