Time flies and we are already into February of 2017, with World Championships only 23 days away!
To read our last week's Skimo News go here – Skimo News Jan 21-22: Carter racing in Andorra WC, Canada and East Coast races

USA Race News
CROWBAR – Utah – Jan 28
CROWBAR (Cache Regional Overland Winter Backcountry Race) is one of the few fully backcountry hosted skimo races in North America that never disappoints with a foot of fresh the day before!
Last weekend, a group of youth racers from Park City – coached by Nina Silitch – made the trip and delivered a couple of great performances. Nina is doing great work with her skimo "students" and we will bring you more information on that shortly.
The main races were won by Chad Brackelsberg (men's category) and Gemma Arro (women's) while 5th place in men's category went to Jason Borro of Skimo.co.
Both photographs were taken and sent to us by Wayne Wurtsbaugh. Thank you!
» Full results

Skin To Win – Bridge Bowl, MT  – Jan 29
Bridger Bowl Ski Area near Bozeman, MT hosted  another edition of Skin To Win skimo race with Janelle Smiley taking the win in the women's category and Sawyer Thomas in men's. World Champs bound Mike Foote did not finish the race.
» Full results
Canada Race News
There were no races in the Western part of Canada while the SkimoEast series continued in Quebec.
Le Massif – Quebec – Jan 28
This report was submitted by Richard Ferron, one of SkimoEast organizers.
The third race of the SkimoEast 2017 season was Saturday at Le Massif de Charlevoix, close to Quebec City. Le Defi des montagnes had a long challenging course of 19 km – longest of the series – with 1 650m of climbing. The long course was won by David Savard-Gagnon followed closely by Leigh Quilliams. The women's race was won by Carinne Lavallière.
A special mention to Antoine Corbeil, 14 years old, who completed the long course and won the Jr division.
The race was opened to ski mountaineers as well as runners (snowshoes or running shoes). This year, there was even a FreeRide course with an emphasis on the descent and less on the time.
Next race is at Burke, Vermont, February 5. More information on www.skimoeast.com
» All results can be found here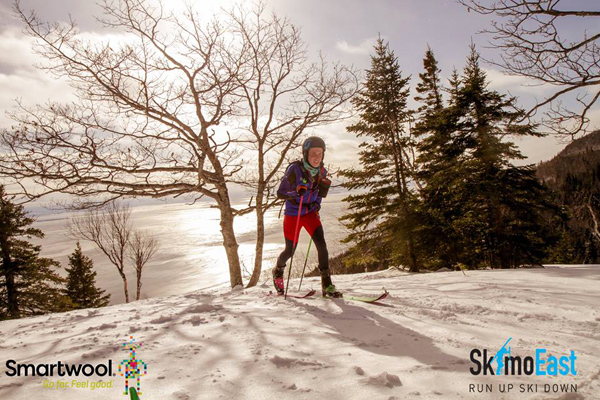 International Race News
Cambre D'Aze – France – Jan 28-29
(Read our last weeks report about how the 1st World Cup of the season went.)
The ISMF World Cup continued in France with Individual race on Saturday and a first Sprint of the season on Sunday. The venue received large amounts of snow just two days before the races so the Individual had to be moved mostly in-bounds.
Individual:
The men's field was missing last weeks winner Anton Palzer (GER), however, there was more "action" than anyone would like to see.
Damiano Lenzi (ITA) crossed the finish line in first place but was given one minute penalty and moved to second, exactly like last week. Thus, the win was awarded to Kilian Jornet (SPA) who was only couple of seconds behind. The "controversy" went into full swing when the top 3 (Lenzi, Jornet, Eydallin) from the finish didn't show up at the flowers ceremony and were disqualified! At the end, the win went to Robert Antonioli (ITA) who finished 4th in the race.
Eric Carter (USA) had a better race than last week in Andorra and finished 37th – but would effectively move to 34th after the top 3 disqualification.

Kilian Jornet went on to explain his/their side of the story on his Facebook page while ISMF didn't comment too much publicly but said that "…the ISMF will analyze the matter in the constant process of the assesement of the quality of the races". Without being there, no one knows which side is right but from our experience there likely are valid points on both sides. The question is how will this affect our sport going forward as conflicts like these are definitely damaging.
A side story we found intriguing, while looking through the results, was a 10th place finisher Christian Hoffmann (AUT). This 42 year old racer came to skimo after serving 6-year ban for blood doping – same investigation that involved a disgraced cyclist Michael Rasmussen. Hoffmann won gold in cross-country skiing in 2002 Olympics in Salt Lake City after the winner was convicted of his own blood doping. While the skier is free to race again, it is interesting that the Austrian Skimo federation is giving him a chance to represent their country on a World stage.
In the women's race, nothing has changed on the top of the podium with Laetitia Roux (FRA) collecting another World Cup win while again second went to her young French teammate Axelle Mollaret. Third place went to Maude Mathys (SWI) who returned after her doping ban, although, for much less serious offence than Hoffmann.
» Full results for Individual
Sprint:
A great day for Iwan Arnold (SWI) by taking his first ever skimo World Cup win! Second went to his team-mate Andreas Steindl while the race favourite Robert Antonioli finished in third.
Laetitia Roux continued in great fashion from the day before and won. Second and third went to Claudia Galicia (SPA) and Deborah Chiarello (SWI).
» Full results for Sprint (you will need to click few links to drill down)

Upcoming Races
World Cups:
After back to back weekends, the World Cup will have a small break and returning on Feb 11th in Turkey with an individual and sprint.
USA and Canada:
» See our preview of Steep Dreams event at Panorama Resort, BC that will take place on Feb 4-5 (individual on Saturday and vertical on Sunday).
» Check out our skimo racing calendar
Over the next two weekends:
Feb 3-5 – US Nationals, NM
Feb 4-5 – Panorama Steep Dreams Skimo Race, BC
Feb 5 – Burke Backcountry Adventure, VT
Feb 11 – Whitefish Whiteout, MT – Stano will be there to remember to Ben Parsons
Feb 11 – Bolton 24 Hours, VT
Feb 17-19 – Griggs Ski Mountaineering Race, CO
Feb 18 – Course du Mont Édouard, QC