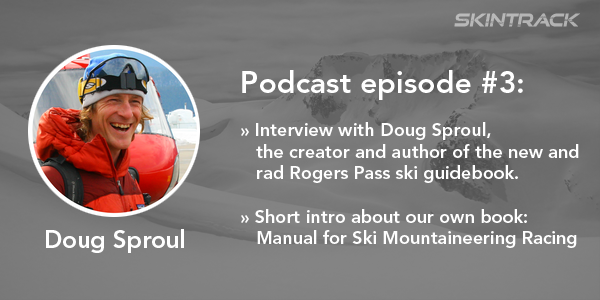 Have you ever wanted a ski guidebook with 80% of pages being pictures with skin tracks and ski lines right on them? How about having Google Earth ski touring maps right on your smartphone?
In today's podcast I went on to interview Doug Sproul who is the author of the most comprehensive ski guidebook I ever saw (and you most likely too). The guidebook covers terrain of the famed Rogers Pass (Glacier National Park, BC) that is arguably the best place for touring and ski mountaineering in North America.
Doug has been selling a PDF version on his website for some time but feedback from people ultimately  pressed him to think about printing. Since the publishing, production and shipping costs are very high he is running a KickStarter campaign right now. If you would buy this book anyways then now is the time because if you don't buy it via KickStarter before Nov 26th then everyone just gets their money back and no book will get printed.
Listen or download
At the beginning, I am giving a short preview to our e-book Manual for Ski Mountaineering Racing.

In this episode we discussed:
Intro to Manual for Ski Mountaineering Racing.
How Doug created the book by learning every piece of software.
What lead him to creation of such a comprehensive tool and take years out of his personal life.
Resources related to this podcast episode:
Please leave a comment below if you liked the episode or give me some feedback of how can I improve future ones.
Thank you!