In this post, I am going to share with you my experiences on structuring day-to-day training. From those you should be able to pick up some tips that will help you structure yours.
As the saying implies  – "There's more than one way to skin a… mountain" – there is not the way, only a way. And because we all have different work and life commitments our training can drastically differ from one athlete to another.
3 + 1 cycle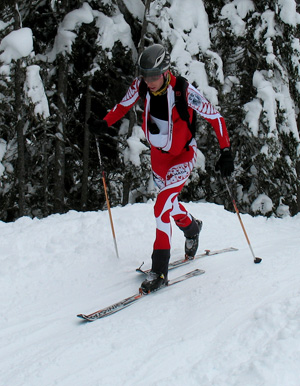 This is my preferred way of structuring training but it has one drawback as you will see.
What does 3 + 1 stand for?
It means you train for 3 days then you take a day off, and then repeat. Some of you may have just realized what could be challenging about following this structure – after two cycles it no longer fits our society's 7 day calendar.
That could be an issue, could be not, but let's take a look why I like to follow it when stars align and I can repeat couple of these.
I found out long time ago that just plain more training doesn't mean I am going to improve. It's the right amounts of volume, intensity and rest that will do it.
The day off:
I like the 3 + 1 cycle because I feel very confident that I will not
overtrain
even without obsessing much about the right balance.  One day of rest in a four day cycle seems enough to prevent any negative effects. It's kind of an "idiot proof autopilot" system.
The 3 days of training:
I found that to train 3 days in a row is ideal to tax my body physiologically yet not enough to burn myself mentally, thus, always keeping a positive attitude going into the next session.
The way I prefer to structure those 3 days is:
Day 1 – getting back to it:
After a day of rest this one features easy endurance (zone 1) with some technique drills and couple of pick-ups of no more than 1-2 minutes each (zone 3). Overall time of the session depends but preferably I would not go over 2-3h.
I find a not-too-hard gym session on this day to be also a good warm-up as it feels like it readies all my balance and coordination systems/receptors.
Day 2 – intensity:
After a warm up day, where I also refreshed my technique, it's a great time do go hard. I try to make sure to always come to this day not very tired, which the schedule of the 2 days before is meant to accomplish.
What I do on this day depends on where I am in the big picture – how much time to my goal there is. Sometimes these would be full out 3 min intervals (zone 4-5), and sometimes these might be longer 8-20min tempo-like intervals (zone 3-4). Point is, I should be hurting.
Day 3 – going long:
After going hard the day before I like to do a longer endurance session (zone 1). Depending on the period in the year this could be anywhere from 2.5h to 7h. This is a good day to go out with friends and enjoy a nice day in the mountains, whether that be skiing, hiking, mountaineering, or biking/cycling.
The intensity day:
I would not repeat the intensity day in each cycle but only in every second. Here and there I try to thread the line to do it in back-to-back cycles but I usually feel so tired by the time the third cycle comes that I just figured it's not the best way for me.
The not so off day:
Just like with the intensity day, here and there, I would not have a complete rest day in every second cycle. And when that's the case the activity is only something very relaxing and no more than 1-1.5 h. Either a short ride, an easy soccer or tennis game, or a short hike will do. Swimming is great too.
Bottom line for 3 + 1 cycle:
I feel that this is a super effective way of structuring my training without having to monitor myself much to avoid overtraining. And this cycle also works great for me around a race weekend:
Thursday off
Friday warm-up (up to 1-2h)
Saturday race
Sunday ski powder for couple of hours
2 + 3 cycle
Now, let's take a look at another cycle that I like and can be followed from week-to-week easily as it is structured around 7 days rather than 4.
The 2 + 3 means: 2 days of training + day off + 3 days training + day off = 7 days.
The off days:
Just like with 3 + 1, you can either do completely nothing or have only light activities on every second of those days.
The intensity day – 3 day block:
When I follow this cycle the hard day falls on the middle day during the 3 day block, exactly structured as in the 3 + 1, and only once per week.
The 2 day block:
If I am doing strength training in that period then one of the strength days would fall likely on the first day of these two, followed by a longer endurance session the next day. Or I will do back-to-back endurance sessions of about 2-5h and likely changing sports each day (running, biking, skiing, strength).
Bottom line for 2 + 3 cycle:
This cycle structure works well. It should keep you from overtraining yet working you hard enough. And the 3 day block can be easily fitted around race weekends (or just weekends) if you start your weeks with Monday off (which is great as we all need to get back to work).
But if you want you can always flip it to be 3 + 2 depending which days you want off. If Sundays then you will need to start with a session on Monday. You can figure out the rest.
Mistakes repeated
Despite all the experience I let my structure go loose mid-way last season. At the time it didn't seems like it but just few weeks later it was obvious. I skied way too much to aid my speed and by the last races I ended up as weak as a sick dog.
What should you do?
That depends on how much time you can/want to devote to training. Overall, I say the 2 + 3 schedule is best if you need to follow a repeating 7 day structure.
Training 3 or 4 days a week:
If you can train only 4 days then I would either structure it as 2 + 2 (2 days on + 1 off + 2 on + 2 off), or as 3 + 1 (3 days on + 1 off + 1 on + 2 off).
If only 3 days then I think it's best to go with 2 + 1 (2 days on + 1 off + 1 on + 3 off). But once you can only train 2-3 days per week your improvement potential is quite limited, yet by experimenting you can surely figure out the most effective plan within those constraints. My hint here would be intensity.
Let's hear it in comments below:
Are you structuring your training?
If yes, how?
If not, which one of the above could be for you?