After a forced day off due to stormy weather yesterday, the World Ski Mountaineering Championships continued today with Individual race for all categories.
» If you are looking for results only then visit this page, otherwise, keep reading for more details.
Men (Senior & Espoir)
Today's course was very technical and lots of big names dropped out, and it was big for Italy when Robert Antonioli (ITA) added a gold medal to his bronze from the sprint race two days ago! His team-mate Michelle Boscacci was only 35 seconds behind to take silver. This results makes them the top favourites for the Teams race later in the week. Third place went to Xavier Gachet (FRA) only another 40 seconds behind.
The whole top 10 was distributed only among 3 countries – Italy, France and Switzerland – with the Italians had 4 of their athletes there!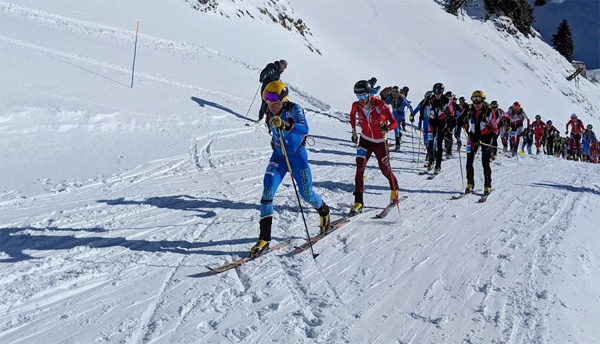 US and Canadian men:
There were lots of anticipation whether John Gaston (USA) can improve on his 15th place from the Individual race from two years ago. Gaston is known not to be satisfied with himself even when he delivers his absolute best which adds to the pressure. However, he seems to constantly deliver when it matters the most and today was no different as he took a historical 12th place in this event for North America with only less than 5min behind the winner!
Cameron Smith (USA) had a very good race as well to take 33rd, with only 12min off the podium, in his first ever showing in the senior category. Cam definitely has potential in the coming years! Max Taam (USA) was 41st and likely not as satisfied.
The Canadian's were led home by Peter Knight in 51st place, followed by Tyson Smith and Matt Ruta in 53rd and 54th respectively.
Of note, Mike Foote (USA) suffered an injury in training and likely won't race at these Worlds at all.
Women (Senior & Espoir)
It might not be Laetitia Roux but the French have a new queen when Axelle Gachet Mollaret took gold with 3.5min ahead of Alba de Silvestro (ITA). Another French lady, Lorna Bonnel, had a great race and took bronze.
Of note is that two Swedish women placed 5th and 6th which is a big result for such a new skimo country!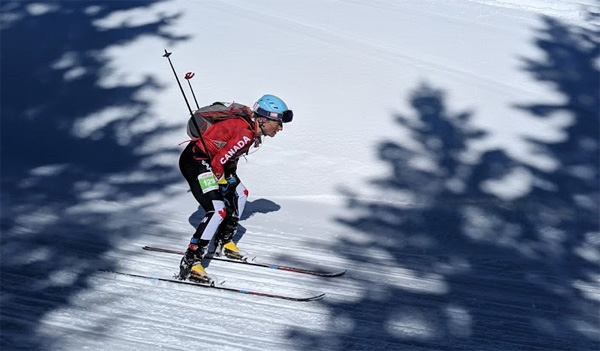 US and Canadian women:
After delivering her first baby only a couple of months ago, Jessie Young (USA) reached her personal historical maximum with 13th place. Congratulations!
While Sierra Anderson (USA) might be reasonably new to skimo, and participating in her first Worlds, she delivered a great performance to finish in 18th. Nikki Laroche and Kate Zander (both USA) took 26th and 27th respectively.
The best Canadian result came from Kylee Ohler in 25th. Kylee was likely dreaming for a slightly better result (top 20) but we are sure she left everything on the course. Lori Ann Donald missed the top 30 by only one spot.
Juniors & Cadets  – Women and Men
US and Canadian athletes – highlights:
Jessie Mcauley (CAN) had a great race to place 10th in the men's junior category. Jacob Dewey was best US athlete in 18th in the same category.
There were no North American women in the junior category.
There were 49 athletes in the men's cadet category! The best NA results went to Caden Klein (USA) with his team-mates following closely behind, while Canadians didn't participate.
In the cadet women's category, among 24 athletes, Team US did very well as Grace Staberg and Elsa Bates took 6th and 8th respectively. Canadian athlete Ema Chlepkova had a satisfactory performance to finish in 18th.
» For full results visit this page.