Today was the first day of the 2015 Pierra Menta. Usually, the PM starts on a Thursday but because this is the 30th edition the organizers shuffled things around to accommodate the festivities.
Stage 1
The stage was unusually short so something big must be awaiting the racers in the next few days to make up for the average of 2500m per day.
Domination of the Italian duo, Damiano Lenzi & Matteo Eydalin, continues! After winning everything there was to win last year, they won the teams title at last month's World Championships, and today they won the first stage.

In women's category, the super tight battle is starting to shape up. Two strong teams, Laetitia Roux (FRA) with Mireia Miro (SPA) and Emelie Forsberg (SWE) with Axelle Mollaret (FRA), went through the whole stage together. At the end, Emelie & Axelle took the win by mere 10 seconds!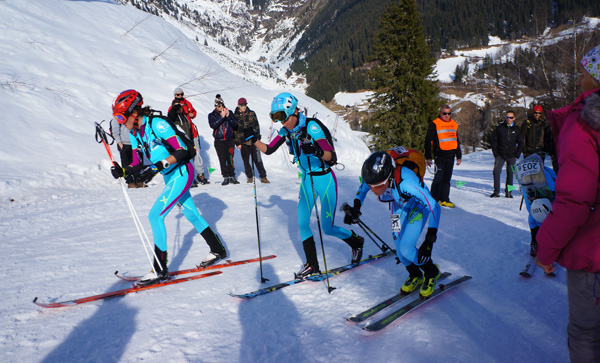 North Americans
There are couple of North American teams competing this year.
The top men's team, consisting of Eric Carter (USA) and Nick Elson (CAN), started the big race well and came in at 20th place, thus, nicely positioning themselves for tomorrow.
Among women, Melanie Bernier (CAN) paired up this year with Malene Blikken (NOR) and they also had a good start to Pierra Menta, coming in at 7th.
» Here's a quick interview with Melanie from just few days ago.

As for the rest, I am only aware of these North American teams racing the PM this year:
The team of Eric Bunce and Nicolas Francis (both USA) came in at 133rd place. BTW, Nicolas is the USSMA president!
At 151st today, came in Crowley Jon and Kilcoyne Jamie.
» Full results – stage 1