With Pierra Menta, the famous four day skimo race, approaching swiftly I figured it would be great to catch up with Melanie Bernier as she is readying for the 4th Pierra Menta. Melanie finished in the Top 5 on two occasions with two different partners – Janelle Smiley (4th in 2014) and Valentine Fabre (5th in 2014).
Melanie Bernier interview
Q1: How was your racing this year up to now? How do you feel about it?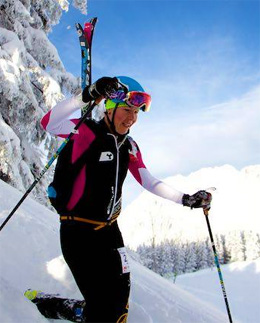 This season is a slow progression for me. As you know, I did a lot of volume in November to raise money to be able to race on the World Cup circuit. I feel it was a great way to motivate myself to train hard and make some money along the way but it also made me do a lot of volume at lower pace and less intensity. As of December, I had very little time to transfer from long-and-slow to fast-and-snappy. I had the endurance but not the speed.
The first World Cup was a write off and I was jet-lagged, I was also fighting a virus and was racing at elevation for the 1st time. Then at the Andorra WC I started to feel better and more like myself.
The World Championships were hard but I feel like I had done a progression there again. Then at Val Martello WC two weekends ago I was feeling great while racing and felt like finally things are starting to be a little more normal. I'm hoping to carry the momentum and by training hard and racing hard over the few weeks to come, the last WC will be my strongest race.
Q2: Looks like the competition inside the women's Top 10 increased. Is it younger racers coming in or just the older ones upped their game?
There's a couple of new girls on the circuit this year but they are not in the top 10. Everyone has been working hard to be ready for the World Champs, so on those years the top 10 is always tighter.
I think some girls are having an amazing season, some others are building up just like me and while another ones are having a mellower season. Skimo is still a fairly young sport even in Europe, therefore, the level increases every year and so we just need to adjust our respective training to be able to follow the pace, but also gain that extra bit when possible.
Q3: Who are you partnering for Pierra Menta with and what are your goals?
This year, I am super excited to be racing with Malene Birken from Norway. She is very excited about the idea of doing the race and I think we will have a very good time together. She has never done the Pierra Menta before so she is in for a treat!
As for objectives, well there will be a lot of strong women's teams this year. It will be interesting to see. The thing is, at the Pierra Menta, anything can happen and athletes that are strong on the shorter individual course are not necessarily the strongest at long races. I am hoping that Malene and I can be top 5 as I have been 4th with Janelle 2 years ago and 5th with Valentine last year.
Q4: What other races are you focusing on?
After the Pierra Menta, my favorite ski partner in the whole world is coming to meet me as we will live in Chamonix, so I will take a little break from racing to reset.
Then the biggest race left after that will be the last World Cup in Mondole, Italy. It should be a great event.