This article is from a series on "How to start backcountry skiing and alpine touring?". Visit the link to see an outline of all the topics.
Now that you skied off piste in knee deep powder with your friends and learnt some very useful things in the avalanche safety course, you are hooked. If not, then something went wrong while you were reading the two preceding articles from this series, please go back and re-read 🙂
When you are truly aboard you will need some basic gear that will get you further into the backcountry. The choices are immense these days, so your budget will be your biggest definer.
The basic fact with backcountry skiing is that since we need to climb up before we go down, the weight of your gear is very important. Light gear means faster uphills but may not provide the best control for downhill. Heavy gear doesn't necessarily mean great downhill control but definitely means tougher climbing.
There are three ways to go about this:
•    you take someone's advice and stick with it
•    you start experimenting on your own
•    or you combine the two
In my opinion, the best thing to listen to some advice but experiment as well. And eventually you should gradually hone your skills and technique that will allow you to eventually tour with lighter gear without compromising anything.
Below is a fairly long yet still quite brief overview of all basic equipment (that you will need) divided into sections: skis, boots, bindings, climbing skins, avalanche safety gear, and backpacks & clothing.
Skis for backcountry and alpine touring
Fat, skinny, light, heavy – the preference should be made on what you plan on skiing the most, whether powder or more of a harder snow.


The best, before you really find your soul, is to go the middle way. Get backcountry skis with around 80-90mm width under the foot. Pick something in the middle of this range and you should be fine for now.
Lengthwise, get a pair that is about the same height as you are, or the skinnier the skis the longer they can be while the opposite is true for fatter skis.
The weight of skis will depend on the length of the ski. At 80-90mm width the weight will generally vary from 1300g to 2200g per ski.
Most popular backcountry ski brands are Atomic, Ski Trab, Dynafit, Black Diamond, K2, G3, Dynastar and Goode.
The usual price range is between $500 to $800. To get a better idea you can check out a wide backcountry skis selection at Backcountry.com
.
Alpine touring boots
Backcountry (or alpine touring) ski boots have a lot to do with how well you will be controlling your ride. Again, the obvious properties are light or heavy, however, for good control you need to consider things such as:

•    how many buckles a boot has
•    how high the boots are
•    how well do the boots fit
The number of buckles ranges from two to five (to maybe more on some models) and this pretty much defines how well the boots will fit your feet. The better fit, the better control. But again be aware of the weight.
For starters, go with three to five buckles, with a heat moldable liner. The weight of these will be around 1400g to 1900g per boot. Weight significantly depends on the size of the boot.
There are four major alpine touring boots manufacturers: Scarpa, Dynafit, Garmont, Black Diamond. Scarpa and Dynafit will most likely have something for everybody from weight cautions to best downhill performers. Garmont and Black Diamond are focused more towards the downhill performance, so you might not find as light boots in their selection.
The usual price range is between $600 to $800, and again you can check out Backcountry.com to see what's out there since they seem to have the widest selection in North America. Also, you can check out MEC.ca as they carry lots of models too.
Alpine touring bindings
Fifteen and more years ago the market in Europe was dominated by Silvretta. In North America there were different brands since telemark skiing was much more popular than a fixed heel.

Then Dynafit came out with a revolutionary Dynafit LowTech binding that changed everything. This was primarily due to the very innovative functionality design which shaved pounds and pounds of weight off the previous touring models.
Over the years Dynafit bindings proved to be at least as durable as anything else on the market. However, your choice should be still made based on some other facts.
If you like to ski the resorts on your backcountry skis or if you ski more in the resorts than in backcountry then you can for Black Diamond's Diamir bindings since it gives you more clearance above the ground and skiing feels more like on normal bindings. Marker's Duke bidding belongs in this category too.
Anyone else should pretty much consider only Dynafit. Nowadays, the brand offers various models yet all of them are way lighter than any other brand's models. And the simplicity of the design means that there is a lot less to break than on any other models.
Dynafit design is specific in a way that not all alpine touring boots can be used with their bindings, however, now all boot manufacturers have at least couple of models that are Dynafit compatible. So no worries.
Also, you may consider "alpine touring adapters" for normal biddings. Those can be easily locked in your downhill bindings and provide a climbing mode for you. You can use these with your downhill ski boots. But beware you will be hauling a lots of weight up the hills with this setup.
Most recommended alpine touring bindings brands are Dynafit, Black Diamond's Diamir and Silvretta. G3 has recently released an alpine touring bidding too, so if you are like to test new things that might be your choice.
Again, to see what's out there go to Backcountry.com. Prices will range mostly between $350 to $500.
Telemark skiing gear – skis, boots, bindings
Being not a telemark skier myself (but soon to try) I will give it my best to introduce you to the tools of the trade. (Original photo of the telemark skier is from John Baldwin collection.)

Telemark skiing (or telemarking) gear consists of the exactly same components as alpine touring – skis, boots and bindings. However, this gear functions differently due to the downhill technique of the marvelous telemark turn.
Telemark skis
Many people are using alpine touring skis (or all mountain skis) for telemarking or even skiers are using tele skis for skiing. Although, that definitely says something about compatibility telemark skis, in general, are somewhat softer and narrower than backcountry skis. However, in recent years they are catching up with the fatness.
When choosing the right ski for you, you need to consider your height, weight and skill just like with normal skis. The best is to ask an experienced tele skier but you should not go wrong with a length that matches your height. And the deeper the snow you plan on riding the fatter the skis need to be.
Usual prices for telemark skis would be about the same as for alpine touring skis, between $500 to $800.
The most popular manufacturers that offer specialized telemark skis are Karhu, Voile, K2, Atomic, Black Diamond, G3, Ski Trab and Rossignol.
Telemark boots
Telemark boots are different from any other ski boots at a first glance. They feature a bellow that allows for a "bending motion" of the boot that is necessary for dropping low when carving the tele turn.

Important differences among telemark boots, including the weight factor, are:
How soft or stiff a boot is?
How tall or low a boot is?
To have more control for downhill as well as to have a more precision for aggressive skiing (or jumping) you should be choosing some of the beefier boots that are stiffer and taller. On the other hand, if you want more comfort while climbing then a softer, lower boot will do.
Telemark boots as well have about the same price point as alpine touring boots – $600 to $800.
There is not as many specialized telemark boots manufacturers as for telemark skis, however, there are plenty of boots to chose from. The most popular brands are Scarpa, Black Diamond, Garmont and Crispi.
Telemark bindings
Telemark binding is responsible for making the core differences between telemarking and backcountry skiing downhill techniques. Telemark skis and boots are just follow ups of this tele gear component.

In the past, the biggest concern for telemark skiers (and those that wanted to try it) was a lack of releasability of their bindings in a case of a fall. Therefore, facing a potentially nasty "beating" of your head by your attached skis or spraining your knees. This has been dealt with in the recent years by improved binding models.
A cool feature with some of the latest tele bindings is that you can adjust its stiffness. This would affect your downhill control (aggressive vs relaxed). I am not sure how much telemark skiers fiddle with this "setting" while on their skis, however, it is something that alpine touring equipment is missing.
Telemark bindings price range is a bit wider than for backcountry skiing bindings and it's nice to see the price drop even under $200 on some models. However, you can pay almost as much as $500 for a pair.
These days, telemark binding manufacturers offer a wide choice from different models. The most notable brands are Black Diamond, 7tm, Voile, G3 and Rottefella.
Where to buy telemark skiing gear?
You can buy specialized tele equipment at the same online stores that sell alpine touring gear. So Backcountry.com and MEC.ca will do, with MEC.ca having a better selecion of the bindings and boots.
Climbing skins
Skins are divided usually into three categories – mohair skins, synthetic and mixed. The more mohair, the better glide (less energy, goes faster), but absorbs water in warm conditions quicker. The more synthetic, the less glide but somewhat more durable. The mixed models are a mix of bought.

Make your first pair of skins synthetic or mixed ones and maybe after a season or two treat yourself with mohair skins for glacier skinning days.
When buying skins you need to consider the length and the width of your skis. Skins are now usually sold in about 2m length, but the widths will differ. It's always better to buy fatter ones, then trim them to fit your skis as oppose to have skins too narrow.
Popular brands for climbing skins in North America are Black Diamond, G3 and Dynafit; in Europe it would be more Coltex, Pomoca and Ski Trab.
Backcountry.com carries about 15 different types of skins with prices ranging from $120 to $190.
Avalanche safety gear
Avalanche safety gear is a package of three items which function together in a case of an avalanche accident – avalanche beacon (or some times called transceiver), snow shovel and avalanche probe.
The most trickiest to chose is the avalanche beacon, mostly due to the wide range of prices (from $200 to $600).

The shovel and probe are more straight forward with each costing only around $40 to $80. Pick a shovel with an extendable handle and a metal blade as this gives you the best tool to dig with. For the probe, don't go shorter than 240cm, preferably buy one that is 320cm long.
As for the avalanche beacon, the recommendation is to ask friends that have experience in using one or your instructor at your avalanche course. How to chose an avalanche beacon is a whole new topic, so I won't discuss it in this article.
A new piece of safety equipment to consider is an avalanche airbag. After pulling a handle a bag full of air infaltes around you or your head. This protects you from trauma injuries as well as helps you to stay above the floating snow.
There are very few manufacturers around the world that focus avalanche safety equipment, and these would be pretty much it: Ortovox, Backcountry Access, Pieps, G3, Mammut/Barryvox, Pulse.
You can find the widest selection of avalanche safety gear at BackcountrySafety.com or at Backcountry.com.
Clothing and backpacks
Most of the clothing you need for backcountry skiing can be the same as you use in a resort. The main difference would be the top layers. Buy a breathable jacket for uphills (soft shell) that has some wind proof properties. The same is true for pants with more emphasis on the breathable part.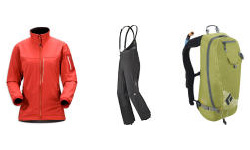 For downhill or more stormy days you should have some heavier duty windproof and waterproof gear. The most recommended are jackets and pants made out of GoreTex fabric.
Then you will need some thin gloves for climbing and a pair of warm ones for skiing, or when the conditions turn bad. The same goes for hats.
All of the extra clothing and avalanche safety gear is best carried in a backpack along with some water and a bit of food. The choices for backpacks are great, but to start buy a pack that is around 25 to 35 liters large and features straps that allow you to attach your skis, this is very useful for boot packing.
This is the category where you will find the biggest selection of all equipment and the most popular brands for clothing and backpacks for backcountry skiing are The North Face, Arc'Teryx, Marmot, Patagonia, Mountain Hardware, Columbia, Mammut…
You can go nuts at these online stores: Altrec.com, Backcountry.com, MEC.ca, REI.com and many more.
Altimeter watch
Altimeter watch doesn't really fit inside any of the above mentioned categories but it's an essential piece of backcountry skiing equipment, and the more you learn how to use it the more you will appreciate it.
To learn why altimeter watch is a great tool to have see:
Altimeter watch: Why it is important and beneficial to know your altitude?
To get help with buying an altimeter watch see this article:
Buying altimeter watch that fits your needs and budget
Have questions about gear?
If you have any questions or comments about the gear I just introduced you to feel free to ask or discuss below. I will answer the best I can or even write a post about it. And you are all welcome to answer each other's questions too.