Back in 2012 my two good friends and Canadian Skimo Team members, Melanie Bernier and Ian Gale, partnered together for what at the end happened to be a new record for the full Wapta Traverse. They set it down to 7 h 35 min for this 43 km long and 2200 m of gain famous ski traverse in the Canadian Rockies.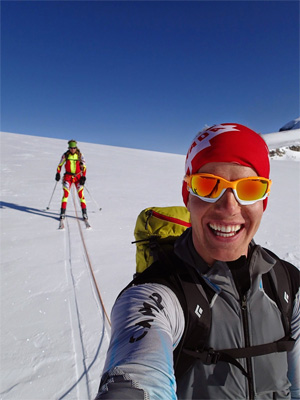 Last Sunday, May 11th, a duo of another two skimo friends (that were still "novices" back in 2012) consisting of Peter Knight and Travis Brown took advantage of some fine weather and hit the traverse in what looks like stellar speed conditions. At the end, Peter and Travis shaved 1h of the old record and set the bar to 6 h 34 min!
When we got onto the glacier, there was 1-2cms of new snow on top of a very supportive crust and it was actually faster to ditch the old drifted in skintrack and make our own. – from Travis' blog post
I like to think that the recent interview for Skintrack gave them the final boost of motivation that pushed them towards such a great performance – they had to match the hype with performance 🙂
And here is what Peter had to say about their effort in his usual style:
We weren't feeling too bad afterwards and we contemplated doing a Bow Summit victory lap when picking up Travis' car.
Wapta Traverse details
Here's a screen picture after Travis uploaded their day from his Suunto Ambit 2 (watch review here).


And here is a publicly available Wapta ski traverse map on Google maps:

For more info and photos from their day see their Suunto's Movescount file and Travis' blog post.
Wapta under 6h?
For over a year now, I have been long convinced the Wapta traverse can go under 6h, perhaps even close to 5h. However, everything would have to line up perfectly – conditions, people in shape in the right time, and sufficient snow pack that season.
What do you think? Can be Wapta done in 5h?