Ian Gale is the man behind the best run ski mountaineering race in Canada. And this year, his race got the recognition by being awarded the North American Continental Skimo Championships.
By winter, Ian is a senior ski patroller at Kicking Horse Mountain Resort (near Golden, BC), and a forestry firefighter by summer. And now also a dad.
» Make sure to visit Ian's blog for more info on the big race
Q: Ian, you are a skimo racer yourself, in fact with 2 bronze medals from the Canadian Champs and one World Champs appearance under your belt. Do you think it is important that an organizer and course designer have racing experience?

It's obviously not necessary but I think it's a huge asset, really I just tried to help design a course that I would find fun if I was racing.
Whenever I go to another event I'm always paying attention to what works well and what doesn't, because of that we're always tweaking our event a little every year.
Q: When did you start racing? And what made you start/think of organizing yourself?
My first race was the Mountain Storm race in Fernie in 2008. I drove down with Reiner Thoni and our buddy Ken, and had a blast.
The idea for the Dogtooth Dash was born shortly after that. It was actually Ken's idea and we just started brainstorming on a skin track one day touring.
Q: Kicking Horse Mountain Resort is incredibly supportive of the skimo race you put on each year. In fact, they are an integral part of the whole thing. What is your job, and what other people do to make it all happen?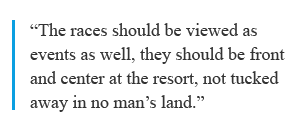 I think our greatest asset as event organizers is the "buy in" from the resort.
The Horse is known for its access to the backcountry and when I pitched the race to the events guy at the time, Jordan Petrovic, he was psyched on the concept.
I work as the "technical director", basically everything to do with the course and the nuts and bolts of the race itself. Max Cretin is the Events Coordinator and he handles all things events related e.g. registration, sponsorship, the bigger picture stuff…
The Mountain Safety department puts in a huge amount of labour as well, mostly behind the scenes and without enough kudos, and we're blessed with an awesome troop of volunteers, who come out and help with trail breaking, timing and course marshaling.
Q: The resort lets you use their best and most challenging terrain right in the middle of the day. How did you manage to get that?
Working as a patroller at the resort made it a bit easier to win over the managers and operation supervisors, convincing them this uphill touring stuff was safe to do with thousands of downhill skiers flying by.

The Events department has been really forward thinking with running the race in the middle of the day, smack dab front and center at the Gondola top.
Why put a bunch of energy into an event and then tuck it away in a lower corner of the mountain and start at an ungodly hour? Nobody will see it!
It was a no brainer for us that we wanted to grow the event into something big and showcase the sport, that's the goal for every event that the hill runs, why would skimo be different?
Q: Your race is very unique as it starts at the very top of the mountain with a crazy running dash around the Eagle's Eye restaurant. How did you get the idea to start there and not at the bottom like any other race?
The idea came from the Dachstein Xtreme Skimo race in Austria. I was nerding on the web and I came across a YouTube video of a crazy looking downhill start with hundreds of racers flying down a narrow run. It looked chaotic & awesome. It added the kind of unique animation we wanted for the Dash, so we made it happen.


Q: The Dogtooth Dash has lots of technical ascents and descents. Skin tracks are shoveled into the slope when it's too steep. How long does it take to prepare all uphills?
It takes a crew of 10 a solid 10 hours at least. It's a massive undertaking and I'm indebted to the friends, coworkers and racers who grab a shovel and pitch in.
Then 100% of the course is run again in the morning to make sure the trail is still broken and the race is as fair for the first person as the 10th.
Q: How many ascents and descents the race has? What is the total vertical?
6 ascents for the Elite course & the Enduro has 4. 6000 and 4000 feet respectively.
Q: How many bootpacks there are?
Lots 🙂 … 3 different sections with a lot of vert in each. Each bootpack gets you to the top of a peak and that's what ski mountaineering is all about.
Q: Descents are true ski mountaineering. Is that terrain controlled by your ski patrol crew? Is it in-bounds or out?
The course is all in-bounds and controlled for avalanches.
We've been lucky with the weather for the last 4 years and haven't had to change the course at all, but it's been close for sure… again, I think kudos should go out to our patrol team who keep our terrain safe and open!

Q: For past two years the whole event took place over two days – the individual race for the Canadian Champion title on Saturday, then a more relaxed sprint-style relays on Sunday. Is it going to be the same format this year?
Definitely, we love the teams race on the second day. The vibe is awesome and laid back, and it's a great way to introduce people to the sport, it's a less intimidating race format and is perfect for spectating.
Q: From a racer perspective, what do you see as the biggest mistakes organizers make when designing and marking their race courses?
From a design standpoint I think the course should be interesting… It should feel like ski mountaineering, I don't want to pay money to walk up a groomer at a ski resort.
The races should be viewed as events as well, they should be front and center at the resort not tucked away in no man's land. A ski mountaineering event is fun for the resort guests to watch and adds to their day of skiing, it's interesting!
And don't even get me started on course marking… that's my biggest pet peeve. The ISMF lays out ground rules and best practices on how to mark a course, a racer should never be unsure of where to go, it's not an orienteering race:
Descents: RED flags, 15-30 m apart, closer on corners. (red is easy to see)
Ascents: GREEN flags, 5-15 m apart, PLACED WHILE SKINNING UP!
It's very easy to poorly mark an ascent while skiing down, plus up-tracks are usually too steep when done that way.
Q: What is the usual yearly snowfall at KHMR? What is the snow like?
KHMR is in the Dogtooth Range of the Purcell Mountains. We usually have a 2 meter snowpack give or take, with the accumulated snow fall of 750cm.
Q: What are some mountain stats for KHMR? How steep/mellow the runs are?

Vertical drop: 1,260 metres (4,133 feet)
RUN TYPES:
120+ Runs
Beginner – 20%
Intermediate – 20%
Advanced – 45%
Expert – 15%
SKIABLE ACREAGE:
2,800+ acres
Q: KHMR really keeps the costs down for people that enter the skimo race. What is the entry fee and what does it include?
$65.00 gets you entry into the Dogtooth Dash and also includes lift tickets for two days!
We also have accommodation packages available if racers are keen to stay on the resort.
I think it's a great excuse to take a week and ski the Horse for a couple of days. I mean common, 2 lift tickets are included in race entry…, then take a few days and ski powder at Rogers Pass.
At the end of the interview Ian asked me to add this paragraph:
"Stano, thanks for the opportunity to talk about the Dogtooth Dash. I appreciate all you've done for skimo racing in Canada both through your dedication to years of racing, race organisation and operation of Skintrack.com. It's time to resurrect the Mountain Storm Ski Mountianeering race again!"
Thank you for such kind words Ian, and yeah, it's probably time to bring Mountain Storm back. 😉