Audi Power of Four, Aspen (Feb 28, 2015)
Quickly growing into the biggest skimo race in North America, the Power of Four is already a Colorado classic. With vertical gain totaling 11,600 feet and course spread over three peaks covering 25.3 miles in distance, this race's proportions resemble some of the big European classics such as Mezzalama in Italy. The route is not as technical but the altitudes most likely make up for it.
This year, once again, it was the home team of Max Taam & John Gaston that took the win. However, this time around, they put in a big gap (23 min) between them and 2nd placed Jon Brown & William Laird who only narrowly beat (1 min) a team of Pete Swenson & Rory Kelly. In 4th, was a notable duo as the team consisted of well known ultra-runners Mike Foote & Rob Krar.
The women's race for first was a much more exciting affair. The newly married, Stevie Kremer partnered with Lindsay Plant to take the win by less than 2 minutes, in front of Jessie Young & Annie Gonzales. All this after 6 hours of racing! Third went to Darcy Piceu & Petra Pirc.
» Overall results and results for various categories are here
Marmotta Trophy World Cup, Italy (Mar 1-2, 2015)
Recap and photos submitted by Eric Carter who raced as well. Edits by Stano.
Set deep in the Martello Valley of South Tirol, Italy, the Marmotta Trophy World Cup featured both an Individual race and Sprint. The weather was kind to the organizers and athletes, with fresh snow falling the week before the race – a contrast to the low-snow, spring conditions of the previous edition.

Individual Race
The course featured three major climbs and descents. A wide track at the start quickly funneled into a double skin track. The first climb ascended out of the shadowy valley to the sunny South facing slopes before talking a direct but steep and narrow descent on breakable crust. The second climb started with a long flat stretch before tackling steep switchbacks to a hut where the women descended. The men continued up innumerable but gentle switchbacks to the glacier below Cima Marmotta before descending wide open powder fields at high speed. A flat traverse at the bottom took racers to the base of climb three. The climb was primarily switchbacks split in half by a bootpack up a steep couloir that would have likely been a pleasure to ski. Descending another long powder field before entering a steeply walled couloir, racers were again spit back onto open slopes that led to a final luge track descent through the trees. The last skins on transition was within sight of the finish, athletes put skins on frantically for a 15-meter climb to the line.

The women's race was dominated as usual by Laetetia Roux (FRA) who led the race essentially from start to finish. Axelle Mollaret (FRA) chased behind with Emelie Forsberg (SWE) keping the French espoir in view to round out the podium. Behind the leaders was a pack that battled throughout the race including couple of Italian and Spanish women.
Melanie Bernier (CAN) skied strong on the last descent to gain contact with the Spaniards and Italians and the five women arrived in a group to the final transition before sprinting to the line within seconds of each other. Melanie finished 8th, only 7 seconds behind 6th, which is her top WC Individual result this season. The only other North American women to race was Michelle Roberts (CAN) who finished 20th.
» Women's full results are here
The men's race was also a battle between France, Italy, and Spain. Killian Jornet (SPA) led much of the race only to be passed on the final descent by one of the finest skiers William Bon Mardion (FRA). Xavier Gachet (FRA) rounded out the Frenchman sandwich with Michelle Boscacci and Damiano Lenzi (both ITA) skiing strong but not well enough for the podium.
Nick Elson (CAN) led the North American men with a 35th place finish. Eric Carter (USA) was 43rd and Travis Brown (CAN) 45th. A notable absence was super-German espoir Anton Palzer, sidelined since the World Championship relay race with a knee injury. However, Palzer is expected to be back skiing just in time to attend the Pierra Menta.
» Men's full results are here
Sprint Race
Sunday began cloudy with Junior athletes racing before the Seniors, allowing an extra bit of rest and recovery. The men qualified first with 30 athletes advancing on to quarter-finals. The women followed quickly after with only 12 advancing on to semi-finals. Nick Elson led the North American field, however, failed to qualify for the heats along with Travis Brown and Michelle Roberts.
Melanie Bernier qualified with a strong time in 5th position. Melanie raced an amazing semi-final, falling behind to fourth place in the boot-pack but ripping down the descent and skating into a photo finish, ultimately placing third in the heat and continuing on to the final. The women's final was led throughout the race by Laetitia Roux with Melanie finishing in 5th.
In the men's heats, the usual players worked their way ahead with the notable addition of Kilian Jornet, rarely seen in a sprint race, who placed 13th overall. The Italians fought hard along with the French and Swiss racers but the day was dominated by the German Josef Rottmoser who decisively led every heat and settled the final uncontested.
» Sprint results: Men and Women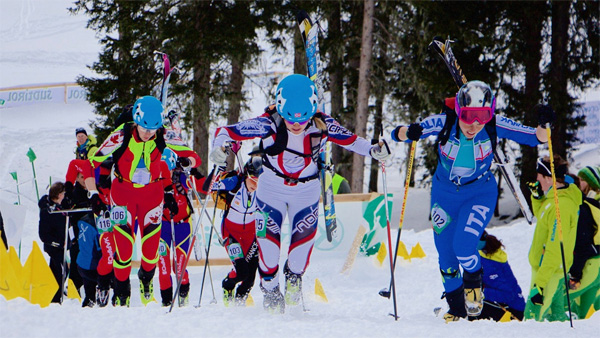 Upcoming races
Wasatch Powder Keg and US Skimo Nationals
Over three days, March 6-8, the whole US skimo scene will move to Brighton Resort close to Salt Lake City for the famous Wasatch Powder Keg. It will begin with a sprint race on Friday night, then continue with individual race on Saturday, and technical teams race on Sunday.
The very next weekend, March 13-15, everything and everyone will move to Crested Butte, CO for the 2015 Gore-Tex US Skimo Nationals that will also feature three days of competition – vertical race on Friday, individual on Saturday, and concluding with a teams race on Sunday.
East Coast
Skimo racers on the East Coast will also have their work cut out for them and they will line up for:
Mar 7 – Jay Peak Rando Race, VT

Mar 8 – Owl's Head Quebec Touring Challenge, Quebec
Mar 14 – Magic Mountain Rando Race, VT
Mar 14 – Mt Orford Skimo Race, Quebec
Pierra Menta (Mar 11-14, 2015)
There will be couple of North American's lining up for the 30th edition of Pierra Menta. Melanie Bernier is set to race once again, after collecting couple of top 5 finishes, and her partner should be a Norwegian athlete.
For men, North American will have an international team consisting of two good friends from Squamish, BC – Eric Carter will race with Nick Elson. Here is what they set in today:
Q: How are you and Nick feeling for Pierra Menta? What is your goal and what are you most excited about?
It's the biggest event in skimo period. We are mostly stoked to race and test out all the training and preparation we have done. We of course want to place well. Reiner and Andrew's 15th place in 2013 is certainly in the back of our heads but looking at the 2014 results it is very competitive and seems to be getting more so every year. We're going to try to race a smart race and see what happens.
I believe the boys are in good shape and can definitely crack the top 20, so the question should be by how much. Melanie will be going strong as well since long and technical races suit her well.
Karl Egloff interview
In case you haven't checked it out yet, I had the pleasure to interview the new Aconcagua speed climb record holder as Karl Egloff beat Kilian Jornet's time by almost 1 hour few weeks ago!