It's that time of year when days are getting longer so we can start thinking of big days in the mountains instead of just storm skiing and occasional resort laps. For skimo racers, this means thinking about the classic races, the Grande Course events.
One of the biggest and oldest is the Patrouille des Glaciers (PDG) that goes from Zermatt to Verbier in Switzerland. The 75 year old race covers 53 km and accumulates 4000m+ of climbing along the classic Haute Route, with approximately 3000 participating each year!
This year, we will be watching closely as several North American teams are attending the 2018 edition and we have put together some tips to help teams prepare for this big event in the future!

Getting There
Getting there is the first hurdle that athletes must tackle. Once a team has been selected for the race, they don't have to worry about accommodation the night before. However, it is wise to head to altitude prior to the race (more on this later) to acclimatize.
Geneva, Switzerland is the closest major airport. Rent a car from the "French Sector" of the airport where rentals are MUCH cheaper, but be aware that driving on the autobahn (freeway) in Switzerland requires your car to have a vignette sticker which costs around 40 Euros. If you rent from the French side, your car likely will not have a vignette. You may get away driving from the airport to Zermatt without one, but you may get stopped at the border and forced to buy one. Pleading ignorance will hopefully prevent a fine.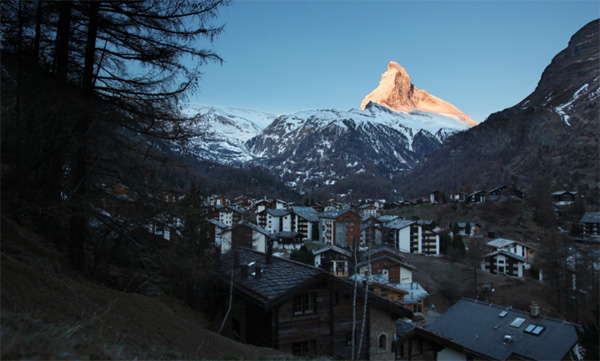 The town of Zermatt, where the race starts, is actually off limits to cars. Additionally, the start and finish are in two totally different areas. For a team with no support crew and traveling by car, it can be difficult. We suggest parking a vehicle in the medium-sized town of Martigny, from here it is a short train ride to both Zermatt, for the start, and from Verbier at the finish.

Staying Healthy
Another important component of preparing for such a big race, especially in combination with traveling from North America to Europe, is staying healthy.
Don't try to make up training in the last two weeks for the race, you should be doing that now.
Use care on public transit – wash your hands often while flying and taking the train.
Schedule your flights to help with your jet-lag by flying overnight.
Spend as much time at high altitude (above 2000 m) as possible, focus on training easy, and to practice your downhills.
Eat healthy and sufficient calories. Don't try to loose weight!
Sleep enough and well!
Tips on Dealing with Jet Lag
Because of the length of the race, the start takes place VERY early in the morning. Don't expect to get great or a long enough sleep so do your best to rest well in the days leading up to the race:
Arrive in Europe with plenty of time to overcome jet lag and optimize your sleep schedule (early to bed, early wake-up).
Sleep lots in the nights preceding the race.
Use an eye shade and ear plugs if needed.
How Long Will it Take?
Finishing times in such a long race vary wildly so your best bet is to simulate about 1/2 to 2/3 of the distance and elevation gain in your training to figure out how long your team might take to finish. With that, you will be able to figure out how much food and water you will need to bring as well.
Current men's course record was set in 2010 by a very strong Swiss team with a finishing time of 5h 52min. Women's record stands at 7h 27min and was set also, by historical standards, by a very strong team in 2014.
We expect that most male North American teams can finish in around 8-12 hours and female teams in around 10-14h.

PDG Race Logistics
Bring only what you need for the night before the race and the race itself to Zermatt. The organizers will only transport a small bag to the finish for you. It's best to leave your big suitcase in the car if possible.
The race often starts on foot in town. Depending on the length of the dry segment, you may wish to bring or buy a pair of cheap sneakers to run the first section in. When you switch to ski boots, you can leave the shoes with the race staff who then donate them.
Checking in is a long process. Arriving in Zermatt by train the day before the race, you will feel as though you walked into the skimo centre of the universe. Walking down the main street, crowded with other athletes, army members working for the race organization, and tourists will be very unique. The crowds are funneled towards the town's rec centre where check-in takes place. Be prepared to show each piece of your equipment to have it individually approved – the Swiss military is very thorough. If you are missing anything, vendors are available on site to purchase equipment from but be warned, the prices are in Swiss francs and are raised for the race. Avoid buying in Zermatt, try to buy gear elsewhere prior to arriving.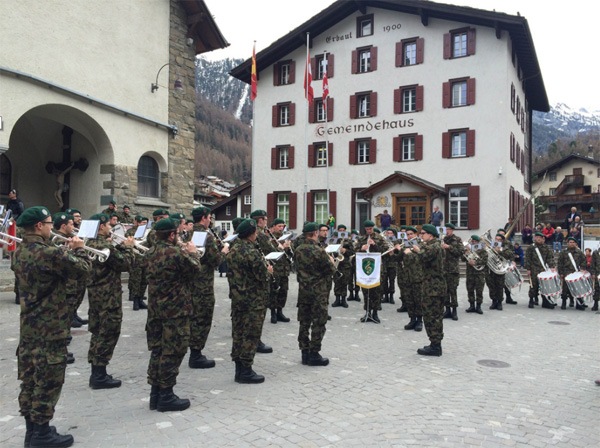 PDG Route and Roping Up
Because it is the Patrouille des Glaciers, you will be traveling on glaciers with crevasse danger. This necessitates that racers rope up for much of the itinerary.
The race organization will indicate where you must rope up and when you can take it off. You must have at least 30m, 8.5mm half rope. If you have a 29.5m rope, you will not be allowed to use it when you check in!
The PDG does allow teams to use bungee devices to make skiing with the rope easier. This makes a huge difference as it prevents the rope getting tangled in your skis:
Purchase 3 or 4mm bungee cord from a sport shop. Two 10m sections should be plenty. Also purchase a big bag of zip-ties.
The idea is to stretch the bungee out completely tight alongside the rope and then zip-tie them together in about 10-15cm segments.
When the bungee relaxes, it creates small loops in the rope. This keeps the rope from going completely slack and then getting tangled in your skis.
You don't want the ENTIRE rope attached to the bungee. Leave ~2m at each end and in the middle normal so you are able to tie in.
Practice tying into the middle of the rope without using a carabiner (and with gloves on).
Practice skiing with the rope/bungee prior to the race with your teammates . It takes a LOT of time getting used to it!
You will have to remove the bungees from your rope to check in with the military and then reattach it afterwards.
Once you've checked in and been given your bib and hotel assignment, grab some Rosti (a Swiss specialty) in a nearby cafe and then check into your hotel.
The race briefing takes place in the evening. It's a busy affair with a band and many speeches in multiple languages. It might be wise to have only the most responsible teammate attend the meeting while the others prepare for the race. A French speaker will come home with the most information but critical details are given in English as well.
For a feel of history, check out this silent 18min movie from the 1945 race after you finish this article:

Altitude Acclimatization
Altitude at the PDG is a serious issue (with much of the route above 2500 m), unless you live in Colorado. It is advisable to spend time at altitude to acclimatize before arriving for the race. We don't however suggest you do this in Zermatt because of the cost. Just on the other side of the Matterhorn lies the Italian resort town of Cervinia which is much cheaper and still allows access to high mountains and the race course. Similar altitudes can be found in the Avoriaz and other areas in France.
A full acclimatization schedule of arriving two weeks prior to the race will allow sufficient time to get used to the altitude, overcome jet lag, and prepare equipment and team tactics. If you cannot do that then plan to arrive at least 5-6 days prior to deal with jet lag, but make sure to spend time at altitude at home.
» For detailed tips on altitude acclimatization read our older post  – How to minimize effects of altitude on skimo racing performance
Fueling Before and During the Race
Finally, fueling is a critical component for such a long race. While getting outside assistance at specific points is possible there are no feed zones, so you must arrange your own support group or do as follows:
Eat as much as is possible the days before.
Wake up early enough to eat a large breakfast and digest it before the start.
You will be issued one Army Milk Chocolate bar at check in but don't count on that during the race.
Make sure you have both liquid and solid calories to last you through the duration of what you expect the event to take.
You don't want to, at most likely you won't be able to, do the whole race on gels only – pack in some bars, chocolate, and even smoked sausage for a change of taste 🙂
Train and Practice
There are many fine details of preparing for a big race such as Patrouille des Glaciers but arriving in Zermatt in your top form and fully proficient with your gear will set you up for success. We want to recommend our own Manual For Ski Mountaineering Racing e-book and our skimo training plans as  we truly believe they are the the best English resources on the subject of skimo racing.
Commit, train hard, and have a blast!