My first ski mountaineering race was completed on 184cm K2 telemark boards with non-free pivot bindings and Garmont Excursion boots. My skins were G3 Ascensions that required the removal of the ski from my foot in order to get each skin off.
This is a guest post from my friend and fellow skimo racer, James Minifie. James is sharing a great personal experience that is interesting as much for telemark skiers as for alpine gear users.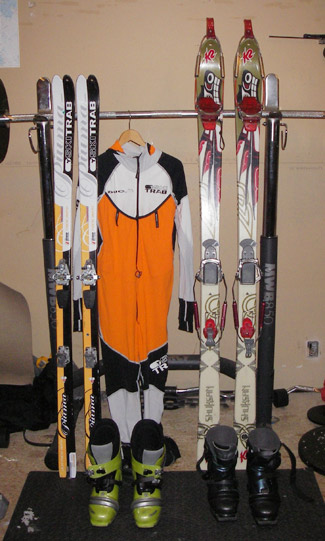 I had never seen light randonnee race gear up until then and looking down at the competitors to my right and left and seeing 160cm skis 60mm at the waist mounted with impossibly small low-tech bindings and skins that could be ripped off in seconds left me awe-struck.
These guys were clad in Lycra suits with special skin pockets. They wore ultra light AT boots that converted from ski mode to tour at the flick of a lever. Their poles were composite Nordic jobs extra long and stiff for ultra efficient climbing.
These guys were F1 racers and I felt like a monster truck ready to lurch my way up a mountain. The good thing was, there were a lot more monster trucks in the field that day 🙂
I was lucky that day. Most of the really fast guys were in Europe competing in World Championships so I was able to Clydesdale my way to a 4th place finish on the tele boards. The other thing that happened that day was a beginning of my obsession with ski mountaineering racing.
The Switch
The winter of 2009 saw my return to skimo racing and this time I came armed with lighter skis and free pivot telemark bindings. I still used the Excursions (little more than a glorified cross-country ski boot) because they were light and nimble.
To paint a better picture, here are my 2009 before "The Switch" results. I always finished as the best telemark skier, yet I wasn't reaching the top spots in the overall standings:
Whitefish Whiteout, MT – came 5th behind 4 AT speedsters
Sunshine 5000, AB – finished 9th
Nelson ROAM Randonnee rally, BC – finished 8th
Mountain Storm in Fernie, BC – finished 9th
See the pattern? It was then that I made my silent apology to the spirits of my telemark brethren and purchased all out AT race gear complete with carbon poles and a tight Spandex race suit.
The transition was surprisingly easy actually. The hardest part was learning to ski in alpine style again. Something I hadn't done in almost a decade.
The difference in my results was profound. I raced in two final races in 2009 with my new AT set-up and took third in both. The biggest result "The Switch" brought was my second place from Canadian Ski Mountaineering Championships which secured me a spot on a National Team for this season.
Lessons learnt and shared
For those telemark die-hards pondering "The Switch" here is my humble advice:
Just go to AT straight up! I transitioned through lighter telemark gear before I went AT Race. All this did was cost more money and delay the inevitable.
Just give in and get a race suit. Not only does it allow you to show off your um…pecs, it's an invaluable piece of race gear for comfort and skin storage.
Plan the transition with plenty of time to practice the Alpine turn and get used to having your heel locked down. If you can, take a couple of lessons at a local resort it'll fast-forward the "re-learning" process.
Keep in mind that you don't have to transform into Hermann Maier to race on this stuff. Look at the skiers in any rando race. We're so tired and on such unsupportive gear that we all look like we're just surviving on the descents anyway.
And finally, if you're already fast on your telemark rig, get ready for the podium because having AT race gear and learning to use it will put you in that lead pack before you can say "Spandex"!
Have fun shopping for that new gear. It won't be cheap but neither are cigarettes, junk food, and cable TV!
Want to share or know more?
You are welcome to share your experience in the comments below as well as feel free to ask about any details of this article's topic. James, I and other fellow readers will answer.