Today saw the first day of competitions at the 2015 Ski Mountaineering World Championships in Verbier, Switzerland. With perfect weather and a bit of a longer sprint course than usual, the Canadian and U.S. Teams got off to a good start.
» Here is who is racing what for USA during these world champs. Canada didn't release an official statement but likely everyone is racing everything since it's a small team.
Sprint Race
» If you are just numbers person then full results are here http://ismf-ski.org/intranet/uploaded/PDF_output/2015-02-06-324-Ranking-SprintRace.pdf
Women
Canadian's had all eyes on Melanie Bernier as she had a real chance at a podium – Melanie consistently improved in this discipline over the last couple of years. She went well through the qualifying round, quarter-finals and semi-final heats, but in the finals, with the podium in reach, she had a problem with getting into her binding in the transition at the top of the boot-pack. Unfortunately, in such a short event, that's all it takes to loose the race.
The race was won by the unbeatable Laetitia Roux (FRA), thus, claiming her first gold at these world championships. My prediction (and not a surprising one) is that she will win all races she enters. Silver went to a tall and strong Polish racer Anna Figura who already has some respectful sprint results under her belt. Bronze medal went to Severine Pont Combe of Switzerland.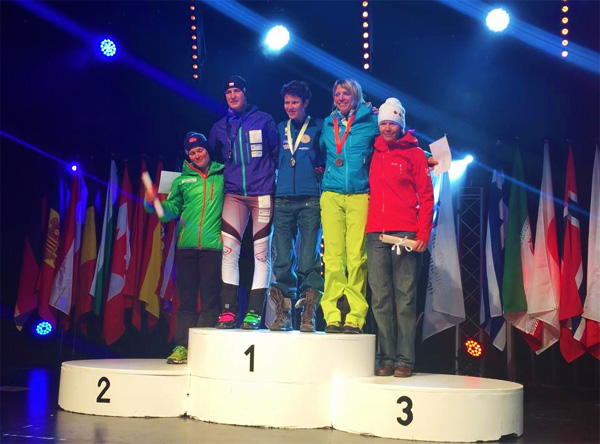 For USA, the ladies did very well overall as three out of four qualified for the quarter-finals. At the end, Jessie Young placed 20th while Sarah Cookler and Jari Kirkland were 26th and 27th respectively. McKenna Douglas finished 32nd.
Shout-out also goes to Canada's Kylee Ohler and Michelle Roberts for making it into quarter-finals, placing 25th and 30th respectively. Katarina Kuba came in 31st overall but being only 20-years old she also ranked 8th in the espoirs category (under 23).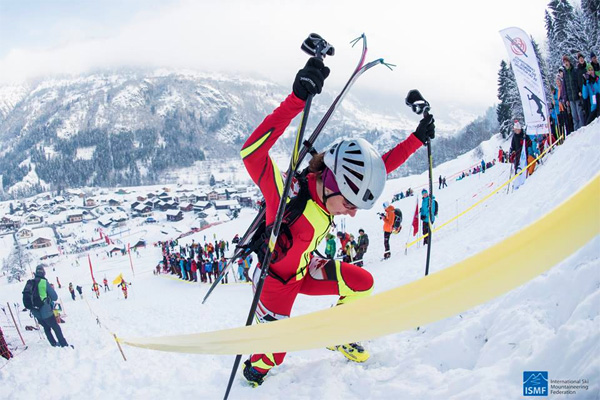 Men
With Andrew McNab (CAN) missing at these world championships, who placed 12th in the sprint at the 2013 worlds, we all had hopes that another Andrew, this time from US, can produce a little bit of magic. Instead of speculation, here's a direct quote Andy Dorais (USA) posted on Instagram about what happened. He qualified for quarter-finals and placed 24th at the end.

I made it through the prelims and was psyched to see how I'd do against the big boys. As I heard my name announced, I waved to my teammates who were out en force to cheer. The gun suddenly went off without warning while the announcer was still talking. Frantic, I crashed right out of the gate and worked hard to get butt naked last in my heat.
After a super tight battle, between two sprint giants, Roberto Antonioli (ITA) won only by 0.7 sec in front of the 2013 sprint world champion Josef Rottmoser (GER). Bronze went to somewhat unknown Iwan Arnold (SWI) who managed to leave lots of big names behind him.
Max Taam (USA) delivered a good performance to make it out of the qualifying round and into the QF, he ranked 30th at the end. Behind him were the rest of the North American boys when for most of them this was their first ever world championships race:
39 – Nick Elson (CAN)

43 – Travis Brown (CAN)
46 – Colin Cares (USA)
50 – Peter Knight (CAN)
52 – Rory Kelly (USA)
54 – Mateusz Burgunder (USA)
Junior Oliver Bibby (CAN) came in 19th at his first ever world champs race.
Yesterday & Tomorrow
Yesterday's opening ceremonies can be found here.
Vertical races for the senior and espoir categories are scheduled for tomorrow. Juniors and cadets get to rest.