One year ago, to the weekend, we ran the
first ever SkinTrack training camp
with hopes of repeating it in the future.. Now, few days after the 2nd successful edition, Eric and I are super happy we got the chance to once again host a bunch of enthusiastic people during 3 full days of hard training and socializing.
Thank you All
First and foremost we want to thank all participants for coming and creating a super friendly atmosphere – Thank you!
Secondly, we want to thank the hosts of our Friday's BBQ party in their back yard in Squamish – Thank you Will and Cristina!
And thirdly, we want to thank all the companies that chose to support our camp once again – Thank you!

2 winners of 2 pairs of Dynafit shoes
To make the camp even more fun we had two contests going on for two pairs of Dynafit shoes! One person would win a pair for the best photo – no other specific criteria. And one would win for something (anything) that we would notice during the camp.
And so the first pair goes to Kate for this shot that nicely captures the variety of colours in the Garibaldi Provincial Park as well as the long trails we enjoyed.


The second pair goes to Cristina for toughing out her serious stomach problems during the 4h Sunday run!
3 days of training and sun
Thanks to amazing fall weather here on the Canadian West Coast (as always) we were able to complete the camp almost exactly as we outlined in the teaser.
Friday's recap – steep time-trial & fun BBQ:
In the morning, we met at the beautiful Alice Lake Provincial Park (just 5 km out of Squamish) for an easy 1.5h run on local bike trails.
For 2 pm, Eric and I scheduled an uber steep and technical vertical time-trial on the trail winding below the new Sea to Sky Gondola. This included running, scrambling and lots of power hiking over about 800 vertical meters. While suffering, I came up with a new term to complement my hiko-run invention – the new term I am trademarking is "scrambled-run" 🙂
Evening BBQ went smooth thanks to Will and Cristina and after downing couple of beers we all seemed to have jokes up our sleeves. The main prize of the evening  – ultimate burger flipper – went to Eric for his passion for… well, flipping burgers 😉

Saturday's recap – climber dies on Sky Pilot:
Saturday was a day of mixed emotions for all of us. We had good times playing in the mountains but were faced with harsh reality that it's not a game to be taken lightly.
After taking the Sea to Sky Gondola up we were on our way to the most anticipated adventure of the camp – to run, hike and scramble a local beauty mountain, Sky Pilot. But shortly after hiking up a small glacier a look down revealed there was something tragic happening below us. A climber has slid from the steep parts of the glacier and was in very bad conditions after being rescued out of a small crevasse. And so we gave all of our clothes and first aid supplies to Eric and Joel who rushed down to help. Unfortunately, after about 1.5h of CPR the climber passed away (most likely due to loosing lots of blood as a result of his head injuries).
With sadness in the air our group decided not to continue up the mountain. It simply didn't feel right so we opted for a loop lower down in the valley and checking out the upcoming Sky Pilot SkyRunning race course. Our condolences go to the family and friends of the Sky Pilot climber.

Arnold Schwarzenegger vs Silvester Stalone
In the evening, we gathered at the very supportive local outdoor store Escape Route to preview some specialized skimo gear and to watch a movie called "Mount St. Elias" (Eric's pick).
And let me tell you, despite the movie being as bad as it was I must recommend you watch it because no one should miss on Arnold Schwarzenegger trying to ski St. Elias! If you laughed watching Cliffhanger with Silverster Stalone 20 years ago then you will have tears running down your cheeks during this one, I promise 😉

Sunday – gym training and a long run:
In the morning, local gym Challenge by Choice hosted us again (first time last year) for a muscle breaking strength session. Push-ups, lunges, squats and kettle bell exercises shaped our expressions during the hour long suffer fest.

Then, by 11.30 am, we were all running in the spectacular surroundings in the Garibaldi Provincial Park. We split our group of 14 into two and ran the 24 km point-to-point route in opposite directions to avoid car shuttling.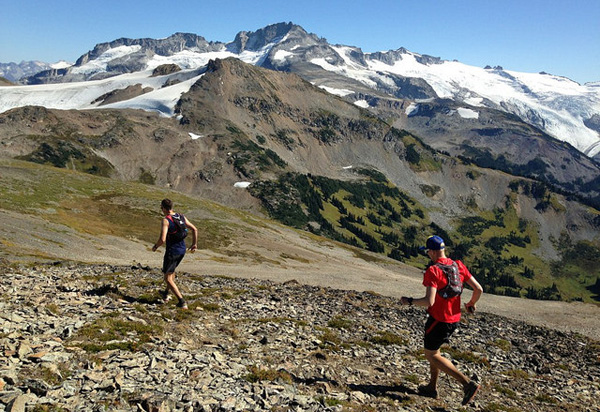 Next year
Based on last year's winter results I believe that all that attended will do consistently better than those that did not. So if you want to up your game for the 2016 winter you should visit us next September 😉
See you all, and even more of you, next year!