Skiers in Colorado rejoice to the first snowfall of the season! Meanwhile, in the Canadian Interior, skiers are flocking to the ski areas due to high avi hazard in the backcountry. Us in the Pacific North West are emerging from another storm and frantically applying sunscreen and searching for the sunglasses we didn't need since summer time.
2022 Olympics Without Ski Mountaineering
Last week, a little bit under the radar, an announcement has been made by the International Olympic Committee that no new sport will be added to the 2022 Winter Olympic Games in Beijing. Three federations that have been recognized by the IOC have been hoping to include some of their disciplines in Olympic Games, these include skimo's ISMF and ice climbing's UIAA.
International Olympic Committee (IOC) sports director Kit McConnell claimed innovation at the Winter Games has already been ensured by the addition of new events within existing sports on the program:
"When you look at the innovations we had in Vancouver and Sochi [2010 and 2014 Olympic Winter Games], the winter program was already moving ahead, with not just new sports but new events in existing sports…"
USA and Canada Race News
COSMIC Tellurando – Telluride CO – Feb 10:
A trip to Colorado's San Juan Mountains are always a treat. The box canyon of Telluride and more specifically the Main Street of Telluride served as the starting line for the 2nd year of the TELLURANDO, thanks to the amazing team at Jagged Edge Mountaineering. The race is a benefit for the Telluride Mountain Club PI Avalanche Foundation.

Athletes, including several members of the US Ski Mountaineering Team, began by running down Colorado Avenue at 5.30 AM while the ski town was still asleep. Top teams finished 23 miles and 11,000 feet of vert before a major snow storm, others had to brave the snow squall. At the end, 48 racers were treated to fresh pies and Howitzer shell trophies. National Team member Rory Kelly won the solo event while Max Taam and Scott Simmons teamed up to win the open teams division. On the women's side, Holly Simmons won the solo category as Maddy Fones and Patricia Franco claimed a win in the teams division.
Also of note was a junior athlete (under 17) Kyle Soukup who finished 4th overall!
> Full Results
Whitefish Whiteout – Whitefish MT – Feb 10:
With a fantastic community behind this event, great course layout, and a full support from Whitefish Mountain Resort, this race is a must do for every skimo athlete. While there have been many that have shaped this event over the years there are two iconic personalities we want to recognize – Josh Knight, the resort's events manager, and Ben Parsons who had been the magical force behind the local skimo community and have touched many lives beyond that.
On race day, close to 150 racers lined up to tackle a well redesigned race course featuring steep descents, very challenging skinning, two boot-packs, and a final big downhill instead of a finish at the top of the mountain like in the years past. The new changes made the race little longer and improved its flow.
Similar to last year, Mike Foote, US National Skimo Team member and an accomplished trail runner, took off like a bullet to never be seen again. Joel Shehan, one of Whitefish' finest athletes, surprised everyone and managed to closely follow Mike for a good part of the first half of the race. While these two were running away with the top spots the battle behind them took much longer to settle. At the end, both steadily improving, Andrew Mayer and Jeff Shehan took 3rd and 4th respectively. SkinTrack's Stano Faban chased up to 6th place after a slow first climb.
In the women's race, another US National Team member, Michela Adrian, delivered a well paced effort to snatch the win from Chelsee Pummel. Third went to Lizzie English.
One more thing we would like to point your attention to is a successful weekly skimo night series the local community have created. With over 60 participants showing up on average, the five event series takes place in the five weeks leading up to the Whiteout race.
> 
Full Results
International Race News
It's been an interesting year for World Cup racing. With a handful of cancelled races and some odd venues, there's only been one individual event so far! Luckily the snow conditions in the Ecrins mountains in France were ideal for an individual and a vertical event.
Puy St. Vincent World Cup – Ecrins Massif, France – Feb 8-9:
Kilian Jornet (ESP) made his return to racing this weekend after a shoulder surgery this fall, though the Italians continued their domination with Robert Antonioli and Michelle Boscacci taking first and second in the individual event. Axelle Mollaret (FRA) upset the skimo queen Laetitia Roux (FRA) and both were chased by an Italian espoir athlete Alba DeSilvestro.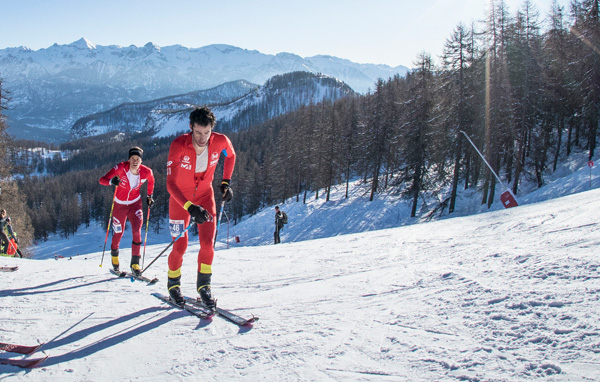 Kilian managed to climb back to the top of the podium in the vertical event by out-running Swiss vertical specialist Werner Marti and currently the most consistent skimo athlete Michelle Boscacci. The vertical event was a particularly interesting show with athletes finishing at an outright run! Axelle Mollaret swept the World Cup weekend with a second gold in the vertical over Vicky Kreuzer (SUI) and Claudia Galicia (ESP).
John Gaston was the only North American athlete in attendance and finished 16th in the individual and 20th in the vertical.
> Full Results – all disciplines 
> Vertical race video
> Individual race video
Upcoming Events
Looking ahead, on February 24 will be the third race in the North East five-event skimo series – most likely to be a return to the January 20 venue of Berkshire East, given the highly unlikely chances of pulling off a 100% backcountry race at Mount Greylock due to another warm wet period coming up.
We'd also like to point your attention to a brand new event in Squamish, BC. Held entirely in backcountry terrain above the Sea to Sky Gondola, it should be a pretty awesome event. Check it out – www.squamishskimo.com