One of the best things about skimo racing is that anyone can line up with the top athletes in their very first race.
Another one is that if you want lots of fun and challenge but are hesitant about going the full Elite course then you can get your moneys/legs/skis/skins worth on the Enduro course.
Race courses for the Dogtooth Dash
In case you haven't heard it yet:
On March 21-23, the Dogtooth Dash event at Kicking Horse Mountain Resort will host the 2014 BUFF Canadian Ski Mountaineering Championships.
Why does the Dogtooth Dash get to host the Championships? Because of the awesome terrain and challenging courses!
Friday's vertical race
Doing the vertical race is not mandatory but since it's a standard discipline on the skimo racing World Cup circuit, we have decided to bring it to Canada as well.
Dogtooth's vertical will be an 800m, single-climb event – from the KHMR base to the Heaven's Door Yurt – and gives anyone a chance to try skimo racing in a very safe manner (without having to race downhill!).

Saturday's 2 individual race courses
If Friday's event will be the appetizer then Saturday's race will be the main course… with the night party being the dinner 😉
The shorter, Enduro course is uniquely designed in a way that you still get to summit a peak despite racing a smaller version of the Dogtooth Dash!
The first downhill on a groomer is a great warm up for the black diamond run off the summit ridge of  Blue Heaven. This comes early in the race so your legs will still be fresh to take it on.
The whole Enduro course features about 780m of climbing spread over two climbs and one boot-pack up a narrow chute (end the end of 2nd climb).
As you can see on the map below, the race starts with a descent from the Eagle's Eye restaurant at 2330m, followed by a 285m climb (about 30-40min) which brings you to the top of Blue Heaven. The long, beautiful descent first takes you down Whitewall and continues down the valley for a total of 625m of great skiing! The second and last climb features a nice boot-pack (yellow line) that brings you back to the finish at Eagle's Eye (510m climb – about 1h to 1.5h).
Click image for a big map:

The Elite course is designed to challenge your fitness, skills and sense for adventure! It's true that the whole Elite course is laid out within KHMR boundaries, thus, at first glance might not appear that adventurous. However, we designed it in a way that logically connects the most challenging and steep terrain (which KHMR is famous for) from bowl to bowl, from ridge to ridge, from peak to peak.
In total, it features around 1600m of climbing (usually around 2.5-3.5h) and you will get to summit 3 peaks, boot over 3 ridges, and travel through 4 distinct bowls!

Register Now
If you are up for the challenge or just want to have loads of fun make sure to register online to save $10 and so we can get your race package ready for you (Clif bars, a buff and more): http://secure.eventsonline.ca/events/dogtooth_dash/
For $90 (or $97 if doing the vertical as well) you will get an entry into the Saturday's individual race, Saturday's dinner and party, and lift tickets for Saturday & Sunday! Now, that is a best deal any skimo race ever offered.
You can also win a free entry into the Dogtooth Dash by showing us how much you really want it:
http://www.skintrack.com/contests-giveaways/free-entry-dogtooth-dash-2014/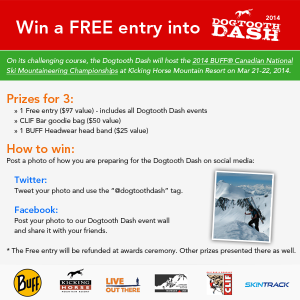 Thank You our volunteers
There will be almost 20 volunteers out on the course during the Saturday's race and others helping to set everything up during the days leading up to the Dogtooth Dash.
To everyone, on behalf of all racers, we want to say BIG Thank You for continuously supporting skimo racing, thus, keeping this sport alive in this great outdoor country.
Thank You,
Stano, Eric & KHMR crew