I interviewed Nina Silitch back in April, 2012 after she won a World Cup skimo race as the first North American ever. It was a sprint event in Tromso, Norway and her win was only a signal of things to come in the following season.
We all know what happened last winter (2012/13) but in case you didn't catch it – she went on to win a silver medal at the 2013 SkiMo World Championships and another World Cup gold in Tromso later last season (link to Nina's blog post about that) – and all this while raising two boys!
But let's catch up with her now as lots of things changed since she won that gold in Norway.

And here we go
Q: I understand that you have moved back to US permanently. Where do you live now?
My family moved to Dublin, New Hampshire in New England, back to my roots. It was in New England that I discovered my love of skiing. Michael (my husband) and I are teaching at a small independent boarding school. We are heading up their cross country ski team, helping it grow to a new level. I used to compete in cross country and I am really excited to be coaching and helping this program grow!
Q: For how many years did you live in Europe?
We lived in the Alps for twelve years. I taught in Switzerland where my two children were born, before living in Chamonix.


Q: Was your return to the US a long planned decision or a sudden one? What do your boys say about it?
Michael and I were ready for a change. Not specifically to the USA, but one that could develop our careers further. My boys are very excited to be living here. They have opportunities to ski both alpine and cross country.
Q: Does it mean that you are out of Europe now that you are retiring from skimo racing? Will we see you racing in the US?
I am sure that I will be back in Europe someday to compete in a Grande Course race but I can say that I am retired from the World Cup. Chamonix has been a home for many years and I have many close friends there still. We plan to stay connected as a family to the Alps and could one day return.
I am very excited to help grow the sport of skimo in North America, particularly New England, where I am living.  The youth are really the future of the sport; I hope to help bring on some younger skiers in the sport.

Q: So what lays ahead? Have you figured out what will be your daily motivation?
Right now it's a big transition for me from the Alps and what I was doing as a world cup athlete. I am trying to embrace all the newness of being here and breath through the transition. This winter, as I am on my x-country skis a lot, I am excited to try my hand at the sprint races in Nordic. I will explore the skimo scene here in New England and keep discovering new and meeting people who love to get out there in the mountains pushing their bodies.
Q: Do you plan on coaching whether that be skimo or other sports?
As I mentioned before, I am a head coach for the Dublin School Nordic team with my husband. I am also excited to work with younger skiers in the sport of skimo and help the sport grow. If skimo does get into the Olympics in 2022, it is with the youth that we need to focus on today.
Q: You had some great performances last season, with cherry on the cake being the silver medal from Worlds. If any, what were the most important changes in your training for that season? Have you trained more, better… recovery, food…?
For me,  actually winning the final World Cup sprint of the season was the cherry on the cake and ending my season with another World Cup gold medal in Tromso was really serendipitous.
I had a few errors in the sprint World Cups and at World Champs, starting with a disqualification in the first sprint in Switzerland when I was in the semi finals. I came 2nd at the World Championships, missing the gold by mere seconds  due to an error and 4th at the Italian Sprint World Cup not feeling my best. To end my season and World Cup career with the gold was my goal.
What did I do differently? I did focus more on strength training, specifically for the sprint,  working my fast twitch muscles.  Because of this, I did suffer more and sacrifice my distance races but it was a choice I made to get to where I wanted to go. It's tough to be the best sprinter in the world and the best distance racer so that was a sacrifice I had to make.
I worked a lot on mental preparation and breathing techniques as well as knowing when I needed to recover and when to push myself. The sprint to me is one of the most stressful races as so much happens in 3 minutes one has to be ready for anything. I have to thank my coaches, Adam St. Pierre of Boulder Sports Medicine and Fabien Meyer who helped me a lot with sprinting as well as Romain Flandin,  my amazing friends at Chamonix Ski Alpinisme Club. Last but not least is my husband, Michael, also an ISMF technical delegate but more importantly, the one who supported me in this World Cup pursuit. It has been an amazing journey!
Q: Have you also experimented with equipment?
I have been playing around with pole length. The trick with poles is not to go too long for quickness. I use Swix Carbon Fiber poles: CT2s or Triaxs as I am sponsored by Swix.  I have had opportunities to be sponsored by different ski manufacturers and have chosen SkiTrab because of the great combination of ski performance up and down, and light weight. Plum bindings have been the best for me. The company is really supportive and growing world wide. I have worked with Pomoca in developing a fast skin that also has good hold. I also work really hard to dial in my race pack so it is top notch for my sprint transitions.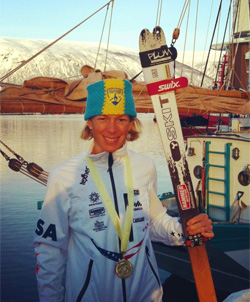 Q: What did you race on during last season? (Skis, boots, bindings, skins)
Ski Trab World Cup Race skis, Plum bindings, Pierre Gignoux 444 boots, Pomoca skins, Swix Ct2 poles, Oakley glasses. Hammer Nutrition Heed in my CamelBak bottle between rounds. These sponsors have been amazing supporters of me and I thank them very much!
Q: How tall are you and how long were the ski poles you used for your sprint races?
My poles for the sprint are identical for the individual. I like shorter poles as they allow me to be quicker. I am 5' 5.5" (166 cm) and my poles are 127.5 cm.
I think that people generally use poles that are too long. There is a trend on the World Cup over the last few years for men to race with shorter poles. A shorter pole length allows a quicker cadence. By comparison my Nordic classic poles are 140cm so 12.5 cm shorter.
Q: Let's talk about others now. What did you think of the US team performance as a whole at the 2013 skimo Worlds?
I think it's great to see the North Americans growing stronger in the sport! It is a sport so rooted in the Alps but we are certainly bringing a stronger presence in Europe, especially with the Canadians living there last year. This year I know there are a few more Americans in Europe.
It's funny, when I first did the Pierra Menta in 2008, the French thought we would never survive and finish it. We did and I went on to compete in five Pierra Mentas back-to-back.
Q: What would you advise US and Canadian skimo athletes to do (or keep doing) to improve towards the 2015 World Champs?
It is essential to work on transitions. To keep creating courses that are technical, that are not just straight up a piste, but one that provides a variety of terrain. My husband is a technical delegate for the ISMF and is excited to help with course setting in the US.
Q: Why do you think French skimo team was so dominant in the past season? Have you trained with them a bit?
In Europe, these athletes are starting skimo early as teenagers and have been doing it for many years. Many of them come from a strong background in alpine and cross country and this can carry over into the sport of skimo.
I trained  a lot with some of the French athletes in Chamonix, especially for the sprint. Our club had four medals in World Cup, two at the World Championships (a gold in the relay and a silver in the sprint) and two in the final World Cup sprint. A gold for USA (for me, the President of the club) and a bronze for our coach, Yann Gachet for France. It's clear that we were doing something right in the sprint.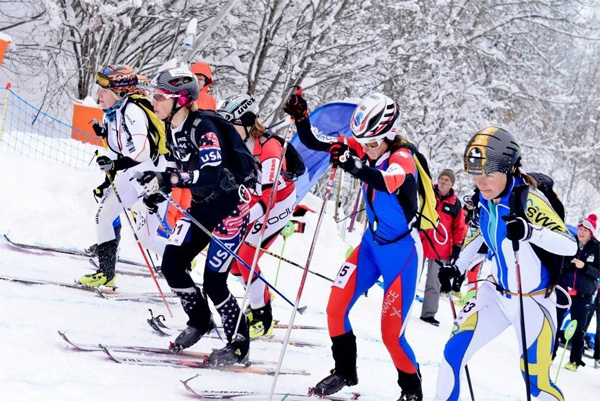 Q: Which racer do you think has the best technique or technical skills on the World Cup level? 
That is a tough question to pinpoint one person. The World Cup courses tend not to be as technical as persay a Grand Course. William Bon Mardion from France is the best descender and also an amazing climber. Lateicia Roux still is very strong in France but many younger athletes are coming up the ranks. I think a claim to fame for me is that I was able to beat her three times in my career.

Q: Can you list some Euro races you recommend North Americans should do?
Any of the Grand Course races are a must: The Pierra Menta, The Mezzalama, The PDG. All of these races can give one a real sense of racing in the Alps.
Q: Which one was your favourite?
Non-World Cup race: The hardest and most memorable is the Pierra Menta. The Tromso sprint (where I won a gold in 2012 & 2013) is my favourite World Cup hands down.
Q: I have to ask this one as I am very curious – do any people in France read Skintrack at least a bit? 🙂

I don't know but I am happy to help get it out there. Do you have a French translation?
Stano: I don't, but I will look into incorporating Google translate tool on the site.
Q: What would be your advice to further improve this site?
I love how you interview athletes and also have gear reviews and race reports. Maybe you can start a series on training for ski mountaineering. I just wrote an article on transitioning from trail running to skimo season.
Nina's skimo career results
And that is all for this interview with Nina, and I am looking forward to talking to her in the future again. Thank you Nina!
To finish this article, here are some highlights from Nina career:
World Championships Podiums: 1 (Silver medal in Sprint, Pelvoux 2013)
World Cup Podiums: 2 (2 Gold medals)
World Cup starts: 41
World Cup top ten: 14
World Championships race starts: 10
World Championships selections: 4 last World Champs (Pelvoux, France 2013, Claut, Italy 2011, Andorra 2010, Champery, Switzerland 2008)
World Championships top ten: 3 (Pelvoux 2013, Claut 2011, Andorra 2010)
US Ski Mountaineering Team: 2008-2013