Exciting racing all around the North America and severe weather conditions for athletes at the European Championships on Mount Etna on the Italian island Sicily!

In non-racing news, US National Team member Teague Holmes nabs the second descent of an incredible steep line on the Aiguille du Chardonnet in Chamonix, first opened by Vivian Bruchez and Kilian Jornet. Their descent of the "West-by-South-West Couloir" is an awesome example of true ski mountaineering!

USA and Canada Race News
Wasatch Powder Keg – Salt Lake City – Feb 23-25:
With the US National Championships in Taos cancelled few weeks ago, the Salt Lake City crew stepped up and hosted the event as part of the classic Wasatch Powder Keg. It was a great weekend of racing. The temperatures were cold and there was lots of new snow.
There was a great turnout of kids with a large cadet (14-17) and viking (U14) divisions. Weather made the skiing on the course great, but course setting challenging. An accident in Big Cottonwood Canyon on Sunday morning caused a 2 hour delay in the race start due to the canyon being closed.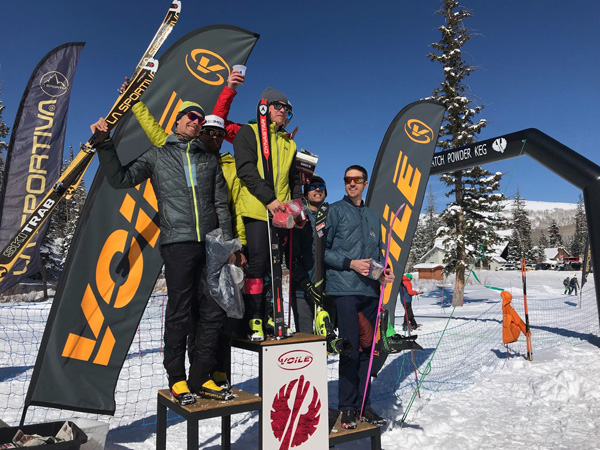 Tom Goth and Gemma Arro ran away with the sprint titles. John Gaston returned home from Europe in strong form and punctuated his dominance on the domestic scene with another year as national champion in the individual race, with Gemma Arro taking her 2nd title of the weekend. Gaston and Max Taam took the team title over Goth and Andy Dorais. The women's team event only featured two teams with several of the top women electing to race in the co-ed division instead. Caroline Gleich and Kathryn Bowman were the women's team winners.
> Full Results
ROAM Randonne Rally – Nelson, BC – Feb 24:
Canadian athletes descended on the powder capital of the World, the Whitewater Ski Area in the Kootenay Mountains of British Columbia, for the 3rd of the SMCC Canadian Cup races. A new course kept racers entirely in the front bowls, eliminating significant portions of undulating ridge skinning from previous years. This meant direct ascents and incredible fall line skiing in their slack country terrain. As always, fresh powder fell in the days leading up to the race so athletes had the treat of first tracks on each descent (as well as breaking trail on the ascents).
The athletes started up the cat track on a crisp, blue morning and quickly turned onto the skin track for the 1500m+ course. Peter Knight took the first big turn breaking trail before trading off with Eric Carter who then pushed ahead solo for the last ascent to ski to his second win in Nelson. Kylee Ohler had a Men's race podium in her sights but was held off by Canadian National Team member, Matt Reid, and chased by the eventual "Queen of Coldsmoke" Lori Ann Donald. Marg Fedyna rounded out the Women's podium. Also of note was Junior racer Noah Shuhe's result in the open men's long course race.
> Full Results
Berkshire East – Massachusetts – Feb 24:
Write-up provided by our New England Skimo correspondent Jonathan Shefftz.
On February 24, the NE Rando Race Series returned to its January 20 venue of Berkshire East in Western Massachusetts (moved from the backcountry venue of Mount Greylock on account of 0% natural snow). Temperatures 60F warmer than the -20F January 6 season-opener at Magic resulted in skinning conditions that tested racers' slush-avoidance tactics and water-saturated climbing skin glue. Fortunately, the boot-pack segments mainly followed hardened trails in the Thunder Mountain Bike Park, and the skiing conditions were fairly standard spring fare (albeit about two months too early!).
The nearly ~5,000 feet vertical course layout entailed three cycles of a circuit that started with a full skinning ascent up the 1,000' mountain. For Open men, Jerimy Arnold took the win and fellow Team Hagan member Alex Nichols took third to sandwich Abe Meyerhofer in second on the podium. For Open women, Kadie Vadasdi moved up from her January third to take the win. For 45+, Race Director and Team Hagan member Jonathan Shefftz added a win to his January runner-up.
> Full results
Skimo Chutes and Ladders – Blacktail Mountain, Montana – Feb 25:
Write-up was provided by Jason Mills, one of the founders and organizers of this new event.

Skimo is becoming more and more popular in Montana's Flathead Valley thanks to the liberal up-hill policy at Whitefish Mountain Resort, the now-classic Whitefish Whiteout skimo race (150 participants this year!), and a four-week Wednesday night skimo race league at the same resort.
Thanks to Flathead Valley residents Jason Mills and Jed Hohf, Montana has new race at Blacktail Mountain Ski Area in Lakeside, a small ski area 15 miles south of Kalispell. BTW, Blacktail Mountain currently has the 11th deepest snowpack in the country with 115 in., all natural snow!
The goal for Chutes and Ladders was to be a little different: Offer something challenging and competitive for the elite racers and something weird and fun for the rec skinners. The name Chutes and Ladders wasn't just a "clever" race name, it was an allusion to the crux of the course: competitors had to climb two ladders over boulders throughout the race – a nod to the "old school" skimo races at Jackson Hole and the ladder up and over Corbet's Couloir.
Fifty-three racers lined up in some heavy winds and about two inches of fresh. With the race starting on top of the mountain, racers skinned for about three minutes, transitioned, and then descended 1,400 ft. to the base of the lifts. Racers then circumnavigated the ski area, skinning and skiing about 50/50 piste/off-piste, encountering two ladders along the way.
The men's elite field (three laps, 5,600 ft.) was lead all the way by Flathead brothers Joel and Jeff Shehan, with Joel coming in first, Jeff about five minutes behind in second, and Cyril Burguiere in third about five minutes after. (Of note: The Brothers Shehan flew to Salt Lake City on Friday night, raced the Powder Keg Saturday, flew back Saturday night, and raced Chutes and Ladders on Sunday!)
While the women's elite field only hosted three athletes, Nikki Kimball (Bozeman, MT), Amber Steed (Kalispell, MT), and Claire Kniveton (Whitefish, MT), the three ladies traded spots all throughout the race, with Nikki and Amber eventually coming in hand-in-hand for first and Claire less than two minutes back in third.
This was the first ANNUAL Chutes and Ladders. We hope you'll come race with us and climb some ladders in Lakeside, Montana, in 2019!
International Race News
With World and European Championships alternating, it was time for the best Euros to battle it out in 2018. The island of Sicily might seem like a strange place for ski mountaineering, however, the volcano of Mount Etna is high enough to have snow and there have been World Cups hosted here in the past.
Unfortunately, the last week's Championships have been marked by severe storms which forced the organizers to cancel the seniors sprint and vertical races (while the younger categories were able to complete their events), with the later one being thankfully re-run on the last day.
With Italian men crushing this season's World Cup races and Kilian Jornet back from a shoulder injury, it was obvious there would be "fireworks" in the skin tracks!

Currently, the Italian Skimo team has 5-6 athletes capable of winning any World Cup level individual race on any given day. With that, Robert Antonioli and Michelle Boscacci took it by the horns to only be followed by Kilian Jornet through the mid-point of the individual race. As expect, Jornet doesn't race for second so he ultimately took the rein to build a nice gap by the top of the last ascent. However, the amazing Robert Antonioli pulled off one of his signature descents and blasted to the finish with a time to spare for golden celebration. Michelle Boscacci chased down the Spaniard as well to position himself for a sprint finish (there was a small skin-up section to the line) where he just nipped Jornet for silver. What a race!

In the vertical race, Italians were at it again and trying to see whether one of them could break Jornet eventually. At the end, it was the flying Spaniard emerging first from the heavy fog at the finish line. Second went to an incredibly talented 20-years old Davide Magnini who will likely dominate World Cups in 2-3 years. Bronze medal went to a little known Antonio Alcalde Sanchez of Spain. Robert Antonioli took 4th and Swiss Werner Marti 5th.
In women's races, all eyes were on Laetitia Roux (FRA) as she has lost only a very few races on the World Cup level for many years now. But this time it was her team-mate, Axelle Mollarete who took down the Championships in style. First, she won the individual race and then a took gold in the vertical as well! Roux managed second in the individual were she was closely chased by two Swedish athletes – Emelie Forsberg and Fanny Borgstrom who finished 3rd and 4th, respectively.
In the vertical race, Mollarete won with a comfortable margin while Victoria Kreuzer (SWI) took silver and Alba de Silvestro (ITA) captured bronze.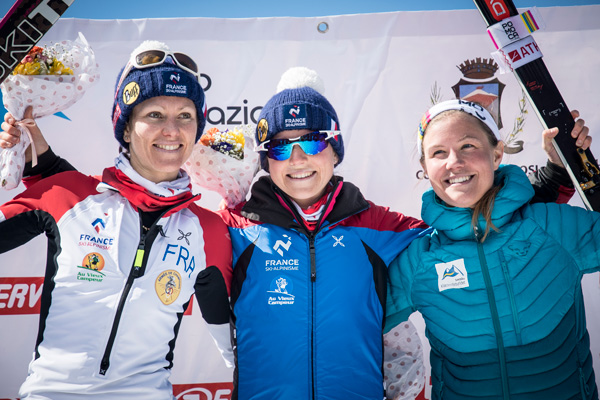 > Results – for some reason there were no official ISMF vertical race results published (or communicated to us)
Upcoming Events
The Quebec-based SkimoEast series will be at Jay Peak in northern VT for the second of its two annual Quebec vs. New England showdowns. Following the latest of the (too) numerous February thaw-refreeze cycles, much of the challenging terrain in the typically expansive course layout is currently closed, but midweek snowfall could add up just in time for the March 3 race date.
Canadian racing continues at Panorama Mountain Resort for the Steep Dreams Ski Mountaineering Festival which includes a Vertical and Individual event as well as a unique "Skiduro" category with timed downhill segments.
In Colorado – teams are lining up for the Power of Four race. No insight on entries but we expect to see some decent competition at what is usually a pretty exciting event!
> For full events calendar visit this page