First of all, I would like to thank all the people that are supporting me and other Canadian team members in our efforts to represent Canada at the world skimo racing scene this season. Without you it would be very close to impossible. Thank you very much.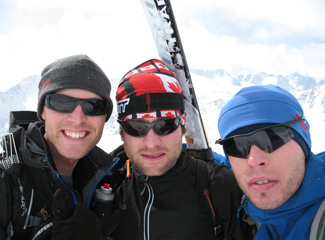 On February 19th, five members of the Canadian National Skimo Team boarded a plane headed to Europe.
The journey's primary objectives are the World Ski Mounatineering Championships in Andorra, and a four day stage race in France – Pierra Menta. And learning…
Three of the five – James Minifie, Alex Wigley and I – switched a plane in London to eventually land in Barcelona.
Julie Matteau and Jeff Colvin continued to attend a skimo training camp in Sicily (Italy) where they joined other team members.
The travels were tiring, however, I felt a certain privilege to "visit" three Olympic cities in less than 13 hours:
We flew from Vancouver BC where the 2010 Winter Olympics are in a full swing.
Switched planes in London that will host the next Summer Olympics in 2012.
And landed in Barcelona where Canada captured 7 gold, 4 silver and 7 bronze medals during the 1992 Summer Olympics.
Culture shocks
Liking the culture, not so much the civilization.
Living in Canada for almost 9 years now, and going back to Europe only occasionally past few years, I caught myself being somewhat depressed by seeing that humans managed to leave their mark at every spot over the old continent by now.

Endless webs of chairlifts, roads climbing the most exposed terrain features and people fighting for every square inch made me to be thankful for the Canadian wilderness.
And then there was James, who lives up at Yukon's White Horse, getting awestruck by not being able to see backcountry past the last chairlift. Simply, more and more chairlifts followed.
But all three of us sure like the food, architecture and the spontaneity with which people great everyday here. And yesterday, all turned a corner when we went to check out the individuals race course :).
Race engines tune ups
For the first two ski days we only attacked the ski runs right across the road from our hotel at Soldeu as jet lag and 9h time difference didn't let us do any damage in the backcountry.
But yesterday, after a first full-night sleep, we caught a taxi ride up the valley to Grau Roig to check out the course for the World Championships' individual race that will take place on Wednesday, March 3rd.
Once on skis, we were all shining with big smiles as we reached the real backcountry in just about 30min of skinning.
In the process we got passed by a couple of Spanish Team members that were practicing their furious stride frequency in
Pierre Gignoux carbon boots
.
However, they stopped for a moment to great us and once I recognized one of them (I met Manu Perez a couple of years ago at Whistler) they showed us the way and offered us to join them. Even though the offer was exciting we decided to stick to our acclimatization plans and let the fast deers run…and of course to break trail for us.
Few moments later we were treated to being past by Mireia Miro, top caliber female skimo racer, and one think became very clear – in Europe, even if you have carbon F1 boots you can look a like a tourist :).
95% of the individual race course is in the backcountry with avalanche debris covering couple spots of race course. Based on what we saw, it will be an amazing venue for a skimo race with lots of technical sections whether on the uphills or downhills.
» You can see
more pictures
from this day and the course at Alex'
Ski Theory blog
.
Big traverse plans
Since I have yet to meet a Canadian that would look at a topo map without connecting glaciers, cols and ridges for possible traverses all three of us studied the map of Andorra at some point since leaving Barcelona.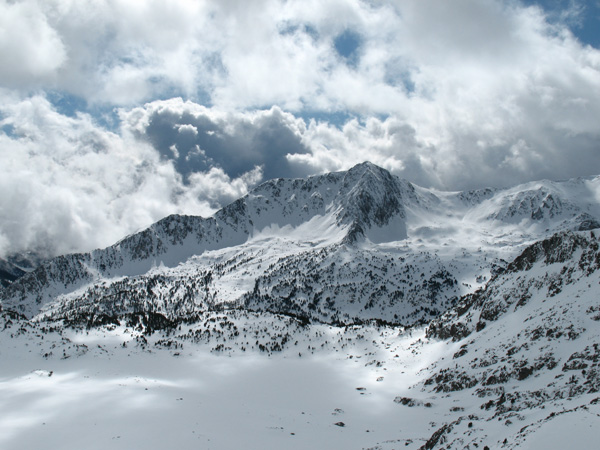 One traverse specifically made us excited but will most likely be left for an attempt later in the future – a circumnavigation of the whole country!
Based on the map we have it looks very possible to gain ridges (about 2300m) above the Andorran capital Andorra la Vella (1300m) via summer hiking trails.
Then in a clockwise direction follow the ridges and high plateaus (between 2000-2900m) that create a natural border between Andorra and its neighbors – Spain and France.
And the coolest thing about this traverse is that the whole Andorra state fits easily on a 90×90 cm map in 1:40 000 resolution.
Plans for next few days
Plans for the immediate future involve good rest, some race gear shopping (which can be endless in Andorra – a tax free zone and plenty of gear to choose from) and reconnoitering the team's race course tomorrow.
Besides that, we will try to meet as many fellow racers as we can, learn from them and once home share it all with you.