Updated with current photos from critical parts of the race course. See at the bottom of the article under "Photo updates".
This Saturday, Sunshine Village ski resort (16km west of Banff, AB) will be the venue for a second round of the Canadian skimo racing series.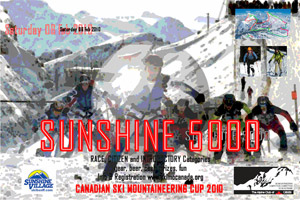 There are two courses ready for you – one shorter less challenging and one long that also includes a descent of Delirium Dive run.
Sunshine 5000 quick facts:
date – Feb 6th, 2010
two courses
three categories – Race, Citizen and Introductory
bring also beacon, shovel, probe, helmet
everyone is welcome – skimo gear, tele, split-boards, snowshoes
Sunshine 5000 itinerary:
Race course
Race course is a serious challenge for experienced ski mountaineers. It will feature a total ascent of about 1400-1500 vertical metres over a distance of about 18km. Delirium Dive, the steepest line in the resort, is planned also for this course.
The course will feature 5-6 ascents and 4-5 downhill sections. One or two climbs will include a boot pack section were your skis need to be strapped to your ski pack.
Citizens course
A great challenge for novice ski mountaineering racers and for those that don't feel fit enough for the goods of the race course.
This course will feature 4 climbs and 3 downhills while gaining about 700 vertical metres over 6-7 km.
» As a novice to ski mountaineering racing you may find useful this article – 6 tips to get you ready for your first skimo race.
Sunshine 5000 schedule:
Last minute registration (7-8pm) and a mandatory pre-race meeting (8-9pm) on Feb 5th in the Heritage Room at the Alpine Club of Canada Clubhouse in Canmore
Feb 6th, 2010 at 7:30 am
Loading a gondola at Sunshine Gondola Base
Feb 6th, 2010 at 9:00 am
Race begins for both categories and race courses from Sunshine Day Lodge start area
Feb 6th, 2010 at 3:00 pm
Awards ceremony and draw prizes at Skier Services, Sunshine Gondola Base
More info and registration:
For more detailed information, race maps and registration information visit this page on the Alpine Club of Canada website – http://www.alpineclubofcanada.ca/ccc/ismc/index.html
Photo updates
I took the below photos on Wed, Feb 3, 2010. During the previous night about 10cm of fresh powder fell and covered an older harder surface. Good skiing overall, didn't hit any rocks.