I learned about Valmalenco Ultra Trail race in northern Italy, also known as VUT, from friends and I had an opportunity to hike part of the route with them last year.
The Valmalenco valley is a spectacular hidden gem in a region called Valtellina. It is located on the south side of Piz Bernina, the most eastern 4,000m peak in the Alps, while the famous town of Saint Moritz in Switzerland sits below Bernina's northern slopes.
The full VUT course is 90km with 6,000m of elevation gain and travelling through very stunning terrain with views of steep peaks, dramatic glaciers, mountain lakes and lush alpine meadows.
» For all details visit VUT website and VUT on Facebook
As I didn't run VUT yet but I love the area, I went on to interview the winner of the 2018 edition Saverio Monti and my friend Alessandro Piani who finished in 20th place last year and started running only one year before.
Both athletes run for Team Valtellina which is a selection of the best runners in the region. Alessandro also runs for and manages a local club Polisportiva Albosaggia – former home club of Michele Boscacci, the 2019 Trofeo Mezzalama winner and the 2018 Pierra Menta champion. Albosaggia is a small village where Boscacci comes from.
Interview with Saverio Monti and Alessandro Piani
Due to severe weather, the 2018 course was shortened to 74km and 4,200m. Saverio won in 9h 35min while Alessandro ran the VUT in 12h 53min.
Saverio Monti – Instagram, Facebook
Alessandro Piani – Instagram, Facebook
Team Valtellina – Facebook
Polisportiva Albosaggia – Instagram, Facebook
Q: The VUT was born in 2017. As someone living in the area, are you excited to have such a big race in your backyard?
Saverio:
Yes, I'm very excited! Valtellina is very beautiful and now the VUT race is an amazing addition to the landscape. And there is fantastic energy and enthusiasm from locals!
Alessandro:
Having an ultra trail race in my home mountains pushes and helps me give everything!
When I first heard about VUT two years ago, before the first edition, the idea of becoming an ultra trail runner did not even touch me. I "guided" two friends on the VUT course because I know the area since I was a little boy. We ran 60km and that amazing day caused a big change. 🙂
Q: What makes this race special?
Saverio:
The course is on spectacular alpine route! You can see a very unique alpine landscape and different types of forests, valleys, rocks, rivers and lakes.
In addition to the landscape, the locals are very welcoming and friendly!
Alessandro:
VUT is a new race but I think it will become an important one in the ultra trail community. And as Saverio said, the beauty of these mountains and the warmth of local people make it very special!
Q: The 2nd edition of VUT in 2018 was shortened due to severe weather. What were the conditions?
Saverio:
There was a big storm, lots of rain and lightning! The course was shorter but still 74.3 km with 4,175 m of elevation gain. The start was at mid-night.
Sometimes the water and mud was above ankles. Once the rain stopped it became windy and I was very cold… I ran as fast I could to keep warm! 🙂
The organizers did a fantastic job even during the race to change the course again as there was a landslide.
Alessandro:
Yes, due to the strong storm the organizers were forced to eliminate some parts of the route, mainly the fascinating passages at high altitude. Despite all the difficulties it was a great event!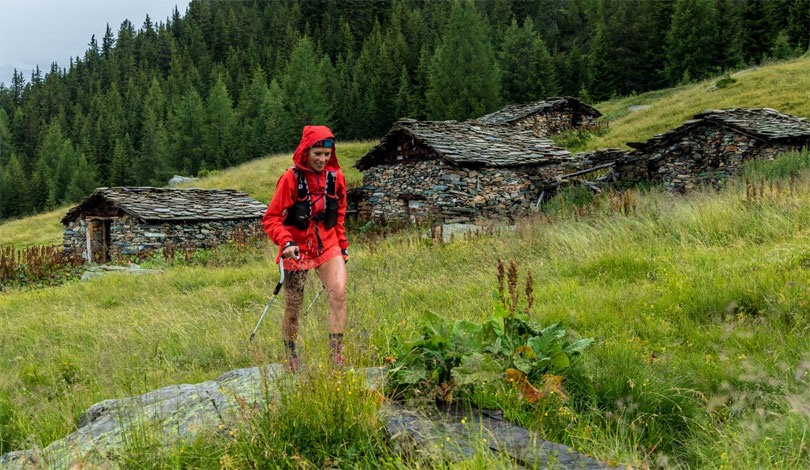 Q: How did your 2018 race go? What is your future goal for this race?
Saverio:
My race went great and bad! 🙂
Great because I won and I felt a lot of big emotions during the race. Bad because I was freezing a lot and sometimes I no longer felt my hands, and I was not even able to drink or eat. It was hard to stay concentrated but my legs were great!
For 2019, I hope for good weather so we can do the original route as I am curious of what I can do.
Alessandro:
The warm cheering of friends and people of Valmalenco helped me to finish the race in the best way and with a nice party! I finished 20th and I was also freezing like Saverio 🙂
I am running VUT again in 2019 and hope for the full course.
Q: What shoes and other gear did you use for VUT?
Alessandro:
I used La Sportiva Mutant shoes and Scott Trail Pack 8 with all the required equipment.
Saverio:
Shoes: Salomon Sense pro Max
Backpack: SalomonS/LAB Sense Ultra5
Poles: Camp Xenon Trek
Shorts: Salomon Fast Wing
Tops: Samonn Fast Wing Hz
Socks: Maglianera
Jacket: Salomon Bonatti Wp
Gps: Suunto 9 Baro