Today saw the second day of the 30th Pierra Menta. It brought a much longer stage than yesterday and so the time differences were bigger as well.

Stage 2
The Italian team of Damiano Lenzi & Matteo Eydalin won again, this time with a 2 min margin over the home French boys, William Bon Mardion & Xavier Gachet. Close third went to another Italian team of Robert Antonioli & Michele Boscacci.
In women's race, after a tight battle yesterday, Laetitia Roux (FRA) with Mireia Miro (SPA) pulled off a great performance to win over Emelie Forsberg (SWE) and Axelle Mollaret (FRA) by almost 5 minutes. Third went to a Swiss team consisting of Jennifer Flechter & Severine Pont Combe.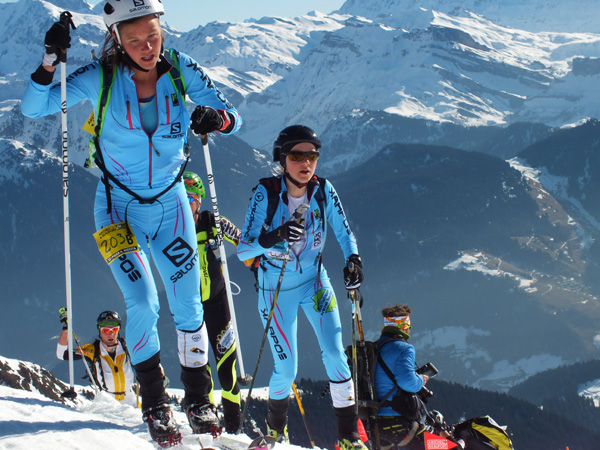 North Americans:
All North American teams improved on their performances from yesterday, which were already quite good, and moved up the overall rankings.
Eric Carter (USA) and Nick Elson (CAN) finished 18th, two positions higher than yesterday, and felt good about their efforts. Below, read more from what Eric sent me.
Melanie Bernier (CAN) with her Norwegian partner Malene Blikken took 6th, thus improving by one position.
Nick Francis and Eric Bunce (both USA) came in 144th today.
» Full results – stage 2
Quoting Eric:
Today was a ~2800m day that took us much higher into the alpine. We were stoked that our finish yesterday got us a spot on the front line. We charged the first climb – potentially a bit too fast but after that we setttled into a reasonable pace that we were able to maintain for the entire day. We traded off with a couple of teams who would out ski us (me) on the descents but then we would pull ahead on the climbs.
The descents were nuts. Super steep and incredibly icy. They made the icy couloir in the teams race in Verbier look like a bunny hill. We passed Kilian and his partner at the steepest section. Mark had lost a ski and was putting on crampons to down climb. We finished decently and are pretty stoked about where we are sitting. Trying to keep it in control and just keep up the pace the next two days. Nick is doing a good job of keeping the pace steady.
Other than that, there was lots of carnage. Our roommates abandoned after one had his skis disengage from his pack along the ridge crest. They fell all the way into the next valley and they had to be rescued by helicopter.