On December 5th, 2009 the Canadian racing season (and North American too) started with an event hosted at a ski resort near Golden, BC. One of the disciplines was a vertical race, a hill climb, that was a pure all out effort without disruptions of transitions and leg burns from crazy downhills. Besides the fastest Canadians, two US speedsters took the starting line too.
» To see a complete report from the Golden race go here – Tiki Torch Dash 2009.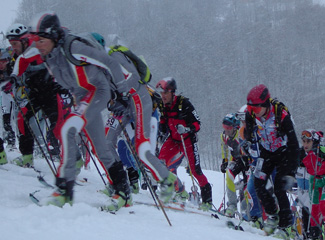 Even though, I am not a big fan of the vertical race format I see its great value as it eliminates lots of variables, therefore, performances can be compared way more accurately than in any other skimo racing discipline.
With a help from Ian Gale, one of the organizers and competitors, I was able to gather correct altitude data for the Golden vertical race course and figure out the vertical gain (amount of ascent) of the ascent.
And since we know the winning times as well calculating the vertical speeds of performances is easy.
With all that info available, I was amused to establish some sort of a benchmark for Canadian and US ski mountaineering athletes, so we could compare ourselves to the fastest in the World, the Europeans.


For this comparison, I decided to choose a vertical race that was part of the 2008 World Ski Mountaineering Championships in Switzerland. The reasons are simple – vertical gain and winning times are easily available and accurate. And the race, in mens category, was won by a long time best in the business skimo racer, Florent Perrier, who had a form of his life for the whole week of the Championships. World fastest women are represented by Roberta Pedranzini.
Here is a good video from the 2008 Worlds vertical race:
Raw facts about the two races
Firstly I am going to present you with raw facts about the race courses, winning times and the vertical speeds achieved by some athletes. Then I will discuss how do I think the Canadian and US athletes compare to Europeans right now and where they could possibly be in the future.
Golden vertical race (Dec 5th, 2009)
Altitude gain: 338m
Altitude factor: almost non-existent as the race finished at 1600m
Fastest times and average vertical speeds (AVS):
Reiner Thoni (CAN) – 17:07 (17min 7sec) = > AVS of 19.75 m/m (1185 m/h)
Brandon French (USA) – 17:14 => AVS of 19.61 m/m (1176.6 m/h)
Melanie Bernier (CAN) – 18:13 => AVS of 18.55 m/m (1113 m/h)
» Click here for Golden Tiki Torch Dash 2009 results.
2008 Worlds vertical race (Feb 28th, 2008)
Altitude gain: 870m
Altitude factor: not significant as the race finished below or around 2000m
Fastest times and average vertical speeds (AVS):
Florent Perrier (France) – 35:05 = > AVS of 24.80 m/m (1488 m/h)
Roberta Pedranzini (Italy) – 43:39 => AVS of 19.93 m/m (1195.8 m/h)
» Click here for 2008 Worlds vertical results.
Vertical speed units glossary:
m/m = gained vertical meters per minute
m/h = gained vertical meters per hour
Is this comparing apples with apples?
There is an obvious fact, some might argue, that this comparison cannot be accurate – the duration of the races or more precisely the difference in vertical gains are quite big, 338m versus 870m.
And at the first glance it totally makes sense to think that, however, I believe I can show you how this is a fairly fair comparison, even though, I agree that an absolute conclusions can be drawn only from the very same race, done by the same athletes, on the very same day.
Factors to consider in this comparison
Elevation gains – point for European athletes
The altitude difference is clearly on the side of the European race and the athletes that raced on that course – Perrier and Pedranzini. The difference is 532m or slightly more than 2.5 times more vertical gain in the European race than in Golden.
Course profile – point for North American athletes
Even though I could not find the course profile of the 2008 Worlds vertical race again I believe it was, on average, a bit steeper than the Golden race course. And those that raced the Golden vertical course will agree that it was quite "flat".
Equipment – point for NA athletes
Reiner, Brandon, Melanie and the rest of us raced the Golden vertical with heavier gear than Florent or Roberta used in their performances. The differences would be between 300gm per foot all the way to couple of kilos. By my estimation, Reiner's equipment was about 600-700gm per foot heavier than Florent's, if not more. And Melanie had maybe about 200-300gm more to carry per foot than Roberta.
» To get an idea of how equipment weight adds to your time and decreases your vertical speed take a look at an article about  vertical climbing speed in ski mountaineering.
Time of the season – point for NA athletes
By no means was anyone as ready for the Golden race as they will be in March. Therefore, we can expect everyone to go faster later in the season, thus getting a better comparison against Florent and Roberta as they were on top of their game when they won the World titles at the end of February.
Timing of the event and conditions – point for NA athletes
The vertical race in Golden was a night race with headlamps which makes it harder to judge your effort accurately. Also, the vert race started very late, at 9.15pm, and was preceded by a relay race that already took some strength from the athletes.
And on top of all that it was close to -20 Celsius out there and it was difficult to tell whether your inside is burning because of the cold air or you are really going your fastest. Everyone coughed like we were at an emergency room for tuberculosis 🙂
How do we compare, in pure speed, against the World's best?
If I just simply took Reiner's average vertical speed achieved in Golden (19.75 m/m) and compared it against the average speeds achieved at the 2008 Worlds vertical race then he would have placed 58th out of the 90 competitors because:
Time of the 57th placed athlete was 44:00 which means AVS of 19.77 m/m (1186.2 m/h)
And time for 58th place was 44:07 which means AVS of 19.72 m/m (1183.2 m/h)
Brandon would have arrived just few spots behind Reiner to take 61st place.
According to the same formula, Melanie (18.55 m/m) would have place an impressive 10th out of 46 competitors in the women's category because:
The 9th woman finished in 46:27 which means VS of 18.73 m/m (1123.8 m/h)
And the 10th finisher clocked 47:16 which means VS of 19.41 m/m (1104.6 m/h)
The difference in speed between us and the fastest are obvious and quite big – about 20% for men and 8% for women. However, there are those above mentioned factors to consider before we can paint a clearer picture.
Future? And how do we compare after the different factors are mixed in?
Based on my training program (and commitment) and based on talking to other Canadian and US athletes it appears that no one did any significant speed or interval work before the Golden race. All of us were pretty much coming out from our base building period with even only few days on skis, which I think is a good indicator of things to come.
So why is this a good sign if we are still minutes behind the best? Well, because with a good program, I believe, come March each of us will be able to hold on to our speed from the Golden race for a much longer time period…of course unless it's -20 again 🙂
This factors in the benefits of all the training to come after the base building period as well as hoping that the course at the 2010 World Championships will be more suitable for higher average vertical speeds than the Golden one.
And I am not even going to mention that many of us are still yet to drop couple of hundred grams per foot before we line up on a start line in Andorra on March 2nd, 2010.
There is not doubt in my mind that Europeans will be faster than two years ago, however, I know their equipment is getting lighter only by around 50-100gm per foot, whereas ours is getting lighter by almost few pounds.
But by no means I am naive about our future performances, and by no means we are going to win medals soon. However, we are getting a step closer on a stair case that is about 5-10 years tall before we can even think about prestigious podiums (unless of course someone very talented comes along or recruits from another sport).
So where do we stand right now?
Not even 2-3 years ago I would imagined that we would be were we are right now, and I don't mean speed wise as there is obviously a lot to improve.
However, speed is only a side effect of a bigger effort. Everything starts with a passion, then commitment, then team and then hopefully we stick to that commitment long enough that we can produce some results.
I can't speak on behalf of the US skimo racers but I certainly like what I see happening in Canada – lots of committed people for various aspects of the sport are pulling on the same side of the rope. We have passion, commitment and a great team, so now it's all about sticking to it long enough 😉