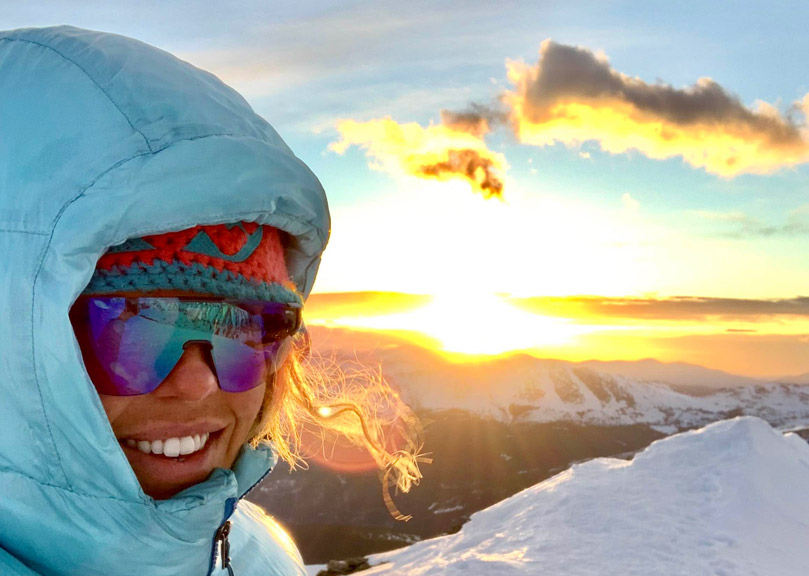 Growing up on a fishing boat in Alaska, Sierra Anderson's road to World Cup level ski mountaineering racing is an adventurous one, and she still operates her own fishing business in the summers.
Her love for mountains and skiing was always there but falling in love with skimo only a few years ago helped her to find a true passion. Today, she is a strong member of the USA Ski Mountaineering Team and has become involved in the sport beyond what most athletes do.
Her movie "Sisters of Skimo" premiers on November 6 in Frisco, Colorado and dives deep into her personality and value she stands for. You can RSVP for this event on this Facebook page.
Q: Where exactly were you born in Alaska? How was growing up there?
I was born in Anchorage, Alaska but originated from Seward, Alaska. Most people know it for the famous Mt. Marathon running race.
I grew up commercial fishing in a little village called Chignik, population less than 100. We can only get there by a 42 hour boat journey out of Seward, or a little 3.5h bush plane ride.
From the age of diapers, most of my summers were spent on the boat for 3 months at a time. I began working at around the ripe age of 8, and when I was 14 I started running the skiff for my dad, a little 22 foot boat that tows the net in the opposite direction of the big boat.
This business is what some people might call family bonding on steroids! It wasn't always easy, but fishing was always an adventure, and being immersed in wildlife was invigorating at a young age. Everything from octopuses to sea lions, birds, whales, porpoises, sharks…you name it. I called these "my pets".
On the rare occasion I did get land time, I would typically find myself running in circles on the quarter mile dirt airstrip in the middle of the village. It wasn't just the bears I'd have to watch out for. Every now and again I would have to dodge into the trees to avoid a landing plane running over me. I couldn't always hear them from behind and have had some near misses.
In 1996, my family moved to Breckenridge Colorado and so began my 8 year journey into alpine ski racing.
Q: How did you discover skimo racing? What hooked you and keeps you in?
The first skimo race I ever witnessed was at Copper Mountain in Colorado when I was babysitting for my supermom friend, Kate Zander, so that she could race.
I was impressed by her discipline and dedication to still pursue what she loved while nursing a child on the side of the race course.
She introduced me to some new things in the sport… like ski crampons for example. I am proud to call her my friend and teammate now because she never wavered and was always patient.
She could have kept me at a distance knowing I would one day be her competitor, but she didn't. I think we had "sisterhood" dialed early on.
Skimo is honestly the coolest sport I have ever known. It is an adventure, and it is extremely rewarding to look back on the peaks you scaled and say "Wow I really did that!". I never really knew what I was capable of until I started skimo racing.
I see mountains in an entirely different way now, I see possibilities.
Q: How is skimo different for you from other sports you have been competing in?
Skimo is so different, but with a lot of parallels to my sport history.
The first time I tried the lightweight equipment though, I was terrified, as if I forgot how to ski! Now it's literally all I know.
I downhill ski raced in high school, then ran cross country. Running helped me afford college, and I was fortunate to be offered a full ride to run at a D1 University.
Neither sports held much longevity for me as I quit racing right out of college to go back in the family business. Both sports were far too one dimensional for me, and I got bored. I think I was made to do something more dynamic.
Skimo was the perfect blend of endurance, mental stamina, downhill skiing (aka speed), technical skills, risk, reward, and real adventure.
Q: Why do you think more women are not taking up skimo? How could this change and what do you want to do about it?
This sport is fairly new in America and less common for women. Naturally, there is an element of the unknown, and an inherent insecurity that comes with it. We are testing ourselves and are not sure of the possibilities or success.
I love seeing more women joining this sport. We are social creatures and find acceptance more easily when there is a group.
I believe sisterhood is a real thing that transcends fear, and supersedes the limitations we might naturally feel when entering a new sport like skimo. When I was running in college, it felt like a sisterhood, and because of that it was easier and more desirable for women to walk on or get into the sport.
I also think that as women we naturally have a little more of a "delicate" spirit than men and self preservation is higher on the priority list. Yes, skimo is more intense than most sports…but it doesn't have to be seen as just that. I have gal friend I know in skimo who shows up to races in tutus. The beauty of skimo is you make it what it is… but it is always an adventure…
Ultimately, I just believe that women need women.
We need to be in community with each other in order to thrive. This starts by eliminating the "cliques." We can support each other to do our very best and encourage other women to join us as this strong group of driven, inspiring intense athletes.
I am excited for the growth that is happening in skimo. I wish I had the opportunity to start skimo younger, but I am learning to embrace the chapter I am in, and help foster relationships with women and young girls in the sport. This is how I believe we grow the sport.
If we as skimo women in the community can develop a more inclusive culture in the sport that is inviting and attractive to outsiders, we can grow it. There's more to this sport than the podium.
Also of course, we need better uphill access in North America. I hope more resorts get on board with opening their mountains for people to travel uphill.
Q: Would you want skimo to be in the Olympics? Whether yes or no, why?
Oh absolutely! It needs to be in the Olympics. If curling is in the Olympics, skimo should have been in it yesterday.
Skimo is exciting, daring, adventurous, risky…all the ingredients for creating intrigue among spectators. This sport is the ultimate test of endurance, speed, technical skill, uphill, downhill, and everything in between.
Q: What are your future skimo goals and plans? Do you have plans away from racing – such as expeditions, traverses, trips?
My short term plans include going to Europe to live and race the entire World Cup Circuit for 2020, as well as some Grand Courses. I want to completely immerse myself into the mother-ship of ski mountaineering so that I can grow and bring back what I learn.
One of our juniors, Grace Staberg will be joining me for those 5 months. We leave the first week of December!
Long term goals are evolving but hard to say because opportunities are trickling in now that I never would have foreseen a year ago. I want to be open.
I have been fortunate to see a lot of the world. But racing in these other countries is very new and exciting to me. Traveling by skis is an awesome thing.
I met some folks from India at the race in China, and it was really cool talking to them and hearing them share about wanting to start a skimo club in their country. They came to China to get acquainted with the sport and learn.
China rallied people from all parts of the world for the Mt. Gangshika masters race and that was truly awesome.
I would love to help facilitate growing the sport not only in the USA but around the world.
Q: If you were to die in 10 years, how would you want to live them? What would you like to do, "complete", or "accomplish"?
I think in whatever I do, I want to somehow serve people in it and impact hearts in a positive way.
So many people have helped me in my life to get to where I am. I would love to give back. I don't know what that is supposed to look like. I don't have a particular bucket list item that I have to conquer.
As I continue to grow in skimo I begin to realize new ambitions and goals, but they aren't the end-all-be-all for me. I love exploring exotic foreign places on skis and meeting new people along the way.
But if 10 years is all I get, I think I would want to try and focus on what I was leaving behind, since after all I can't take anything with me when my time is up. I think that to have a family and leave a legacy that serves to impact culture in a positive way would be a pretty great accomplishment.