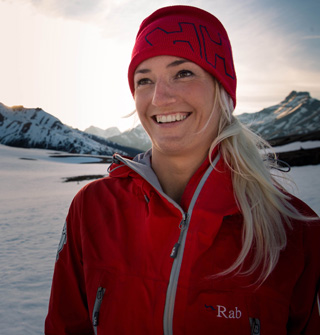 Besides being the current Canadian Skimo Champion and the North American Skimo Sprint Champion, Kylee Toth Ohler is a mother of two and one of the nicest and most smiling people you can meet.
I have known Kylee for about seven years and have seen her race skimo before her two boys and to return after – stronger and faster than ever before. And because of that, I would like to introduce her to you.
Photos credit: All taken by Kylee's brother Kent Toth.
Q: Kylee, you were a very fast short track speed skater way before you started racing skimo. How did your training and life look like back then? What speed skating accomplishments are you most proud of?
I started short track speed skating at age 5 and raced until I was 22 so for 17 years. I started in a high performance program at the national training centre at age 13. We trained six days a week often twice a day – weights, road biking, running, dry land and skating of course! I have always loved training and the comroderie with teammates and really enjoyed that time in my life.
I am most proud of my result at the Junior Worlds in Korea when I was 18-years old, I came 5th in the world in the 500m and 8th overall.
Q: What habits, skills or knowledge from speed skating are translating for you well into skimo? And what did you have to unlearn?

I think what is translating well is having a huge base from years of training, a love the discipline of training and knowing how to push myself.
What I had to unlearn was my outlook on training, I always believed more training was always better. When I skated I would add volume to my programs, go hard all the time because I thought that equated with success. I have had to rewire my thinking to training smart, respecting programs, heart rates and my own body.
Q: What skills did you have to learn when coming to skimo? Were you skiing or ski touring a lot before or not?
I started down hill skiing at 18 months so I definitely knew how to to ski. But, if you can believe it the very first time I tried ski touring gear was in a race, Mountain Storm at Fernie! I put it on, got a quick lesson from Steve Sellers and away I went. It was a punishing and hard experience but I liked the challenge and movement and so got into more races and more backcountry skiing.
Q: What do you find the most rewarding about our sport?
I think we have one of the best sports in the world. To be able to run up mountains in the winter and the summer and call it "training" is amazing!


Q: Since returning to racing after giving birth to your two sons you have made great improvements. How are you able to do that because you are obviously juggling lots of commitments?
Yes, it isn't always easy but you choose where you spend your time. Exercising to me is a priority, it helps me be a better wife and mother because it gives me energy both mentally and physically. I go to a gym that has childcare, I have a supportive extended family, I teach exercise class and whenever I have personal time I spend it training. Some people read books, scrapbook, cook, shop, woodwork I choose to train 🙂
Q: Which sports do you most incorporate into your training in the summer? And do you race in the summer as well or only have fun through training in the mountains?
I run, mountain bike, do body weight bootcamp style workouts, scramble and hike. I follow a training program which Eric Carter from Ridgeline Athletics (and SkinTrack) helps me with. I do a few running races of various lengths from 10km in road to 50km on trail. For me the focus is always on enjoyment and having fun because I find that very fulfilling, energizing and motivating.


Q: How does your typical training week look like in the winter, about 4-5 weeks from a major race? How many hours and how much rest?
Surprisingly I am only on snow one to two times per week because I don't live directly in the mountains. I try to get one longer day in at lower intensity and one day of intervals in. The rest of the time is running and strength training. I usually work out 6 days a week and have one day off. I really try to make my workouts matter because non-snow days I usually just have one hour of childcare. I always aim for quality over quantity.
Q: Could you elaborate on your diet. Do you have any self-imposed restrictions such as being vegetarian, paleo, or do you eat everything? What do you eat during long training sessions?
No, I eat everything and enjoy food. I try to home cook almost all my food and moderation is important to me. I want to model healthy eating for my boys and to me that is not restrictive eating. During long training I eat whatever I feel like, mostly carbohydrates but I also try to have some protein and fat, homemade protein bars, fig newtons, chews, sometimes chocolate bars 😉
Q: Let's switch gears now a bit, I want to ask a wide ranging question. For couple of years now, you are involved in the sport as an athlete, race organizer, ambassador and with the Canadian Skimo organization as well. What do you think can be done to attract more women into our sport? Why should they try it? And how it would be different depending on age?
I really feel sports grow from the grass roots level, getting juniors involved, starting clubs, team comroderie and coaching. I think some young people are turned off because it seems dangerous. But, skimo is a sport, it is not the same as backcountry skiing and youngsters can train for it without ever entering Avalanche terrain. So I think better education about what the sport involves would be a good starting point.
Women should absolutely try it, it is an amazing way to stay in shape and see amazing places. I think some barriers to entry are cost of gear, places to train inbounds, being intimidated by either the uphill or downhill component and fear. I think it would be very empowering for women to complete either a recreational or elite course – it's not about winning, the greatest victory is stepping out of your comfort zone and onto the start line regardless of the outcome.


Q: What would be your advice for those women that would like to try skimo racing and are coming from different sports?
If you have a good base of fitness and can ski downhill give it a try! My first race was the first time I had ski touring gear on and it was a bit of disaster. It's okay if you aren't as proficient at it as you were at your former sport, you have to start somewhere. Be brave, do your best and that's all you can ask of yourself.
Q: One more question, if you could do a big backcountry ski trip, where would it be and why?
That's a fun question 🙂
I think I would ski tour in New Zealand. I have been to New Zealand and it is a beautiful country that I would love to explore more. The people are friendly, you can camp, mountain bike, surf and ski who wouldn't want to go 🙂