A year ago, not many people involved with ski mountaineering and backcountry skiing knew Julie Matteau, except her touring friends and a couple of work related contacts. That is not the case anymore.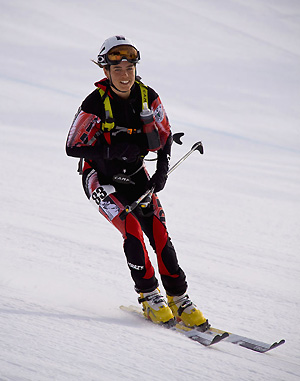 Last season, Julie became the Canadian Ski Mountaineering Champion, she won the Canadian Ski Mountaineering Cup and won all Canadian skimo races in the process. Also, she clocked more vertical feet during that season than most backcountry skiers would do in ten years.
And while doing that, all of us that know or have met her, were treated to her happy smile all the time and everywhere.
Here is more from Julie in an interview about pretty much anything:
Q: Last season you won everything that Canadian skimo racing scene offers. Was that your goal or it just happened that way?
Last year, with a better pre-season training regime and a healthier body, I was definitely aiming to win as many races as I could.
My ability to focus and my level of skiing were much better which paid off. I was hoping, but didn't expect, to win all the of the Canadian series races as well as I did.
Q: When did you start ski mountaineering racing and backcountry skiing? How did you start?
I started backcountry skiing back in 2001, the first winter after I moved to BC. It began as something I wanted to do as a recreational sport after being inspired from a friend's pictures of Rogers Pass.
I slowly got into the sport, starting with renting the equipment and slowly getting my own. Only much later, in the year of 2007, was I made aware of the competitive side of backcountry skiing, ski rando racing, with the visit of European friends with their very light gear.
With a few friends/co-workers of mine at MEC, we all decided to race in Whistler at the Telus World Backcountry Freeride Jam Festival for the first time. Them with light equipment, and myself with my regular backcountry ski gear.
Despite the 2 days of hard racing, I truly enjoyed the course and the vibe within the crowd. I witnessed some serious speed by a few European racers that week-end,  and it began.
Q: Is there anything that sucks being a gal when backcountry skiing and what are the benefits?
Being a gal doesn't really suck, you can even get special treatment sometimes depending on your partners 🙂 On a more serious note, I have to say I'm very happy to have skied and ski with great partners that treat everyone with a lot of respect.
A lot of male friends appreciate us gals joining their group because it balances the testosterone level. I have heard it many times that "it's good to mix it up"!
Q: You used to live in Vancouver (before in Quebec) but you moved to Revelstoke. Do you like it there?
I love it here! Not that I didn't enjoy back east all those years or Vancouver in the last 8 years.  The great living in Revelstoke for me, mainly involves living with my boyfriend and being able to enjoy what I love doing almost every day.
Revelstoke has an amazing outdoor "backyard" that offers limitless options if you like to be active. Its inspiring to live within a very fit and active community and it definitely responds to my love for the mountains.
Q: In Revelstoke, you get to ski with an amazing group. Besides being great people, they are also very strong skiers. What does a day trip with them involve?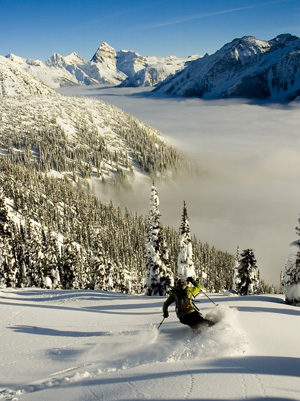 I'm very fortunate to be surrounded by so many amazing skiers and mountain people. To get to spend so much time with well rounded skiers enables me to improve my skiing and learn more in the mountains.
Their knowledge of the area and their abilities motivate me to be a better "mountain man". Their fitness and skiing skills push my athletic abilities and allow me to improve on every level.
People I ski with are very efficient: start early, discuss our options for the day and its conditions, take only small breaks during the day to snack and have lunch and pound as much vert as the day allows us.
Everybody pitches in for setting the track and its amazing how efficient big groups can be around here…one day a group of 12 of us skied 9,000 feet in a regular day, everybody knew how to move.
Q: How much vertical feet/metres have you climbed the most in a day?
11,500 feet in one day. It was a long day with some big objectives….came back with our head lamps in the dark, such a good day!
Q: Do you do any specific training for skimo races or you just ski as much as you can, then go race?
Last year I built up my strength from May to January with Crossfit training in Vancouver, at Crossfit Westside with the amazing Jenika. I was lucky not to be working last year from January on, so I spent almost every day skiing. I had an extraordinary winter.

Although skiing in the mountains got me some serious mileage, I had to spend time working on my skiing with my racing skis and practicing transitions. Going uphill with the light gear consist of a bit of a different technique and skiing down requires some serious practice! [Ed. You can read how lighter gear affects technique here.]
I did a few sessions of interval training as well which I think helped a lot. Racing is such a different mindset and requires a lot physically which is why I think you need to do both.
Q: Do you currently have any sponsors?
In the past I have been well supported by my ex-employer MEC but as of right now I'm on my own. I hope to get some sponsorship this year with the World Championships in Andorra and the Pierra Menta all coming up in 2010.
Q: What are your favorite activities beside ski touring?
I much enjoy mountain biking, trail running, climbing and Crossfit training. This summer I got to do a little bit more sport climbing and light mountaineering which I find very interesting. I'd like to improve my skills in these various sports to be a more well-rounded mountain athlete.
Q: What are your racing goals for the 2010 season? And what are your non racing goals?
My non racing goals always include staying healthy and enjoying every day I spend outside in the mountains!! I also want to improve my skills in less than perfect conditions, and my steep and rocky skiing abilities.
As for racing, I'm aiming to keep my title and continue to push my fitness. I'm shooting for a good result in the World Championships in Andorra and completing the Pierra Menta race.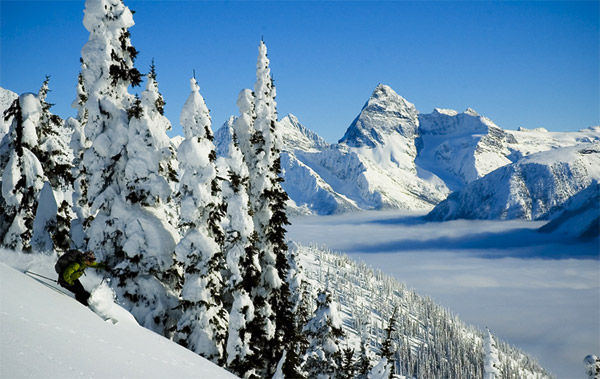 Q: Do you like to ski tour more with guys or with girls?
I like both depending on the individual. I've been skiing with guys the majority of my time since they outnumber us. There are few females that I would love to ski more with but I also enjoy the mixed group.
Q: Your boyfriend is also Canada's top skimo racer (You are both on the Canadian National team). Do you think about how his race is going when you are racing, or you are totally focused only on your own race?
I always look up to the leading pack in a race and since Jeff [Ed. Jeff Colvin] is always in front of me I often wish he's having a good race. Races are usually pretty long so it gives me lots of time to think. I definitely think of him while I'm racing but with very short thoughts.
I bring my focus back when I think of anything else other than the actual race I'm in. Everything happens so fast in racing that you want to be focused to minimize your errors.
I very much enjoy crossing either my boyfriend and my ski partner Andrew McNab when I race, its a huge motivation to hear them yell your name!
Q: How does your favourite day in the mountains look like?
My favorite day in the mountains is filled with friends, laughter, good snow, peeking from the sun and some amazing turns.
I like it when you don't necessarily think the snow conditions are going to be perfect, but on your first turns you start getting little fuzzy feelings and you instantly get a permanent grin on your face 🙂
The non credited photo (the first one) in this article is from Julie Matteau's collection. Author can contact me at "info(at sign here)skintrack.com" to add his name.