Growing up on the flats, Caroline Gleich had a lot to learn about mountaineering and skiing steep descents once she discovered her calling.
Facing this challenge with great passion and determination, she worked her way up not only mountains but also to become a sponsored adventurer, environmental and social rights activist, and a social media celebrity. While many people followed her path with support there were also some very negative voices who's egos couldn't handle someone else fulfilling their dreams.
To talk about it all, we contacted Caroline for an interview and she happily agreed to do it. For regular updates, you can follow Caroline on her Instagram.
(All images in this interview were published with permission from Caroline's archives and social media.)
Q: You grew up in Minnesota, on the flats, and now you live in Utah at the foot of the Wasatch mountains. How and when did you start climbing and ski mountaineering? What inspired you?
I dabbled in climbing when I was growing up, but I didn't have a lot of places to go climb or mountaineer in the Midwest. A few times a year, my family would take a trip out West to Utah and other places, to ski in the winter and spring and backpack in the summer. I fell in love with the alpine on those backpacking trips we took to iconic places such as the Sawtooths, San Juans and Wind River Ranges.
I was always inspired to push myself while immersing myself in nature. I grew up in a family of four children (three brothers), with three half-siblings as well, and there was always a good amount of family competition. I always wanted to be the best skier in the family. I also was also inspired to defy people's expectations of me.
Q: What does keep you going to the mountains and on adventures now?
Mental health. Being in the mountains and going on an adventure is imperative to my mental and physical well-being. It is less expensive than therapy, and more fun.
It is a way for me to process my emotions and work through difficulties in my life. It is also a way for me to connect with other people, and I love the community that I share my adventures with. I'm also inspired by a deep love of nature and the natural environment.
Q: You have recently climbed Everest. When did this became your dream? What lessons did this experience leave you with?
I never really thought Everest would be a goal of mine until I saw it when I was on the way to climb and ski Cho Oyu, the sixth highest peak in the world.
Once I saw it, the mountain spoke to me in a big way, and I started dreaming about climbing the Northeast ridge from Tibet. It is a beautiful ridge climb, in an incredible position, like nothing else on earth. I loved the experience of being on an expedition for 30+ days on Cho Oyu, and I was hungry to go back to the Himalayas.
Like many people, I had my own preconceived notions about Everest. That it was overcrowded, that it was an easy walk-up, and that people paid their way to the top. After being there, I can say it is a huge challenge. It is not a walk-up. And you can't pay your way to the top. Attempting an 8000m peak without outside assistance would be nearly impossible.
I loved working with the Sherpas staff, meeting the local Tibetans, and coming together with people from all over the world for a short period of time when the weather allows people safe passage. There is so much more I could say about Everest, but I will hold off for now.
The lessons I learned will stick with me forever. I learned how to deal with intense discomfort. I learned that I can have a splitting headache, a torn ACL, a pulled rib cage muscle, be in so much pain and still perform athletically.
I learned that I don't need to shower that often, and I learned that I can live happily without too many things. Of course, I love my outdoor gear. But other stuff in life, I don't need a nice car or super expensive dishes or clothes. It reaffirmed my love of shared experiences over materialistic items.
And I also learned that I can fundraise and that I am capable and worthy of raising that kind of capital. I learned how important partnership is, and how much I love my family!
Q: Few years ago, you managed to ski all 90 steep lines that are in the book "The Chuting Gallery" – a steep skiing guidebook to the Wasatch by Andrew McLean. Was this project a steep learning curve experience?
The Chuting Gallery took me 5 years to complete. When I first started skiing the lines in the book, I never thought I'd finish the entire book (or that I even wanted to). But as I kept progressing, I started to see that project completion was going to be an option for me. I loved how it pushed me to learn how to lead ice and rock and to become a better alpinist and ski mountaineer.
It was a very emotional project because it required me to ski one of the lines where my half-brother had died in an avalanche when I was 15. I took the progression slowly to be sure I felt very confident before I skied each line.
Q: You are a passionate advocate for social and environmental equality. Why are these issues so dear to you? How can others take even small action if they want to help?
I believe we all have a duty to speak up and be engaged, informed citizens to make our government and our country work.
Being out in nature is a huge gift and it gives me so much. For everything we receive from nature, we have a duty to give back and speak up for the wild places we love so much that don't have a voice of their own.
I would urge everyone to get involved in a local level by becoming informed voters. Read the newspaper, pay attention, do research on candidates and issues. You don't have to buy an electric car or put solar on your roof. Advocate for your energy provider to give you those options. And vote!
Q: You are sometimes in the centre of "negative" attention on social media. Why do you think this is? How do you deal with it publicly and personally?
I think there are two reasons.
One is I have strong opinions and I'm not afraid to voice them. That is going to draw up some controversy and dissent.
The second is that I am a woman, and I believe some of the negativity comes from internalized misogyny, from both men and women. We still have a long way to go in our culture towards gender equality.
I am continuing to learn how to deal with the negativity. I try not to let it silence me, but I have to admit, that sometimes I get a lot of anxiety about posting my opinions on Instagram. I feel like I'm more guarded now. I'm working to let down my guard and be myself. But it's a constant battle and work in progress.
Q: Now, let's talk a little about skimo racing. You have done some local Utah races as well as the famous classic Patrouille des Glaciers in Switzerland in 2018. How do you like the sport? What was your experience at PdD?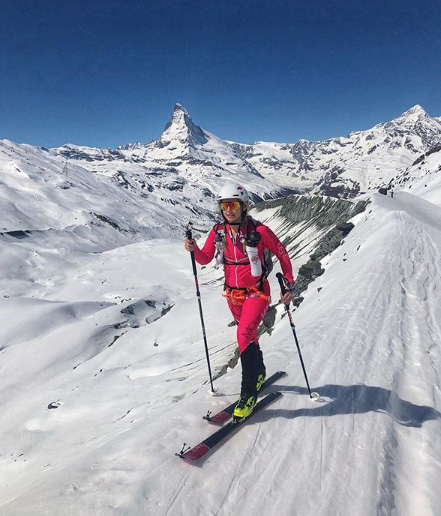 I LOVE SKIMO racing!
My first race was one of the local, citizen races at Brighton, UT. And then I competed at the Powderkeg in 2017, which also happened to be US nationals for skimo. I did all 3 events, sprint, individual and the teams race, and my friend and I won the female team national championship title.
Then I did the PDG with a team from Switzerland and France. The PDG was an incredible experience. The mountains there are insanely huge! The race organization is superb, and the fan engagement is unreal. To see all those people lining the mountain passes cheering for us brought me to tears!
What I love about skimo racing is it's a chance to push myself and go as fast as I can. I don't have to wait for a photographer or videographer, it's just me, my breath, and the racing beat of my heart.
I hope skimo continues to grow in the US and that more resorts start allowing uphill access. That's going to be a key to the success of the sport in the US.
Q: As a busy adventurer, do you plan to have family at some point? If yes, how would you like to raise your children?
Awwwh that is a loaded question!
First, I must preface this by saying, make sure you ask male athletes this too. Bearing and raising children is not only a woman's job. I do think I see myself as a mother, although I go back and forth. Before Everest, I would have said for sure, I'm having kids. But I love the experience of being in the Himalayas on an expedition so much, I don't want to lose myself and my identity as a mountaineer in my relationship with my children.
It is such an emotional question. I think if I become a mother, it will be on my own terms, and I will have to make sure I stay true to myself. I want to continue being a ski mountaineer and adventure athlete and I plan to do this stuff for as long as possible.
Q: What are your future adventure plans? Where would you like to go and why there?
I would love to go to Antarctica and ski there.
I really want to ski Ben Nevis in the U.K.!
I have dreams in the Alps, the Canadian Rockies, and in my own backyard, the Wasatch and the rest of the American West. It's important to let the mountains speak to me, and let my projects happen organically.
Interview with Caroline and her partner Rob Lea after returning home from Everest: