It's been an interesting week in skimo! Colorado snowpack remains lean, although, Utah has seen a few glimpses of winter.
Meanwhile, the West Coast is getting pounded with Whistler Blackcomb reporting over a meter on the storm board and Mount Baker Ski Area getting overwhelmed too. It's a good time to make a trip West!
In Europe, parts of Chamonix are being evacuated due to avalanche risk threatening the town as snow and rain continues to blanket the Alps. It will likely be a good year for Haute Route hopefuls!

USA and Canada Race News
The US Ski Mountaineering Association has been dealing with some frustration lately:
First, US Nationals have been moved from the Taos, New Mexico venue to the Powder Keg in Utah due tolack of snow.
Just days later, an announcement came that the US Olympic Committee would not be selecting any American athletes to compete in the 2020 Youth Olympic Games. Stating that the USOC does not support sports at the Youth Olympic Games level that are not yet Olympic sports. This begs the question, even if ski mountaineering racing is eventually admitted to the Olympic Games, to what qualifying standard will the USOC hold USSMA athletes? It's likely that a certain World Cup ranking will be required to be selected to the Olympic Team. We should look to Nordic skiing for their criteria.
There is no word yet on how or if the Canadian Olympic Committee will be selecting any Youth Olympic Games athletes for 2020.
Fernie Lizard Skinner – Fernie, BC – Jan 20:
After a two week break, Canadian and Montana athletes met again in Fernie, BC for the Lizard Skinner event that included both an individual and a sprint event. With lot's of snow and stormy weather in the week leading up to the race, it was bound to be a powdery one.
Peter Knight showed he's on form and topped the podium above Joel Shehan and Joel Desgreniers. Newcomers, Tyson Smith and Jean-Michel Voyer shook things up skiing with Travis Brown.
Kylee Ohler continued her Canadian scene dominance while Michelle Katchur-Roberts battled with the Montanans Lizzie English and Katie French.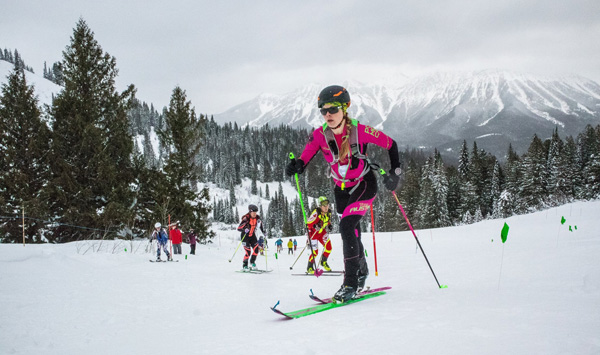 The men's sprint was competitive with Joel Desgreniers setting the fastest qualifying time but relenting the final title to Peter Knight, with Travis Brown finishing in bronze. Kylee Ohler was notably absent leaving the sprint a wide open affair. Lori Anne Donald took the win and was joined on the podium by Lizzie English and Martha Burley.
> Full results – Individual – 2018-Fernie-Individual-full- results (PDF)
> Full results – Sprint – 2018-Fernie-Sprint-Results (PDF)
Berkshire East Skimo – Berkshire East, MA – Jan 20:
We don't have a word-by-word recap for you from this race but we do have results.
Men – full course:
1. Edward Warren
2. Jerimy Arnold
3. Josh Flanagan
Women – full course:
1. Jen Downing
2. Natalie Thompson
3. Katie Vadasdi
> Full Results
International Race News
European racing action resumed in Villars, Switzerland this weekend (the location of the 2020 Youth Olympic Games) and was marked by stormy conditions. Unfortunately, after a successful individual event on Saturday, wind and storms brought down trees and power lines preventing the running of the sprint on Sunday.
Skimo Villars World Cup – Villars, SUI – Jan 20:
Four athletes pushed the pace at the start of the men's race and took control – Michele Boscacci (ITA), Xavier Gachet (FRA), Martin Anthamatten (SUI) and Nadir Maguet (ITA) – with Robert Antonioli (ITA) trailing slightly behind. On the third ascent, Gachet took off and arrived at the top with a small gap. Antonioli and Boscacci chased him to the finish while the other athletes started to fade.
It is worth noting that the top 10 men arrived within 3 minutes behind the first place after almost 2h of racing.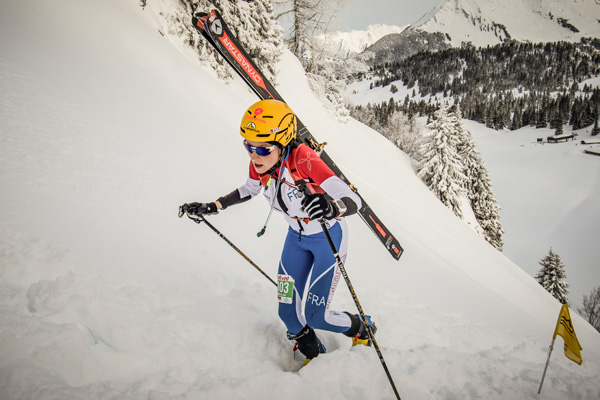 As usual, Laetitia Roux (FRA) dominated the women's race with Axelle Mollaret (FRA) in tow. Vicki Kreuzer (SUI) and Alba De Silvestro (ITA) battled to the line with Kreuzer taking the first individual podium of her career.
American athletes John Gaston finished 27th and Rory Kelly finished 42nd.
> Full Results

Upcoming Events
In the US we have the Loup Loup Rando Race coming up on January 27th. The Loup Loup is a new addition to the domestic calendar and organized in Method Valley by Sam Naney.
In Europe, athletes will transfer over to Andorra for the Font Blanca race. Snow conditions look promising for both the Individual and Vertical events. Expect some of the big names that were shut out of last week's podium to be looking for revenge. Hopefully the altitude will be to the advantage of Coloradan's John Gaston and Rory Kelly!