It's a very brief news cycle this week with just two races to report on. Colorado and Utah have finally begun getting significant snowfall but are far behind seasonal averages. Skiing continues to be excellent in Western Canada with new snow and high pressure days. The Canadian Rockies are still dealing with deep cold and significant avi hazard.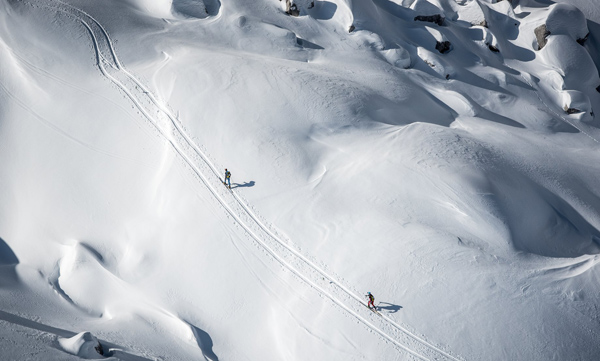 USA and Canada Race News
Race the Divide – Monarch Mountain – Feb 17:
Racing action continued in Colorado at Monarch Mountain where the elder statesman of US skimo, Pete Swenson, reminded the rest of the field not to count him out just yet! Taking the win with a gap of 4 minutes to second place and almost 9 to the first sitting National Team member! Jamie Brede battled it out with Eva Hagen, with Jamie narrowly taking the win by just 10 seconds and Sierra Anderson rounding out the podium. Colorado youth skiing continues to grow with 6 Espoirs and 1 Cadet in the field!
> Full Results
International Race News
World Cup racing was on break this weekend, however, most athletes attended a three day stage race at Transcavallo, Italy – the site of the snow-less 2017 World Championships. With much more snow this season, the course looking dramatically different, competitors had beautiful technical ascents with long and rock-free descents. The Italian duo of William Boffelli and Manfred Reichegger came out on top in men's category while Martina Valmassoi and Dimitra Theocharis won the women's.
> Full Results

Upcoming Events
It has been a relatively quiet week of racing but much stands on the horizon. In Europe, the European Ski Mountaineering Championships will take place this weekend. Kilian Jornet is back at full racing strength and surely be keen to show his dominance. Anton Palzer has announced his withdrawal due to illness. Will we see the Italians continue to hold the podium positions or will the French and Swiss athletes step up? The only American athlete anticipated to attend is John Gaston.
In the Unite States, the relocated US National Championships will be held at the Wasatch Powder Keg. The men's race seems to be a clinger for Tom Goth on his home course with Gaston racing overseas but several up-and-coming racers prove to be challengers. Mike Foote is our bet for a challenge to Goth. East Coast racing continues at Greylock.
In Canada, the SMCC Cup reconvenes at the b at Whitewater Ski Area in Nelson, BC. This race ALWAYS delivers big powder and interesting racing. Expect a competitive field with athletes coming from Alberta, Montana, and a large Coast contingent. Nick Elson, multi-Canadian National Team member, will be making his season debut to compare to current National Champion, Joel Desgreniers. On the women's side, we expect Kylee Ohler to continue her overwhelming dominance of the Canadian scene though we'd love to see some US athletes come to challenge her!