Boulder Nordic Sport – one of the stores that has a great selection of skimo racing gear – will be hosting an evening ski mountaineering race series starting on January 15th!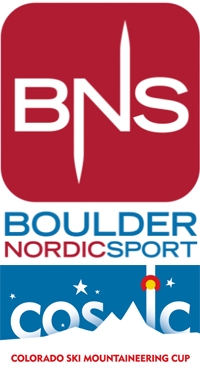 The series will consist of three races that will be held on these Wednesday nights:
January 15
January 29
February 12
The "Boulder Nordic Sport Wednesday Night SkiMo" series will be the first of its kind in many ways. Most importantly the series represents the first time the rapidly growing sport of Ski Mountaineering has been contested on the Front Range. Ski Mountaineering, or SkiMo, racing have seen an exponential increase in popularity over the past three seasons.
This race series aims to give skiers in the Front Range and the Denver Metro area easy access to SkiMo racing and introduce new skiers to the sport and equipment via product demos and clinics. Also the series will be unique in that it will be held in the evening, under the lights of the Front Range Ski Club giving racers easy post work accessibility and the rare experience of racing at night.
Race entry information can be found here: http://www.prerace.com/races/event/46028/Boulder-Nordic-Sport-Wednesday-Night-Skimo
Known as Ski Mountaineering, SkiMo, Randonee, Alpine Touring, AT, Ski Running, or uphilling, this form of racing is essentially moving quickly through the mountains. Using climbing skins skiers run or power hike up a "skin track" to a given point where they transition by removing (stripping) the skins, step into their binding and alpine ski downhill. This process is then reversed and the skiers skin back uphill. Races are set over courses usually consisting of a loop of 3-5000 feet of vertical ascent and taking 1-5 hours per race. The Boulder Nordic Sport Wednesday Night SkiMo series will consist of three ascents and two descents or a skin-ski-skin-ski-skin format.
Ski Mountaineering is very popular in Europe and a truly global sport with a very good chance of being included in the 2018 or 2022 Winter Olympics.
Boulder Nordic Sport is the largest Nordic ski shop in North America and a leader worldwide in Nordic skiing and all products involved. Boulder Nordic Sport entered the Ski Mountaineering segment last season and is excited to be part of the fastest growing segment of the ski industry.