SkinTrack Essentials
To keep our thoughts flowing and our keyboards typing, we have created two special wear items for our biggest fans and supporters – essential SkinTrack head bandannas and SkinTrack t-shirts for casual wear.

How Can You Support?
When you purchase any of the below we will get to keep $12-15 per item.
The funds will go towards producing more awesome SkinTrack content in the future!
If you want to show us more love then you can change the price to a higher amount in the "Amount" field during the checkout process when viewing your cart.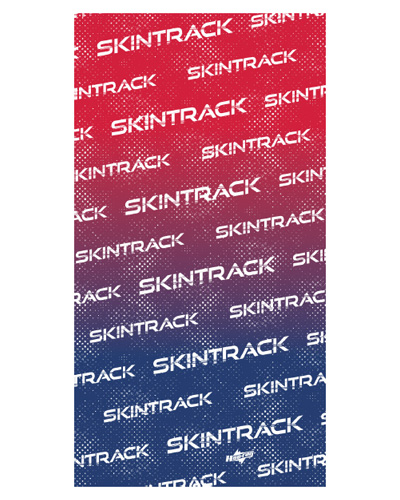 SkinTrack Bandanna
$30.00 (includes shipping)

Bandanna is an essential piece of gear and ski mountaineer's best friend… only after reliable skin glue of course.
By now, you all know the many cool ways you can wear and use this highly multi-functional clothing. We love to use it mainly as a neck warmer and a head bandanna, and we always bring more than one for any mountain adventure or training session, whether that be winter or summer.
Material: breathable, microfiber polyester, highly stretchable
Manufacturer: Hoo-rag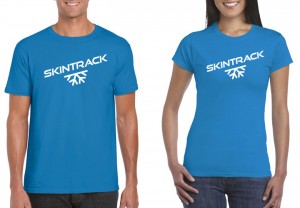 Click photo to see larger image.
SkinTrack T-shirt
$40.00 (includes shipping)
Unlike a central bankers, we won't print infinite amounts so grab yours while you can.
This is a soft-style Gildan cotton t-shirt best worn to skimo event after-parties, fellow skinners' weddings, or a flight on your way to Alaska. Be aware of potential weird questions coming your way as the "normal" population associates the words "skin track" with distinctly different products and application.
Sizing: Both men's and women's t-shirts seem true to size with most male skimo athletes likely fitting into a medium (Stano and Eric at 186cm/180cm and 74kg/70kg wear medium).
Material: soft-style cotton
Manufacturer: Gildan
SkinTrack Kit: T-shirt + Bandanna
$65.00 (includes shipping)
You might be a fan of Denver Broncos, FC Barcelona, or even Kilian Jornet, but none of them will set you up with a complete official SkinTrack Kit.