Have you ever heard of Mount Cayley? Because I haven't until two weeks ago.
Mt. Cayley is a stratovolcano (http://en.wikipedia.org/wiki/Mount_Cayley) in the Garibaldi Volcanic Belt that managed to elude my good friend Tomas on two previous attempts.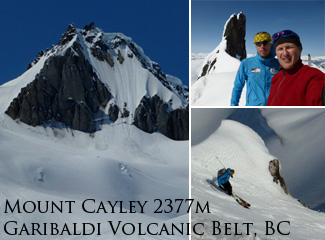 It's not a high mountain, only 2377m, but it's far away enough that lots of things have time to happen before you even reach the foot of it – weather goes bad, equipment fails, motivation fades…
According to the Squamish natives Mt. Cayley is called "Landing Place of the Thunderbird", and that the mountain have been burnt black by the supernatural Thunderbird's lightning – bird of power and strength.
I didn't know this when going up there but now the whole trip borders legendary missions.
7h in, 3h back, great skiing – May 12, 2012
I don't think anyone but we goes to ski Cayley on a day trip. Even Tomas on two previous occasions would try it only as a part of multi-day trip.
The day before he said "it is 8k one way". Looked more to me. We didn't to plan to move fast but starting at 9am in mid-May is a bit pushing it, and I was on Tomas the whole day for being too lazy to wake up earlier.
At the end his argument was proven right: "we could ski corn at 10am when SE face starts melting…..or we could ski it at 5pm as it starts refreezing." Love your friends and be happy, I guess. 🙂
Thanks to lots of snow this year we had to park our car quite far out, at around 900m. And the day began.

See route map and route photos at the very end.
First, we conquered a boring forest road full of snowmobile tracks by obsessing about skiing Mt. Fee. Then to avoid a narrow valley bottom, smeared by avalanches, we gained the SE shoulder that took us to Brandywine Mountain. From there we went up-and-down-and-traversing couple of shoulder bumps that run W of Brandywine, finally reaching a big glacier below Cayley that connects to the Powder Mountain icefield on its southern end.

Then we skinned up a NE slope that brought us to SE ridge of Cayley. A quick boot-pack up the SE face, hop over the SW ridge and up the W face to the summit.

At 4pm, after 7h, we were standing in the middle of of it all, and quite freakin far from the car. 😉
The skiing was excellent despite my worries over a very warm day. It was getting a bit mushy but still on the good side. We skied right off the cornice between the two summit spears following our way up.
After 2550m of climbing and skiing  we were back at the car around 7pm.
It's great to have a friend that gets obsessed with peaks I don't even know about.

The NE face (55 degrees) got skied before and didn't look super steep when we were going up around it. Even the conditions might have been right that day, however, sending down the big entrance cornice might have took out enough snow to make it un-skiable. Will face up to it one day.

Gong show
I think I was the gong show of the day. Always remember to check your bindings after you lend your skis. Mine were too big, so the first downhill and a traverse were without heels. Then a Swiss knife safe the day.
Also, it is worth buying a real map instead of looking at one on a camera, especially, when a photo of that map was taken off a computer screen. Tomas eh…
Day's score:
Stano -1 + Tomas -1 = 100% day
Route map and photos
Cool environments

More than half of the photos in this TR are from Tomas Cernicka. If you want to copy any off this page please contact me.
Cayoosh Mountain – the next day
If anyone is heading up here are the subjective facts (from May 13, 2012):
Since I wanted to check out conditions on Duffey Lake I headed up to Pemberton in the evening. Slept in the car and went up to Cayoosh Pass for a solo mission the next day.
I did only a quick up-and-down the mountain as it was supposed to be very warm even up high. And it was, but I was skiing off the summit around 11am. The top 150m was quite slushy with sluffing but below that great skiing.
Surprisingly, in the whole Duffey Lk area the slopes looked quite pristine, not many signs of avalanching. That's likely due to only very recent warm days, otherwise, around this time you can see some huge slides over there.