The other day, on Twitter, Carl (@CarlKohnstamm) asked me for my opinion on "What are the top 5 ski mountaineering trip (reports) of 2012-13"? (It was worded a bit differently but after clarification that is what he meant.)
That is a one damn great question – fun to answer but by no means it's easy. Here I am going to attempt to best express my opinion while approaching the question from a wider perspective, and obviously taking into account only trips that I know of.
Note: FKT stands for "fastest known time"
1. Matterhorn FKT (2h 52min) – by Kilian Jornet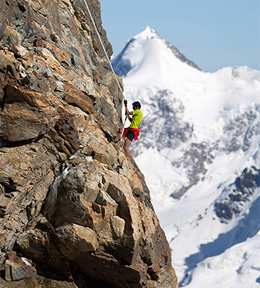 I know this was done running and not on skis but to me this is The Mountain Performance of 2013!
Why I included it? Because it was realized by arguably the best skimo racer ever. Kilian "ran" from Cervinia, Italy (around 2,050 m) to the top of Matterhorn (4,478 m) in 1h 56min, which was an ascent speed of 1,256 m per hour!
He descented back in 56min which was a descent speed of 2601 m/h – that is almost like skiing!
» One of the various reports from this "trip" can be found on Climbing.com – 
http://www.climbing.com/news/kilian-jornet-shatters-matterhorn-speed-record/
2. Mount Rainier FKT – by Jason and Andy Dorais
In my opinion, their time of 3h 57min raised the standard of North American speed ski mountaineering to the next level. It's not out of this world but they were the first to push it under 4h.
Besides, Mt Rainer is almost 4,400 m high (14,411 feet) and the route up it definitely includes enough hazard negotiation that one cannot just go without thinking. Skiing it down fast is also quite dangerous.
This is also the one performance of 2013 that pisses me off the most as Dorais brothers stole the record from our team only about 10 days after Eric Carter and Nick Elson pushed their old one down to 4h 19min. 🙂
» Report by Jason from their attempt – 
http://jasondorais.blogspot.ca/2013/06/mt-rainier-speed-run-35755.html
» Report from our trip – 
http://www.skintrack.com/trip-reports-conditions/mount-rainier-record-4h-19min-12sec/
3. Steep descents in Coast Mountains – by Tevor Hunt
While searching for things to put on this list Eric pointed me back to something I read months earlier.
This is a superb read of a solo descent of a steep face on an undisclosed peak not too far from civilization in the Coast Mountains of BC.
But this one is only one of many under-the-radar (1st) descents of the little known steeps hunter Trevor Hunt.
(Interview with Trevor coming soon!)
» Read "Full Commitment" here
http://www.coaststeepskier.com/wphome/?p=21242 
4. Tantalus Traverse in a day (FKT) – by Skyler Des Roches, Christian Veenstra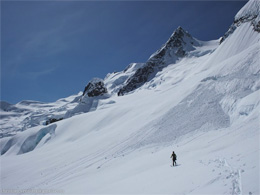 Speed is cool but if adventurous aspect of the objective comes first then it's even cooler. The Tantalus Range can be easily seen from a comfort of your car but to get there and out isn't a piece of cake, and never mind navigating some big broken up glaciers.
A fitting quote from their day:
"Crossing above above a nunatak, then literally sprinting below a fierce cracked serac cave, we made our way along another bench between crevasses until we reached a notch on the south shoulder of Dione."
» Here's the full account of this 17h day – 
http://runoutoffroute.wordpress.com/2013/05/22/tantalus-traverse-in-a-day/
5. Spearhead Traverse  2 x FKT – by Eric Carter, Nick Elson, Brad Schalles
Spearhead Traverse has been testing grounds for Coastal speedy ski mountaineers for a long time. The tradition was likely started by no other than Greg Hill back in 2004 or so on the classic version (Blackcomb to Whistler Village via Singing Pass).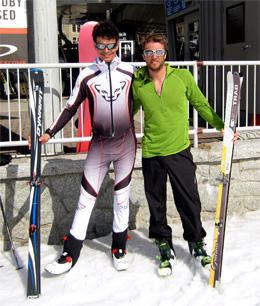 Then in 2006 and 2009 I personally took stabs at both versions with really valuing my 2009 effort on the full traverse (Village – Blackcomb – Singing Pass – Whistler Peak – Village) of 8h 11min over 4230m and about 50km.
This spring three of my good friends took on these records with great success:
First, Eric and Nick lowered Greg Hill's classic version of the traverse record from 4h to 3h 10min
http://coastmountainskiing.com/race-spearhead-traverse-fkt/
Then couple of weeks later, Brad Schalles called me to investigate the route I took in 2009 on the long version to make sure he stayed on it as close as possible. He pushed the time down to 6h 47min! No report but Brad's blog is here – http://westcoastskimo.blogspot.ca/
6. Steep skiing on Mount Robson – by Reiner Thoni and Jeff Colvin
Reiner and Jeff are my good friends from which I have learnt a great deal whether about mountains or just life in general. I was happy to see that after over a year of not seeing each other they were able to hook up for such an adventure this summer.
By now, Reiner knows Robson very intimately – summitted it about 5 times and skied it twice in last 2 years – yet this must have been a highly rated trip up a familiar mountain.
For those that don't know Reiner – he is consistently highest placed North American at skimo world champs and placed 15th at Pierra Menta last March. But his big heart mostly beats for things outside of racing.
Eye candy
I left videos out of the above list on purpose. Because if you are like me then I didn't want you to get caught up in a spectacle and forget about priorities. And you are welcome 🙂
Here's a short clip of Kilian's record on Matterhorn.

Reiner's and Jeff's skimo adventure on Robson.

Honorable mention
This didn't make it to the list as it has nothing to do with ski mountaineering but what a performance and inspiration – Ueli Steck speed soloing South Face on Annapurna this October. More at Alpinist – http://www.alpinist.com/doc/web13f/newswire-ueli-steck-south-face-annapurna