The idea of this series is to highlight a local skimo training zones. Not the big, rad lines in the backcountry that you go to for huge missions, but the day in, day out, reliable training spots. It could be on piste or backcountry but it's where you go to crank out intervals or hone your descending.
For our second zone in the series, we have Michael Hagen telling us about 
Peak 10
in the Colorado Rockies near Breckenridge.
Where is it?
Two hours west of Denver, Breckenridge sports a healthy collection of high altitude, Rockies Peaks. Peak 10. is the boundary at the south end of the Breckenridge resort.
What makes it special?
The first mile or so is rather gentle, which makes for a chance to warm up and socialize. At the base of Falcon Chair, the route up Chrystal run gets rather steep. About 1300 feet are gained in the next one mile to the top of the chair. This section makes for a nice threshold effort to the top. It also lends itself well to VO2max intervals like 1' on/1' off. The skinning is non-technical although some sections are steep enough that they can test your traction. Some sections are also good for practicing kick turns. At the top of the chair there is an option for a short boot pack and then above tree line skinning for some backcountry descending (often on some severely windblown snow dunes.) Or rip skins at the top of the chair and quickly hit the double black runs (Spitfire or Corsair) to further work over your tired legs on some large moguls. Or head right back down Chrystal (or other runs) for high speed carving (or straight-lining if you dare).
You can make as many laps as you have time for (and the Breck rules permit) on variations of the Peak 10 climbs and descents, or head over to Peak 9 and 8 for more variety. Peak 10 is particularly good early season. Because rocks and stumps have been removed, it requires minimal snow before it is skiable. Peak 10 is the last section of Breckenridge to start operations, typically not until a week or so before Christmas. Until then, you can ski Peak 10 anytime you want (barring preparation work) and after storms have some great powder runs. But that secret is getting out, so if you want first tracks, start early. The warming hut at the top is usually open.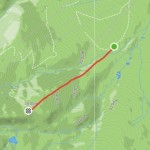 Where is the trailhead/parking?
Beaver Run parking lot (have to be out by 8:15 in the morning, free pass required) or La Cima parking lot (a bit of a walk, but you can park there until 11:00). Transit in Breckenridge is easy and free.
» Strava Segment for Peak 10
What are the rules?
Breckenridge restricted skinning during operation hours last season. So now you have to be done by 8:15 or start after 4:30. The route up and down is restricted to specified ski runs. However, there seems to be a bit of leniency in both these rules.
What is the local training group?
No formal training group, but small groups frequently get together, coordinated via text or email, especially on weekends. Some Saturday mornings on Peak 8 see 30 or more people. Many of the regulars are members of the Summit Skimo Club which welcomes new members to the sport.

What workouts are best to do here?
My favourite is oxygen-debt transitions practice: Start at the steep section at the base of Falcon chair. Sprint for 1-minute, transition as smoothly and fast as possible; descend for 50 meters, transition to uphill as quick as possible. Recover with 2 minutes of easy skinning. Repeat 10 to 15 times. Mastering these transitions at 10,000+ feet on a steep slope will help make race transitions much smoother and quicker. This is the route of one of the Breck Ascent Series races as well.
Stay tuned to SkinTrack and the Training Zone Series for more of the best training locations around North America and beyond! Got a zone you would like us to showcase? Leave us a comment below and we will get in touch!
About Michael:
Michael Hagen has been ski touring for over twenty years and has competed in dozens of ski mountaineering races, including many with his wife Eva and several with his kids. Mike is the U.S. and Canadian distributor of
Hagan Ski Mountaineering Gear
as well as an endurance sports coach. He currently coaches several ski mountaineering racers. Mike can be reached at 719-360-1693 or 
mike@haganskiusa.com
.