On December 5th, the North American 2010 skimo racing season will begin with Tiki Torch Dash hosted at Kicking Horse Mountain Resort (KHMR).
After delivering an amazing race course, organization and after-party last April people at KHMR decided to take a stronghold on the Canadian racing scene  by hosting two events this season.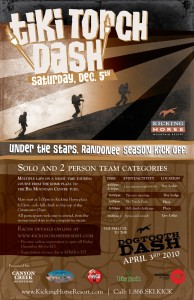 The second event will be Dogtooth Dash (on April 3rd, 2010) which is poised to be announced as the Canadian Championships in next couple of weeks.
Reference: Check out how the Dogtooth Dash 2009 went down.
KHMR is located near Golden, BC on the eastern side of the Purcell Mountains and is known for its steep terrain skiing. Now back to Tiki Torch event info.
Tiki Torch Dash quick facts:
date – Dec 5, 2009
atmosphere – very friendly
consists of two separate events – 2 person team relay and a solo hill climb
early bird registration (till Dec 4th) is $25 for both events, $35 the day of the race
online registration is here
both are night events – headlamps are mandatory
bring also beacon, shovel, probe, helmet
everyone is welcome – skimo gear, tele, split-boards, snowshoes
prizes for costumes as well as fast times
great party with a DJ afterwards (complimentary dinner)
Tiki Torch Dash itinerary:
Relay
4 laps – each leg of the relay race is approx 600 ft vertical, each team member will do 2-3 laps. More info and details are still to be announced.
Hill climb
Solo event with a mass start. Vertical gain will be about 1500 ft. More info and details are still to be announced.
Tiki Torch Dash schedule:
4.00pm – 5.30pm: Last min registration at Day Lodge
6.00pm: Pre race meeting at Day Lodge
7.00pm: Tiki Torch Dash start (relay) at Plaza
8.30pm: Hill climb start (solo) at Plaza
9.00pm+: Apres and awards at Day Lodge
More info and registration
For more info go to KHMR website.
To register online visit here.