Janelle Smiley is someone I wanted to interview for a long time now.
She can't be simply described as a skimo racer despite the fact she is the 2011 US Ski Mountaineering Champion and 2012 North American Ski Mountaineering Champion. She has a bit more going on than that.

I don't think we ever officially introduced but I first met her at the 2011 Skimo World Championships in Claut, Italy:
First, someone told me she was a mountain runner. That made sense as she was very fast.
Then someone else said she was a climber. Well, that didn't make sense since I saw her transition at the end of a via-ferrata section during individuals' race earlier that day. She was super slow but her style of climbing is absent of a via-ferrata.
» Janelle's website – Smiley's Project.
Q: You emerged onto the North American (and World) skimo racing scene in full force in the 2010/11 season. Was that your first season racing skimo?
The COSMIC series had just started in Colorado in 2007 I think, and there was a telemark division. The only pair of skis I owned at the time were telemark skis, so I went for it. I really enjoyed the races and I think I did all 5 that year.
I do remember being totally smoked after the first race, but the people with the lightweight AT gear were finishing the race and then going back up the lifts for more skiing! I thought those people were freaks of nature and never thought I would ever be racing at their level.
After two years of recreational racing I got my first pair of comparably lightweight gear. I didn't do too many races that year because I was always missing some piece of equipment.
The following year I had a full setup, still 5+ lbs heavier than the freaks, but I was excited to have a complete setup. Someone said I should go do the race in Jackson, WY and since my brother just moved there I went. Honestly, to my great surprise, I gave it my all and won the 2011 National Championship. At the finish line I couldn't believe it.
Soon after, I met Jonathan the President of La Sportiva and that was the start of my racing.


Q: You grew up in Colorado, so playing outdoors must have been your routine since a little girl?
My parents always  encouraged us to play outside and go on adventures. I started skiing when I was 3 and it was always a part of my life, except during those rebellious years in high school when I snowboarded… Oh, and those trendy years in college telemarking. But now I am back skiing for good.
Q: Where do you live now?
A:  Depends on the week… currently in my van.
Q: What is your sporting background? And do you have any other racing going on besides skimo?
In college, I rowed crew then transferred colleges where I dabbled in Nordic racing. I was never very good. Probably because that was the first time I put on Nordic gear by my own choosing, opposed to being forced by my Mom. I have been know to jump into a running or Nordic race every once in a while.
Q: You are also a climber, or are you a climber first? Do you define yourself by any one of your activities?
Well, I skied first, then started climbing, then started ski racing, so I guess that makes me a "ski" – "mountaineering" – "racer".  Yeah, that's my favourite, but it can also be broken up into individual words and they are also my favourite. Depends on what season it is.
Q: You have a big on-going project in the works – together with your husband, you are climbing the 50 classic climbs (based on a book Fifty Classic Climbs Of North America). How that idea did come about?
My Husband Mark is crazy and doesn't want our marriage to get boring. He had a friend who did 20 of them in 20 days and thought it would be fun to do all 50. When we started we didn't realize what was involved to climb all these peaks. He just thought it would be a fun adventure.

Q: When did you start? How many have you done now?
The project started in April of 2010.
We just spent our 6th anniversary 2500 feet up El Capitan in Yosemite, climbing the Salathé Route. That was #40 and we are really excited to be this far in the project after just 3 summers.
Q: Which ones so far were the most challenging? Any scary moments?
They all have their challenges, Mt Robson seemed to be the hardest one to get past the approach – it took us four tries to summit. The Petit Grepon is the hardest one to find (climbed the wrong tower), Mt Waddington was the most expensive so far and it was the scariest one too, many large loose blocks that wanted to take us out.

Mt Robson's Wishbone Arête from Mark Smiley on Vimeo.
Q: Do you know any good climbing jokes?
How can you tell Santa is a climbing bum? He's got a beard, always wears the same clothes, and only works one day a year.
Stano: That is a good one, and I never heard it before. Thanks. 🙂
Q: Back to ski mountaineering. In 2011, you went to skimo World Champs in Italy and have done quite well for a novice at that level. What was your experience?
The competition was great, made me work hard for it, but it gives me something to aspire to. Really looking forward to going back this year.
Q: What are your racing plans for this winter? Do you have any specific goals?
Some here in the States, then off to Europe to compete with the top-dogs. I do have big goals, but the biggest is to embrace the experience and enjoy the adventure.
Q: If you are racing World Champs, which discipline is your favourite and why?
I like the teams race, its fun to push it with a friend, I really like that dynamic and I have had great experiences with them in the past. The individual race is always fun too, but for different reasons. All you have to do is go as fast as you can and not eat it.
Q: How stressed or relaxed are you for races?
I race because it gives me life and pure joy, when it stops doing that I'll move on. It's too stressful to get too serious.
Q: Do you do any specific skimo racing training? Or you subscribe more to a formula "training through adventure"?
Well, funny you ask, it has always been "training through adventure" and I really resisted formal training until this year. I now have a coach and work with Mountain Athlete. I do what he tells me to, and its working well. It makes it easier to know what to do each day. We will have to wait and see the results to see if it worked.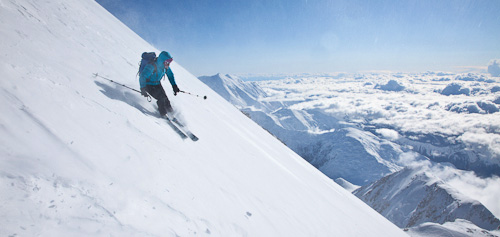 Q: What is your nutrition like? Do you follow any diet?
I love donuts, not just any donut but the donuts they make in Crested Butte. Cake with cinnamon, hmmm so good. But my stomach has been rebelling so now I go without dairy and wheat. Good thing I won't be in CB this winter cause I would splurge for a donut.
I also really like Garden of Life products, they make me feel healthy.
Q: Any nutrition racing tips for others from your experience?
The key to success is to stay fueled and hydrated while racing. I put a gel in my water bottle that way I do both at the same time. I don't have a dialed system, it is always evolving.
Q: How about gear. What will you ski on this season?
La Sportiva. Does anyone else make gear? Kidding, there are lots of great gear companies.
I use the La Sportiva Stratos boot, RSR binding, and RSR ski. It's one sweet set up!
» Janelle might be one of the lucky athletes to test the new La Sportiva Stratos 3 Cube boot.
Q: Do you have any sponsors to support your adventurous life?
My entrepreneurial husband, La Sportiva, Gore-Tex, Nemo, Kaenon, Sterling Rope, Suunto, Garden of Life, Honey Stinger, Goal Zero, Rab, Family, and Feathered Friends.
Q: How would you motivate/inspire/engage more women to try skimo racing? Why the hell should one bother?
It is truly the best sport in the world, enough said. When this is all over, and I stop living in my van, I would like to start a junior team. I would love to see this sport grow. I think it is an empowering sport that builds discipline, strength and character.
Q: How does it feel to be surrounded by a sea of men in tight, full-body spandex suits at the start of races?
Like being in a can of sardines! 🙂
» For more info visit Janelle's and Mark's website – Smiley's Project.