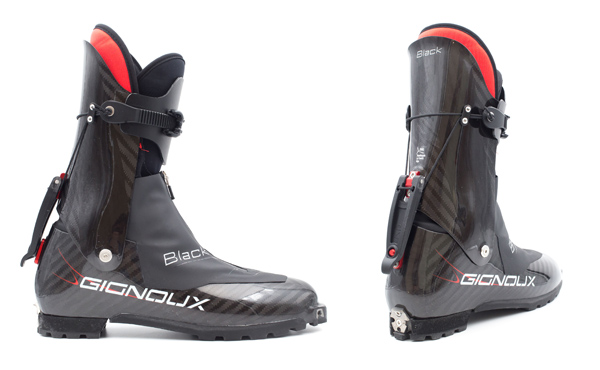 Quick overview:
Usual Retail Price: 

 €1330 Euro ($1600 USD) + VAT if buying within Europe

Weight: 

600 grams with liner (size 26)

Sizes available: 23-30 with 26.5 and 27.5

Pros: 

Comfortable, Light even with full liner, Snow guard, Price compared to competition

Cons: Can't buy in a store, Long shell length

Suitability: skimo racing, light & fast ski touring and mountaineering
Bottom Line:
While you have to wait a couple of weeks to get your pair of PG boots manufactured it's worth it. The Black boots are only a little bit heavier than Pierre Gignoux' full-on racing machines yet the fit and comfort make up for a couple of extra grams. Plus, they are the most affordable and one of the most comfortable full carbon boots on the market.
Product description and How we tested it:
After a couple of emails to determine the right size with Pierre Gignoux, I have ordered my pair in late October 2016. Since I made a decision to try to get to my best for one more World Champs I knew I had to get a better fitting boot than my old Scarpa Alien 1.0. I had Gignoux boots before and really liked them so I made a leap in that direction.

My pair arrived early January and my fourth time using the boots (along with new Hagan Race skis) was for a 2h race in Colorado. Race is never the best time to test new equipment, nevertheless, I had good feelings about the boots and skis while my body struggled in the high altitude. After a few tough weeks I regained my training schedule and started to ski the Black boots on regular basis.
In my experience, downhill performance of any ski mountaineering (racing) boot will hugely depend on how well the boot fits you. I suspected that the proper full liner and low profile shell of the Blacks should be way better for my low volume feet (but regular width) than the roomy Aliens with a thin sock liner. This turned out to be true but it did take a couple of training sessions to adjust the fit. I also added the green Superfeet insoles that improved the snug fit even more – for this, I got help from Skimo.co guys when I stopped in their store in Salt Lake City.
The snug fit allows me to have good control on the descents. The lower shell is stiff but the fully padded liner cushions my feet so it's not painful. I find the forward lean very neutral and the back of the cuff provides great support if you end up in the back seat. Leaning forward, you are doing so against a plastic "plate" and not carbon so there is some give or feel of softness but it feels just right.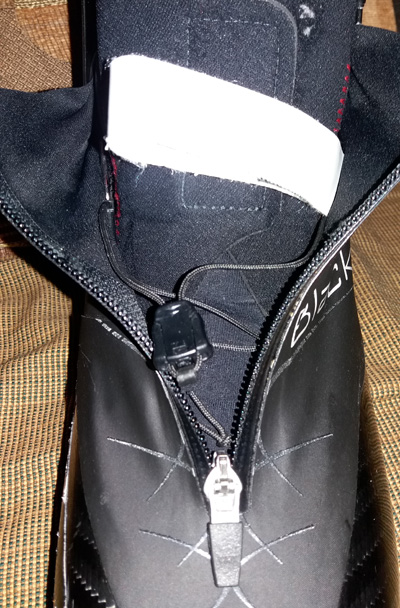 On my third day in Blacks, I had the pleasure to demo a pair of ASKI Verglas skis (176cm, 111-78-92) in Wasatch with the Skimo.co crew. I was equally blown away how the skis performed and how my Pierre Gignoux boots were able to keep up.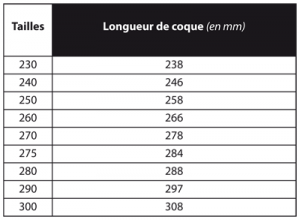 In terms of overall durability of these boots, in my opinion, are as good as any other full carbon boots on the market right now. As long as you are not hitting too many rocks when boot-packing you will be fine for long time. One thing I would recommend though is to use blue Loctite on the ankle joints and pretty much all other screws as well. Some screws on my boots were getting loose every 10 sessions or so.
Finally, here are my thoughts on the uphill performance of the Pierre Gignoux Black skimo boots. I have a size 29 and they weigh only 740g including the insoles which is quite light for a "race" boot with integrated gaiters (snow guards). Pair this with great ankle articulation and they feel very light when going up. The only "down side" is that due to its design PG boots have a fairly long last (bottom shell length), mine are 297mm long for size 29. This means that the front pin holes are positioned quite in front of your fingers which makes for a different feel when skinning during the first couple of sessions.

Overall, the combo of Pierre Gignoux Black boots and Hagan Race skis, paired with ATK bindings, was turned out to be a well oiled downhill machine while I kept working on improving my own engine to hit the Worlds in a good shape.
Pros:
Still light weight despite full liner and integrated gaiter
Comfortable
Ability to fit many types of feet (thanks to wide front-foot)
Gaiters protect very well from snow getting into the boots
What can be improved:
Just like with all new full carbon racing boots, crampon compatibility is somewhat of an issue but CAMP Race 290 and Tour 350 fit the PG Blacks quite well.
While I haven't had any major issues the durability could be improved and will likely happen over time.

Buying Pierre Gignoux Black ski boots
€1330 Euro ($1600 USD) directly from Pierre Gignoux (+ VAT if buying within Europe)