Every year, manufacturers release fancy new gear to tantalize us. This is a selection of gear we think is innovative and probably worth having a look at for this season (as well as being actually available).
We've got a mix of things for skimo racing, and true ski mountaineering. Have a look as the holidays are getting closer and let us know if we missed anything groundbreaking!
» Besides the below, also check out our new skis introductions from the Outdoor Retailer show last January.
Petzl Leopard LLF Crampon – 330g / pair
» Product link

The Petzl Leopard line of crampons shows promise as a new ultra-light option (CAMP RACE 290 is 376g) that still functions well.
Aluminum crampons are a great for skimo races and winter ski mountaineering where one does not expect to encounter ice. CAMP innovated several years before with a dyneema strap linking the front and rear crampon parts but the design had significant play, especially in the toe, making the crampon inadequate on technical terrain and prone to failure.
The Leopard's cable linking system eliminates play and allows for quick and simple micro-adjustment. The LLF crampon is a traditional step-in for use on boots with a welt while the FL crampon can be used on footwear without welts. We're excited about the possibilities of using these both for racing, as well as ski mountaineering.
Grivel Skimatic Race Crampon – 408g / pair
» Product link
The Grivel Race Crampon mixes things up with a new step-in system. While it still has a metal linking bar, making it a bit heavier and not fold-able, it uses a rear bail wire with a spring system at the boot toe for retention. This is especially promising for use on boots with a vertical heel throw lever like the Scarpa Alien or Gignoux Race 400.
Probably not as secure for alpine climbing and ski mountaineering adventures but time will tell.
Ultimate Direction Skimo 8 vest – 200g
» Product link

Ultimate Direction is well known for their running hydration vests. In 2015, they decided to try out building a skimo pack that would not only do everything required but also fit well. The 8 Litre World Cup pack is the smallest and designed for individual, vertical and sprint races.
Our SkinTrack team worked extensively with the R&D team at UD on the Skimo 8 and Skimo 18 packs. Having participated in the design process, we can safely say the Skimo 8 is extremely effective, comfortable, and very light! Watch for a more thorough review coming soon.
La Sportiva Stratos Hi-Cube – 900g / pair (size 27)
» Product link

Introduced last year and available for purchase this season. A big of departure from their previous carbon boot line and appearing more similar to the Gignoux models, they are as light as they come and have already accumulated extensive palmares on the feet of Michelle Boscacci and Damiano Lenzi in multiple World Cups and Championships.
You can read more about them in our article from January.
Pomoca Race Pro 2.0 Skins
» Product link at Skimo.co or CrippleCreekBC.com
Although looking almost identical, the 2.0 model has similar traction while climbing but significantly faster gliding. We will definitely try these out as the reports coming from the World Cup are that it's not just hype.
Fischer Verticalp Ski – 1230g / pair
» Product link

Coming from a nordic ski background where skis are selected and fitted specifically to the athlete based on weight and flex pattern, I've always wondered when more specialized flexed skis will come to skimo.
The Fischer Verticalp is a step in this direction with a ski designed specifically for vertical races. It features a straight side-cut, a higher camber for better kick and glide, and is incredibly light.
An adjustable weight system allows you to decide where the balance of the ski is located. Paired with a lightweight binding like the Gignoux, you will be guaranteed to need to tape a few weights to the top sheet in order to meet the ISMF minimum race ski weight requirements! (That is 750g/ski for men and 700g for women, including the binding.)
Aski Race Ski – 1470g / pair
» Product link
A relatively new race ski from Europe, now available in North America, the Aski Stealth is a lightweight option and less stiff than more traditional options.
Maybe not the best option for hard packed on-piste events but we're looking forward to giving these a try this season to see how they perform in the variable conditions often found in races. They get the nod from Skimo.co owner Jason Borro who has tried out more race skis than anyone in North America!
Black Diamond Ultralight Camalot
» Product link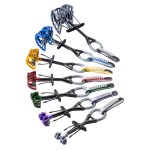 Maybe not hugely innovative but certainly impactful. It's rare that a piece of gear sees such a dramatic drop in weight but the new Ultralight Camalot from BD weighs 25% lighter than the last generation Camalot, mainly by using a dyneema core in place of metal. We would expect a hit in durability that accompanies any dramatic loss of weight but these are holding up well alongside the rest of my rack so far.
Pieps Micro – 110g
» Product link
This is an interesting one but worth putting on the list for the absolutely weight obsessed.
Prior to 2016, the majority of athletes raced with the Pieps Freeride beacon – weighing in at 110g and about the size of a flip-cellphone, it featured a single antenna and very simple operation. It served more as a transmitting safety device than being designed for great search functionality.
For the 2016/17 season, new ISMF rules require a 3-antenna beacon (which most of us have for everyday backcountry use). Pieps has responded to this rule change with a 150g beacon called the Micro.
We suspect that most racers won't pay the $400 price for the Micro and they will stick with their normal beacon (the full function DSP Pro weighs in at 200g) but for the truly weight obsessed, this is the lightest option.
Petzl Altitude Harness – 160g
» Product link

It's not the absolute lightest harness in the world but it is close. It is also the most featured race style harness available and only slightly heavier than the CAMP ALP. This looks to be the best option for ski mountaineering where a harness must be worn for glacier travel and even a bit of easy climbing but where weight is top priority. We like the easy access (without having to remove boots/crampons) and the flat webbing design that prevents rubbing under a pack. Put it on and forget about it while you wear it all day.